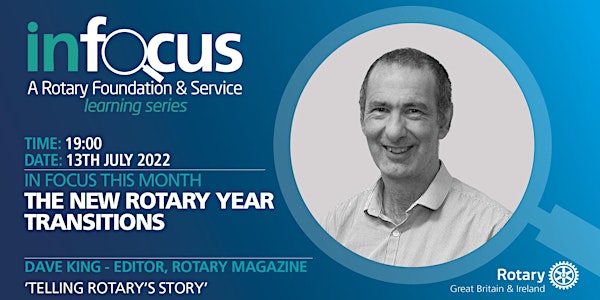 InFocus - Transitions - 'Telling Rotary's Story' Rotary Editor, Dave King
Part of the InFocus Learning Series, brought to you by Rotary in Great Britain and Ireland's Service Teams.
About this event
Wednesday 13th July 2022 - 19.00 - 20.00
InFocus is a yearlong learning series, brought to you by Rotary in Great Britain and Ireland. Each month, we are joined by an expert guest speaker, looking at how Rotary's Areas of Focus can be put into action in your community.
Each learning event includes:
1 hour session
In-depth and sharp conversation around important topics
Q&As section with chance to submit questions in advance
Guest speaker
Dave King is a member of Gosport Rotary Club in Hampshire and has been editor of Rotary magazine for Great Britain & Ireland for the past five years. A journalist by profession, Dave currently teaches journalism at a London university.
Transforming the way we "Tell Rotary's Story" into something that really captures the attention of the intended audience could transform how we are seen as People of Action within our communities. It could bring in volunteers, donations, fresh ideas and potential members as well as a host of other benefits.
With Dave's vast experience, both in journalism and in Rotary, his nuggets of wisdom, hints, tips and do's and don'ts will make this a not to miss session for anyone in the family of Rotary.
Tickets
Tickets are free of charge. Each registration gives you front row access to the event live through Zoom. This is your opportunity to put your questions to our speakers!
Can't make it? Watch on demand.
All InFocus events are made available on demand on our YouTube channel after the event.