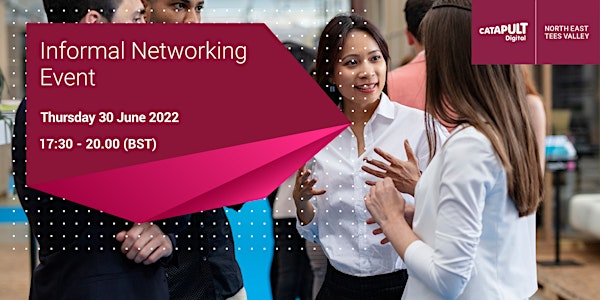 Informal Networking with Digital Catapult North East Tees Valley
Location
Northern Design Centre
Northern Design Centre
Gateshead
NE8 3DF
United Kingdom
An informal networking opportunity for old and new tech companies in the North East & Tees Valley.
About this event
Join us at our second tech community meetup of the year, featuring free pizza and beer! The meet-up is an opportunity to connect and reconnect with old and new tech companies within the region, and to meet members of the Digital Catapult North East Tees Valley team and learn more about upcoming digital business challenges and projects.
The meetup is hosted by Digital Catapult North East Tees Valley and Sunderland Software City. During the pandemic, we've worked hard to continue to engage with the tech and digital communities around the region, but it's been difficult to stay in touch. Through this networking series, we're looking forward to bringing the community together and learning more about the inspiring individuals who are starting or growing tech/digital businesses here in the region.
This time, we are lucky to be joined by Cintel Global who will speaking about their business projects and challenges.
This June meetup will be taking place within Gateshead.
More information
If you have any questions about this event, or if there's anything we can do to make this event more accessible for you, please get in touch! You can email our Innovation Specialist Robert Currie at robert.currie@sunderlandsoftwarecity.com.