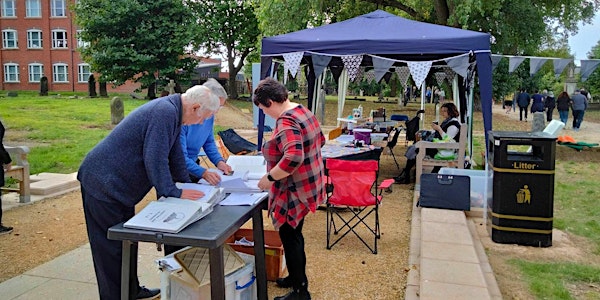 Information and Sales Stall in Warstone Lane Cemetery
Location
Vyse Street, near Pitsford Street
Vyse Street
Birmingham
B18
United Kingdom
Sales & Information stall, aiding your family history burials for Warstone Lane Cemetery & Key Hill Cemetery. Plus items for sale.
About this event
Family History Burials, for Key Hill Cemetery & Warstone Lane Cemetery, Birmingham Jewellery Quarter, Hockley.
As part of the JQ Festival the Friends will have an Information and Sales stall in Warstone Lane Cemetery in the memorial garden in the footprint of the former St Michaels and All Angels church, on Saturday 23 July from 10.30am to 4pm.
The Friends can assist with a burial plot number for both Warstone Lane cemetery and neighbouring Key Hill Cemetery formally known as the General cemetery aiding your family history at our Information and sales stall in Warstone Lane Cemetery.
For all inquiries we will require: -
Name of person if known. Year of death if known. Year of birth if known. Cemetery if known. For still births we will require the name of the parents also. Please bring notebook and pen/ pencil with you. The last inquiry will be at 3. 30pm.
The Sales and Information stall will have Items for sale, a selection of new and used books, The Friends candles, limited edition long handled cotton bags with the Friends logo, limited edition of Key Hill Commemorative medal, plus novelty items and bone shaped pens.
Both Warstone Lane Cemetery & Key Hill Cemetery were Birmingham's first cemeteries and were once privately owned. They fell into decline when the cemeteries became full and did not generate an income. Since the 1980's some of our volunteers have been caring for the cemeteries - finding hidden footpaths and steps, uncovering sunken graves as well as researching the lives of those who rest in these two historic cemeteries. The good and the great of Birmingham rest here as well as the ordinary man, woman & child, they too have their story to tell.
Friends of Key Hill Cemetery & Warstone Lane Cemetery are all volunteers including Admin, officially formed in 2004 and care for the cemeteries as well as raising funds for damaged and broken graves. This is achieved by membership, guided tours, donations and sales at open days and history fairs.
See other events on the same day with the Friends of Key Hill Cemetery & Warstone Lane Cemetery. Pre-booking is essential for the rare opportunity to view the interior Warstone Lane catacombs, then walking to neighbouring Key Hill Catacombs at 12 noon to view the interior of Key Hill Cemetery catacombs . This event will be repeated at 2pm. Tickets are limited book via Eventbrite . Please ensure you wear suitable footwear.
Getting here:
Train and Tram stops at the Jewellery Quarter Station in Vyse Street. Bus -the 101 bus from Birmingham to Chamberlain Clock walk to Vyse Street , see Sunday service via nxbus.co.uk and plan my journey https://nxbus.co.uk/west-midlands/plan-your-journey. Car – Car park in Vyse Street facing Pitsford Street.
Clean Air Zone from 1st June 2021 Birmingham Clean Air Zone . WILL YOU NEED TO PAY? Charges are from midnight to midnight. Birmingham's Clean Air Zone started charging on Tuesday 1st June 2021 but estimates predict that 75% of cars will be exempt from charges. The zone, covering the centre of the city , aims to reduce pollution levels and encourage more people to switch to public transport to visit the city centre. It is different to the London congestion charge which charges all vehicles so it's important that you know whether it applies to you or not.
Check your vehicle here to see if you would be charged: https://www.gov.uk/clean-air-zones
Contacting the Friends of Key Hill Cemetery & Warstone Lane Cemetery : Please ensure you look in your junk mail for a reply. Website: http://www.fkwc.org/
Follow the Friends on:-
Twitter: @FriendsKHandWL
Eventbrite: https://www.eventbrite.co.uk/o/friends-of-key-hill-amp-warstone-lane-cemeteries-34048000247
Facebook: https://www.facebook.com/groups/39076159104