Information Session: HFX | Money In Minutes | Binary Options Trading
About this event
Kingdom Finance Academy are affiliate partners with Amey Finance Academy and are number 1 for helping and supporting people in earning. You are giving an individual plan tailored to you to get your started; ensuring your hand is held along the way.
WHAT IS HFX?
HFX (aka Binary) stands for High Frequency Forex.
It is a fast paced, fast cash market designed for those who want to be in and out of the foreign exchange market (FX) with profits. This is achieved by setting trades ranging from 1min, 2min, 5min etc.
Choosing to learn and earn with Kingdom Finance Academy you'll learn about buying and selling currency. With HFX, for those who are usually busy, this is the easiest and fastest way to generate income from trading in the foreign exchange market.
Whether you're looking for extra cash flow to replace your current income, wanting an additional source of residual income or something new entirely, learning binary trading with us surely won't disappoint!
"Make profits in minutes, not hours!"
Imagine making your weekly salary in a single trade, and doing that each and every day. How would that change your life?
Don't believe thats possible - join our FREE information session on Thursday at 7:00pm.
With the right dedication and discipline all the money you ever seek is inside the market just waiting for you to access it!
JOIN US AT 7:00PM TO FIND OUT MORE.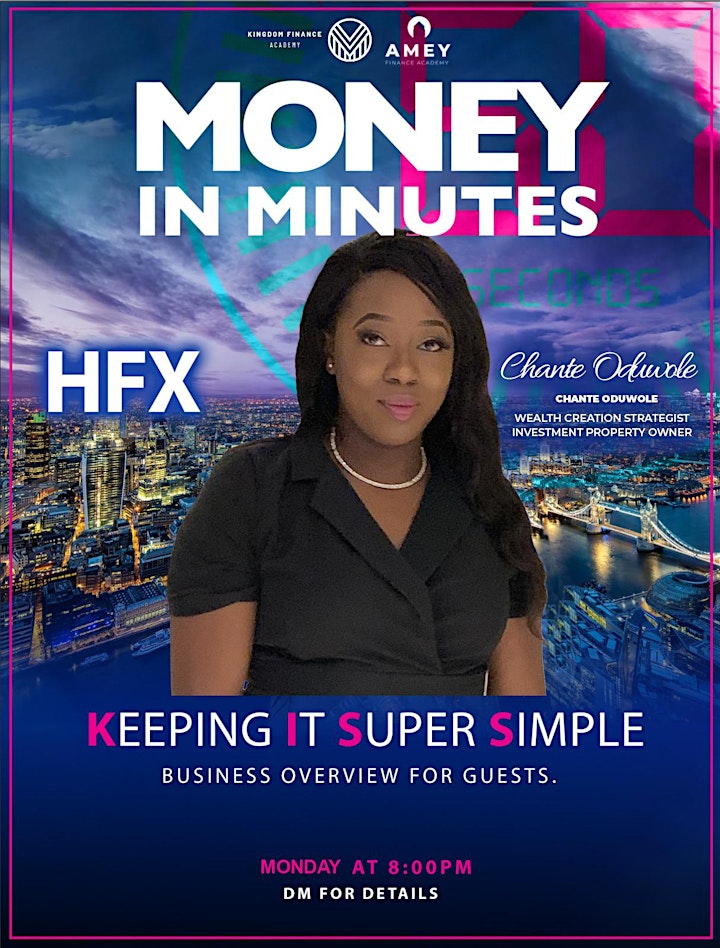 Organizer of Information Session: HFX | Binary Options Trading | Money In Minutes