Description
The next in our series of Guided City walks:
"Bunhill Fields and Shoreditch"
Wednesday 20th May 2015 at 6pm
Meet at 38 City Road London EC1Y 1AU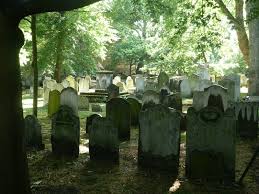 The next in the series of the WCIT City Walks will be set in Bunhill Fields and Shoreditch. Members and friends of the Worshipful Company of Information Technologists are invited to join Diane Burstein on Wednesday 20th May, for a tour just north of the City limits.
Almost 10 acres in size, Bunhill Fields is a former burial ground in the London Borough of Islington, north of the City of London, now managed as a public garden by the City of London Corporation.
It was in use as a burial ground from 1665 until 1854, by which date approximately 123,000 interments were estimated to have taken place and over 2,000 monuments remain including some graves of famous authors such as Daniel Defoe and William Blake.
From there, we'll head for Shoreditch and trace Shoreditch's history from the days when it was London's Theatreland to its current status as a centre for artistic creativity. England's leading circus centre, almshouses, a fringe theatre in a former Victorian library and an Edwardian Baroque Town Hall all feature.
Diane Burstein has a BA Honours degree in English Literature and History and is one of London's best known and most versatile tour guides. She has made a name for herself with her Secret London feature on London's principal talk radio station LBC 97.3 FM and she is the author of a successful book "London Then and Now" which featured in BBC History magazine's Top Ten Best Seller.http://www.secretlondonwalks.co.uk/