InGAME Insights is an event series hosted by Creative Dundee & InGAME which focuses on the future of the creative, cultural & games sectors.
About this event
- What does the future of creativity and play look like in our public spaces?
- How can we better engage with communities and audiences right now?
- Where are the opportunities to blend tech and arts for inclusion?
If you are interested in these topics, please join us at InGAME Insights on Wednesday 25 November 2020, from 7pm - 8.30pm. Three excellent panelists will be in-conversation, bringing their perspectives on all things relating to creativity, business, access and leadership.
We're delighted to have these panelists in-conversation:
- Sarah Brin - producer and digital culture expert, interested in the future, sustainability, and organisational change, based in London.
- Jude Kelly - founder and director of WOW Foundation and Women of the World Festivals which run across the globe.
- Malath Abbas - game designer, artist and producer working on experimental and meaningful games, based in Dundee.
An evening of informal chat, Q&A and breakouts. We'll also announce the first recipients of the Insights Collaborative Commission and open the second call of £1,000, supporting an early-stage collaboration between creative/games people within the Tay cities region.
We look forward to seeing you then!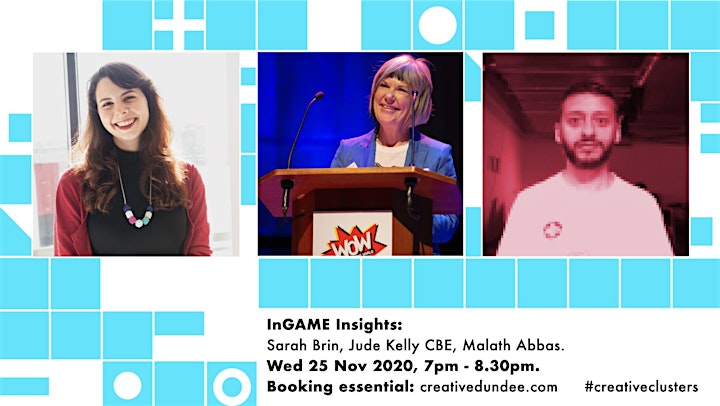 Our Panelists:
Sarah Brin is a producer and digital culture expert based in London. She has developed games-focused exhibitions, programmes and content for entities including Vice, PlaySFMOMA, Simogo, IT University Copenhagen, The European Union, Playable City, and many others worldwide. Her research interests include play in public space, installation-based games, experimental design practices, and art history. She currently leads her own consultancy, which has served Rolls Royce, the games company Alice & Smith, The League of American Orchestras, and others.
Sarah has received awards and honours from the International Game Developers Association, Red Dot, and British Council. You can learn more about her and her work at www.sarahbrin.com. @dinosaurrparty
Jude Kelly CBE is the Founder and Director of The WOW Foundation, which runs WOW - Women of the World Festivals across the globe to celebrate the achievements of women and girls and confront global gender injustice. Starting at London's Southbank Centre in 2010, where Jude was Artistic Director for 12 years, the festival now takes place in 30 locations across six continents. In 2018 Jude established The WOW Foundation as an independent charity dedicated to building the WOW movement as a force for change.
Jude has directed over 200 theatre and opera productions, ​including at the Royal Shakespeare Company, English National Opera, National Theatre, and the Châtalet in Paris including Ian McKellen in The Seagull​, Patrick Stewart in ​Johnson over Jordon​ and Dawn French in ​When We Are Married​. She ​is the recipient of two Olivier Awards, a BASCA Gold Badge Award for contribution to music and a Southbank Award for opera. She was h​eadhunted to join the bidding team for the 2012 London Olympics and create the programme for culture and ceremonies, she subsequently advised both Rio and Tokyo on their successful bids.
Jude has founded a range of arts institutions and has commissioned and supported the work of thousands of artists across all genres. @JudeKelly_ and @WOWisGlobal
Malath Abbas is a game designer, artist and producer working on experimental and meaningful games in Scotland. Malath is a founding member of Biome Collective, a creative studio, community and digital space for people to create, collaborate and explore new frontiers in games, digital art and technology.
Malath has produced and created games and interactive installations including Killbox and Shpeel, as well as founding and directing the game festival Arcadia that aims to empower marginalised voices in the game sector. Malath volunteers on a number of boards as trustee and adviser including the Scotland based charity Scottish Game Development Association. @maltron3D
--------
InGAME is an ambitious research and innovation programme based in the heart of Dundee's vibrant videogames cluster. Led by Abertay University, in partnership with the University of Dundee, the University of St Andrews and a network of industry partners, our purpose is to drive sustainable innovation and growth within the cluster. We do this through a programme of R&D funding, research collaboration and cluster engagement. InGAME is part of the Creative Industries Cluster Programme, funded by the Arts & Humanities Research Council and part of the Industrial Strategy.
Creative Dundee exists to support creative talent to base, grow and sustain their practice in and around Dundee, by amplifying and connecting the city's creativity. We create the spaces to enable opportunities, galvanise action and profile the city so that citizens and visitors alike can access, experience and enjoy Dundee's active creative scene. We lead collaborative projects which generate local, national and international opportunities for people and the city – to support Dundee's strong creative ecology.
Identity design work thanks to Rachel Park.
Organiser of InGame Insights - Sarah Brin, Jude Kelly & Malath Abbas
Creative Dundee believes that culture and creativity are essential catalysts for positive change. We exist to support creative talent to base, grow and sustain their practice in and around the city by connecting and amplifying the city's creativity. 
We launched Creative Dundee as a blog side project back in 2008 and ever since we have been raising the profile of the city and supporting the development of the local creative scene.