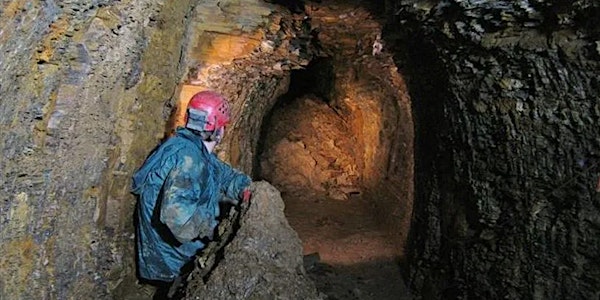 Inland Jet Mining in North York Moors
Chris delivers a fascinating talk on Inland Jet Mining and the role of and some experiences of the North York Moors Caving Club
About this event
Inland Jet Mining in the North York Moors
Jet has become so inextricably linked with the sea cliffs around Whitby, that most people are totally unaware that it was extensively mined throughout the North York Moors and Cleveland Hills. Since 2014, members of the North York Moors Caving Club have been involved in a project to explore these long forgotten workings, for which few contemporary records exist.
Previously regarded as a cottage industry with trivial underground working, we have since re-discovered a period of furious mining activity driven by fashion and mapped jet workings measuring over 7km in length on a single site alone.
Speaker: Chris Twigg
Chris has been involved in mine and cave exploration across the North East for the last decade. An active member of the North York Moors Caving Club, Cleveland Mining Heritage Society, Durham Cave and Mine Club and Cleveland Industrial Archaeology Society to name but a few.
After witnessing the final demise of the Teesside Iron and Steel industry for 20 years, Chris has been employed by Redcar and Cleveland Borough Council since 2017 on "East Cleveland's Industrial Heartland" a Lottery Heritage Funded project to discover, catalogue, promote and conserve industrial heritage in the area.
{Redcar and Cleveland Borough Council / North York Moors Caving Club}
17.50 - Start of stream
18.00 - Welcome and start of lecture
18.50 - Question and Answer session
19.30 - End of stream
NB: The NEIMME AGM will be steamed live before the start of this Event