Innova Systems 3D Experience seminar - London

Tuesday, 3 November 2015 from 14:00 to 16:00 (GMT)
Event Details
Hosted by Adam Baird...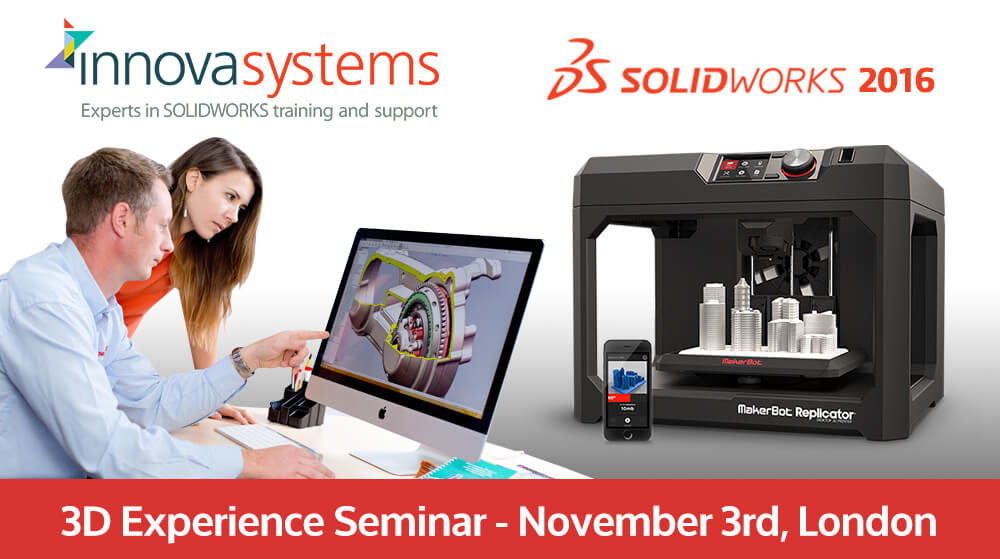 You are invited to join us for our 3D Experience seminar at the Business Design Centre in Islington.  During the 2 hour session, we will be showcasing the current state of the art in digital design and prototyping, running you through the latest version of SOLIDWORKS, running SOLIDWORKS on Mac's and showcasing the 5th Generation Makerbot 3D Printers.   
SOLIDWORKS 2016, the latest version of the software, is now with us – we will run you though a demonstration of the latest version of SOLIDWORKS, showcasing the new user interface and updated feature set.  We will then take some of the geometry we create during the demonstration to use as the basis for a 3D printing demonstration.  We will take the file into the 3D Printing software, position the model on the print bed and prep if for printing.  We will run you through the analysis tools available as well as running you through best practices for this relatively new technology.    
SOLIDWORKS running on Apple Mac's – we will show you how some new developments allow you to run the World's favourite 3D CAD system on Apple's operating system. 
Makerbot 5th Generation printers will be on site throughout the day  - we know that 3D printing is getting a lot of attention at the moment in the design industry, but it's our guess that probably have a lot of unanswered questions regarding the technology.........

What is 3D Printing?

How does 3D Printing work?

How much does 3D Printing cost?

What 3D Printers are available?

How do I take a 3D CAD file into a 3D Printer? 

What is the history of the technology, the current position and the future of 3D Printing? 
We will have representatives from both Stratasys and Makerbot, the World leaders in 3D Printing, on hand to show you how the technology works, how it plugs into your existing workflows and CAD set ups, how much the technology costs and how easy it is set up and implement the technology at your own offices. 
We will also have the machines running throughout the session so you can see them in action along with many samples that we have printed for customers and ourselves.
Book your place now, but hurry, places are limited.
When & Where

Hosted by Adam Baird
Business Design Centre
52 Upper St
N1 0QH London
United Kingdom


Tuesday, 3 November 2015 from 14:00 to 16:00 (GMT)
Add to my calendar
Organiser
Innova Systems is an authorised Value Added Reseller for SolidWorks 3D design software. Call us on 01223 200690.
Outstanding customer service, training and value.