Location
hedgehog lab
Generator Studios
Trafalgar Street
Newcastle Upon Tyne
NE1 2LA
United Kingdom
Description
To apply for a place at Innovate Now - Tech for Good, please visit our website.


Event Description:
The 7th instalment of IN is delivered in association with the BBC as part of the organisation's Digital Cities North East week.
Targeted at the region's creative industries and comprised of exciting and innovative free training and events, Digital Cities aims to promote cross-sector collaboration, forge new partnerships and develop skills throughout the North East.
Innovate Now will serve as a closing act for Digital Cities, as we invite a diverse audience ranging from students to business leaders to join us in exploring how North East organisations are leading in the use of technology for good.
As well as our audience, we'll also welcome a number of presenters from organisations across the region who'll expand on how their company's pioneering use of emerging technologies are helping the nation overcome social, health and other challenges.

Headline speakers will be revealed via Twitter in the leadup to the event. #areyouIN?
Speaker Profiles:
Kate Bradley (Head of Foundation at Newcastle United Foundation):
Having been Head of Foundation since its launch in 2008, Kate holds an MSc in Urban Policy and Regeneration and has a remit of taking the club out into the community. The Foundation work towards a mission of using football to encourage learning and promote healthy lifestyles amongst the region's disadvantaged children, young people and families.
In July, the Foundation received approval for plans to develop a state of the art centre for sport, education and wellbeing in Newcastle, dubbed Project Pitchside.
Kate's talk will cover how the Foundation has traditionally used technology to assist the audiences the organisation works with, and explain how Project Pitchside will incorporate these to further boost opportunity.
Andy Cox and Robert Webb (Co-Founders of Signal):
Signal is a part of a global poverty stoplight movement by providing a metric and methodology that enables households to assess their level of poverty and abide by personalised strategies that help them to overcome their specific deprivations.
With areas such as income & employment, education and culture, health and environment, housing and infrastructure, organisation and participation as well as interiority and motivation forming the six dimensions of poverty, divided down into a further 54 indicators, Signal's mobile and web platforms allow users to self-evaluate their situation.
Andy and Robert will be discussing how their platform breaks down issues into smaller and more managable problems, offering support to households struggling in any given area(s).
Professor Naeem Soomro (Head of Robotic Surgery at Freeman Hospital):
In addition to his role as Head of Robotic Surgery, Dr. Naeem is also a published researcher and honorary Professor of Urology at the Northern Institute for Cancer Research.
Naeem, who operates with the assistance of the £2m Da Vinci Robot, will be expanding on the digitisation of surgical practice and expanding on the future of surgery.
Event Schedule:
Timings subject to change.
13:30pm - 14:00pm - Registration and Networking:
Enjoy the opportunity to grab a refreshment and chat with fellow delegates ahead of our event kick-off.
14:00pm - 14:45pm - Kate Bradley (NU Foundation):
Newcastle United Foundation's Head of Foundation, Kate Bradley, will explain how her organisation are employing technology to enable opportunity for young people in the North East. Included in Kate's talk will be information on the Foundation's new Pitchside community facility, while there will also be the opportunity for questions.
14:45pm - 15:30pm - Andy Cox & Robert Webb (Signal):
Signal co-founders Andy & Robert will share the story behind the founding of the Signal platform, and explain how their Gateshead business are helping households throughout the UK to tackle poverty.

15:30pm - 15:45pm - Comfort Break:
Nip to the loo, enjoy a chat and grab another beverage!
15:45pm - 16:30pm - Prof. Naeem Soomro (NHS):
Freeman Hospital's Head of Robotic Surgery, Professor Naeem Soomro, will present on the digitisation of surgical practice and how it will transform surgical interventions in the future. Again, a Q&A will round off this talk.
16:30pm - 17:00pm - Networking & Close:
Feel free to stick around and chat with our speakers and fellow delegates, or alternatively set off promptly for the final event of Digital Cities North East at
PROTO
.
About Digital Cities:
BBC Academy's Digital Cities project is an external-facing talent initiative, aimed at developing the skills of both the current and next generation content makers working in creative industries.
The initiative puts training and skills at the heart of both the BBC and wider industry to help meet the challenges of an ever-changing media world. Through a wide portfolio of staff training we develop vital skills and aim to share as much training and expertise as possible with the wider broadcasting industry, through our website, events and partnerships.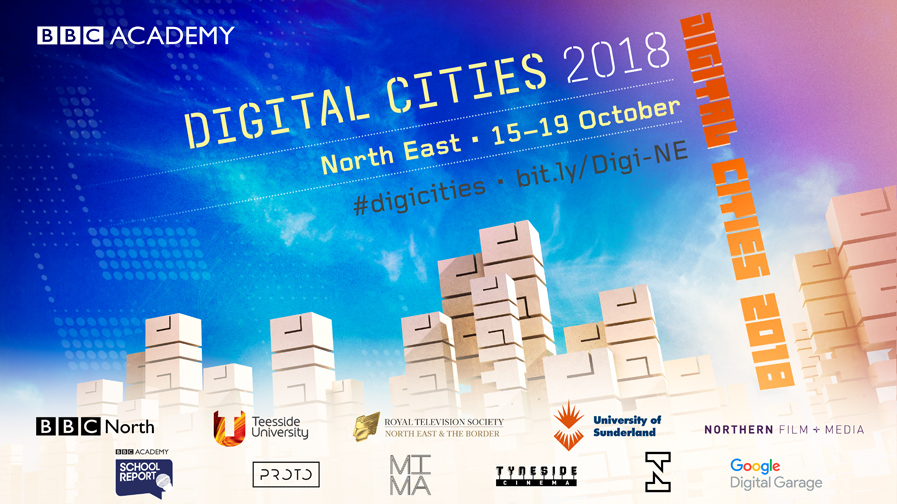 Their Digital Cities format has now run successfully for five years, bringing inspirational learning and networking opportunities to cities across the UK. The often free week of events encourages industry partners to come together to boost their region's digital and production skills and act as a catalyst for exciting collaborations within the creative sector.

Each city/region is different both in terms of needs and aspirations. Local partners set their own objectives and agendas to fit their local creative economy - whether it be focusing on the talent pipeline, emerging creative technologies or digital journalism for example. Events currently run in Belfast, Birmingham, Bristol, Cardiff, Glasgow, Manchester and the North East (Newcastle, Gateshead, Sunderland and Middlesbrough).
To learn more about the events in BBC Digital Cities North East, head to bit.ly/Digi-NE.


Get Involved:
FAQs
How can I contact the organiser with any questions?
If you have any questions for us, please do feel free to get in touch via any of our social media channels (listed above). Alternatively, we'd be happy to hear from you on events@hedgehoglab.com. Whatever your query, we'd love to help you out!
What is the nearest station to the event venue?
The nearest train station to hedgehog lab is Newcastle Central Railway Station, located just an 8-minute walk from the station. Manors Metro station is the closest inner-city rail service, but if arriving via train it is advised to walk or get a taxi for convenience.
Is there any parking available?

There is a multi-storey parking facility just around the corner from Generator Studios, as well as Quayside Carpark a 2 minute walk away.
Do I have to bring my printed ticket to the event?
You do not have to bring your printed ticket to the event, however, there will be a registration process upon arrival (see the event schedule above for more), and as such you will be required to have notified us of your intent to attend to guarantee your seat.
Will there be food and/or drink?

Of course. As hosts of the event, hedgehog lab will provide a range of soft drinks, beers, coffee and locally-crafted food to make sure you don't go home hungry or thirsty!
Does the event actually start at 1pm?
In a word, no. As per the event schedule, there will be a 30-minute registration and networking period prior to us getting underway, so don't worry if you're unsure if you can make it for 1pm sharp. We do ask that you are here by 1:30pm as we will be getting underway promptly - and it'll spare you the embarrassment of being caught on camera!
I've been given a ticket but can no longer make it. What should I do?
We understand that plans change, but as this is a limited-ticket event we do ask those who can no longer join us send us a courtesy message or email on marketing@hedgehoglab.com. Doing so will prevent your name from reaching a ban list for future Innovate Now events, filled with those who have 'no-showed' us, so it's well worthwhile if you fancy joining us at a later date!