Description
Innovate UK and Innovus, in collaboration with the Knowledge Transfer Network, will be hosting this brokerage event to promote the new Innovate UK competition, Energy Game Changer. This event will be an opportunity to find out more about the competition and to connect with potential collaborators across the supply chain.
What is the opportunity?
The energy sector is one of the most highly regulated, capital-intensive and risk averse industrial sectors in the world, with new technologies invariably taking 10 years or more to get to market.
Innovate UK is to invest up to £1.5 million in technical feasibility studies to encourage new entrants to the energy sector and stimulate the adoption of disruptive technologies which will tackle long-standing challenges faced by the sector.
Innovate UK is therefore seeking to fund game-changing technologies that will solve selected challenges defined by sector specialists, either by the development of completely new ideas or through technology transfer from other sectors.
The three themes of the competition will broadly focus on:
Taking inspection to the limit – inspection, characterisation and clean up of energy infrastructure operating in aggressive environments without human intervention.
Dealing with data – collecting, analysing and visualising big data to optimise efficiency and reduce costs.
Engaging energy – changing peoples perception of energy and optimising their use of it.
Who should attend?
This event is free to attend and will be open to any organisation with an interest in solving these energy challenges.
We are particularly looking for innovative proposals led by businesses from outside the energy sector such as, automotive defence, aerospace, creative industries, telecommunications and space, but this provides opportunities for collaboration with businesses who operate within the energy sector. We believe this will require expertise in areas such as; inspection, ICT, digital, sensors, virtual reality, gaming, robotics, autonomous vehicles and high value manufacturing/materials.
Anyone interested in hearing more about the competition or seeking partners are advised to send a delegate.
Outline Agenda
10:00 - 10:30
Registration, Refreshments and Networking
10:30 - 10:45
Welcome and Introduction to the Event
10:45 - 11:15
Scope of the Competition
11:15 - 12:00
The Challenges articulated by Sector Experts
12:00 - 12:30
Case Studies of Technology Transfer
12:30 - 13:30
Lunch and Networking
Session 1
13:30 – 14:15
Idea Pitching
14:15 – 15:00
Meet with Experts
Session 2
13:30 – 15:00
1 to 1's with Innovate UK, Innovus and KTN on Eligibility, Process and Application
15:00 – 15:30
Wrap Up and Next Steps
15:30 – 16:00
Networking and Close
Organiser of Innovate UK and Innovus Energy Game Changer Event
Innovus is a technology-based economic development programme that aims to support the development of new technology-based products and services, thus creating growth in existing businesses and supporting new startup businesses. The programme is supported by Britain's Energy Coast and the Nuclear Decommissioning Authority and delivered by the National Nuclear Laboratory and The University of Manchester's Dalton Nuclear Institute. Innovus can be described diagrammatically: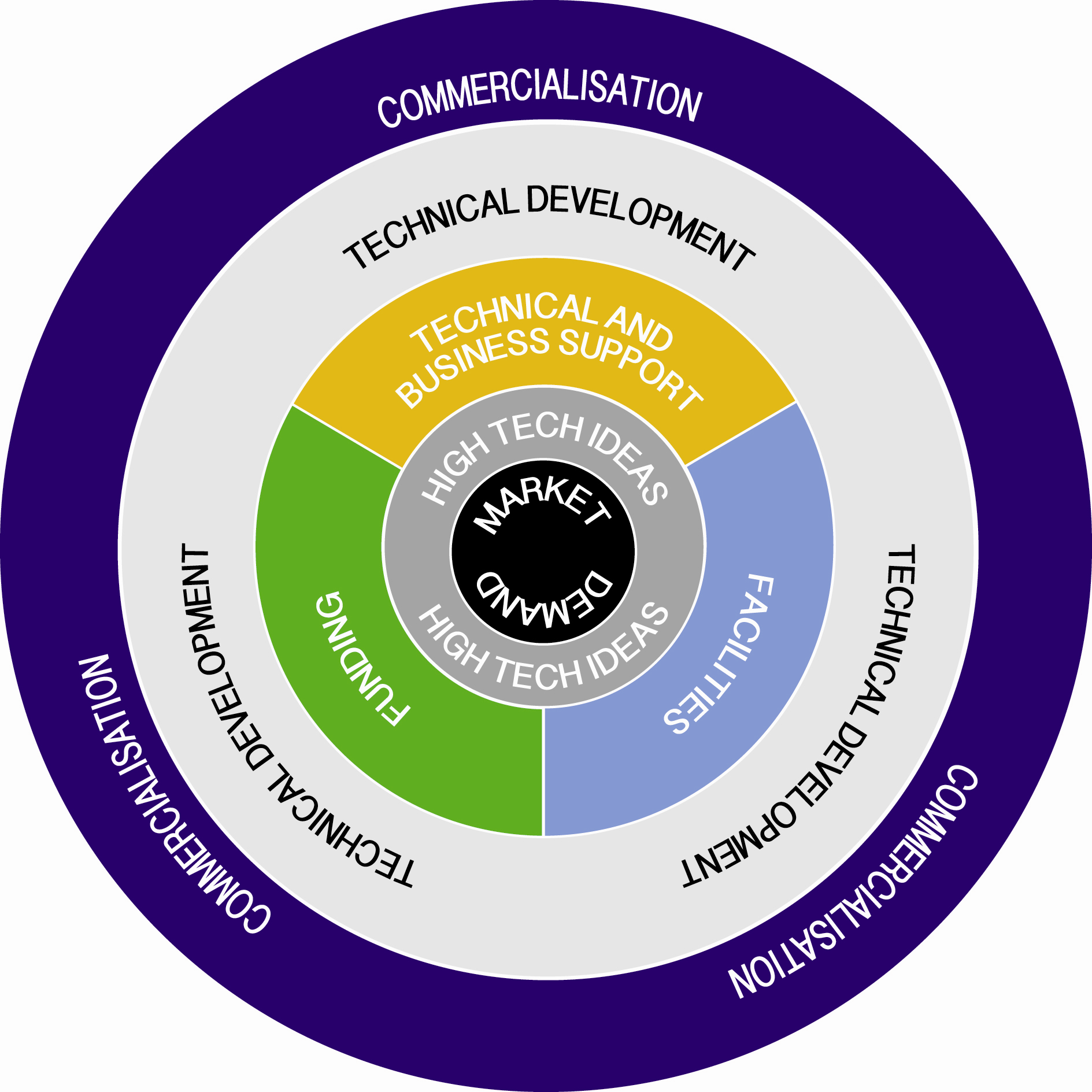 Having identified a market need, an associated technology idea can be supported through to the market by the provision of:
Technical and Business Support
Funding
Access to Facilities
These three components will allow the right technical development to be undertaken in good time. Successful technical development will lead into commercialisation and the creation of value for the market, provider and investor.