About this Event
The COVID19 pandemic has caused significant loss of life as well as widespread economic hardship across the world.
In April 2020, just as the reality of a country-wide lockdown struck the UK, Jeremy Farrar said: "The only exit from this pandemic is through science." By this time, Sanger's scientists were already working on a pre-vaccine solution that could be deployed to protect whole populations. Meet Qianxin Wu, Staff Scientist and Chenqu Suo, PhD student in Cellular Genetics at Wellcome Sanger Institute, whose entrepreneurial collaboration has led to the development of a novel diagnostic method for COVID19 with the potential to be scaled to the population level. Their testing method can also be used by individuals in the home or as a point of care test and has the potential to deliver better virus surveillance in the coming months; buying governments, scientists and pharma companies more time to create an effective COVID19 vaccine.
Conversation will cover:
What do scientists in genomics and biodata need in order to generate faster solutions to address a global pandemic, now and in the future?
Scientific research is key to finding an effective exit strategy from this pandemic; how can scientists create and seize opportunities to innovate and make an impact?
How important is teamwork, mutual support and collaboration (both in academia and in industry, and between the two) in mobilising solutions of this type and at global scale to achieve results and ultimately- to save lives?
Format
Informal 30-45 min virtual Q&A session
Why attend?
• 100% live interactive sessions with no pre-recorded content.
• Experts will answer all your questions.
• The webinar is open to a global audience so you can enjoy a diversity of voices contributing to the discussion.
• Get an insight into careers, life, and operations of a world-class genomics/biodata Institute.
• Meet new people, connect with peers, and learn from the comfort of your armchair/ sofa/deck chair.
Who should attend?
Life Sciences PhD students and PostDocs currently working in or interested in topics such as genomics, sequencing, virology, healthcare research or governance, AI, bioinformatics, entrepreneurship, management, commercialisation of science, technology transfer/translation, policymakers, pharma companies etc.
Can't attend the webinar?
Why not register anyway, and we will email you the recording of the webinar to listen to afterwards.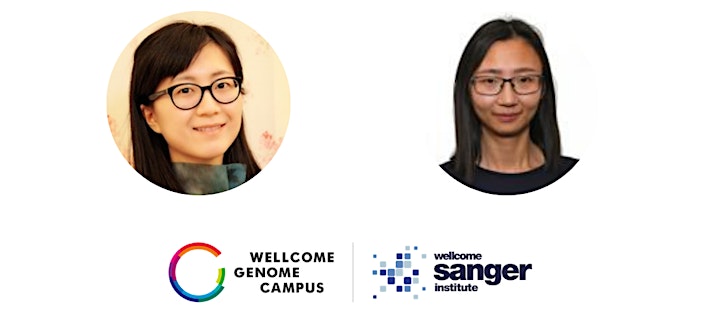 A few things to note:
1. This online session will be more valuable and interesting for all participants if you engage with the presenters. Please have a think about what you'd like to ask during the session.
2. Please note, that we will record the webinars so that they could be made available for later access.
3. At the start of the session, you will be automatically muted. To ask your question, please add it to the CHAT/request to be unmuted.
4. Enjoy 'grilling' the experts!
About the series
BIODATAlks are 30-45 minute interactive webinars, hosted by the BioData Innovation Centre at the Wellcome Genome Campus and featuring a variety of genomics and biodata experts- from established companies to start-ups and academic spinouts. These online sessions are designed to introduce you to thought-leaders, founders and experts who have created successful teams and enterprises in the biodata and genomics fields. With absolutely no pre-recorded content, speakers expect to have questions thrown at them, so please have one or two comments/questions up your sleeve to make sure you get the most out of these informal discussions.