Description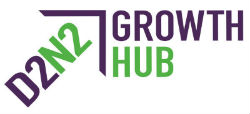 This workshop is funded by the European Regional Development Fund and is hosted by the D2N2 Growth Hub in partnership with Cue Business Solutions.

A FREE event for small medium sized, high growth businesses in Derbyshire and Nottinghamshire
WHO IS IT FOR
The workshop is suitable for Managing Directors and Senior Managers from all business disciplines with responsibility for their overall business model and core growth strategy. The workshop is specifically valuable for:
High growth businesses with true 'scale up' potential

Innovative Businesses with potential to create new products and enter new markets

Businesses needing to review their business model to ensure it is robust and competitive

Businesses seeking to find a new business model capable of delivering higher growth

WHY ATTEND
You will be shown the tools and techniques that many high growth 'scale up' businesses use to develop effective high growth business models and then helped to apply them to your own business. Experience shows that enhancing your 'core business model competencies' can rapidly accelerate growth.
If you're a business with ambition and capacity for high growth, this workshop has been specifically designed to help you.
WHAT IS COVERED
The workshop will introduce the various elements of the Business Model Canvas and Value Proposition Canvas methodology developed by Strategyzer.com and will use well known examples to demonstrate effective application of these tools.
The workshop will be practical and interactive and led by experienced Innovation Advisers from CUE Business Solutions. Attendees will have the opportunity to work directly on their own business model and on completion of the training will come away with:
A clearly defined value proposition, helping them find more customers easily

A robust business model (or the ability to create one)

An iterative tool that can be reapplied to all future business development and innovation
Agenda
09:00: Arrival and Registration
09:30: Welcome and Introduction by D2N2
09.45: Session 1 - An Introduction to the Business Model Canvas
11.00: Coffee Break and Networking
11.30: Session 2 - The Value Proposition Canvas
12.45: Lunch
13.30: Session 3 – Populating The Canvas
14.30: Tea Break
14.45: Session 4 – Populating The Canvas Cont…
15.30: Open Forum Q&A
15.45: Introduction to Innovate 2 Succeed Programme
16:00: Close
ERDF
This workshop is funded via the European Regional Development Fund, therefore we are required to evidence that you are a small to medium enterprise.
There will be a couple of forms that will need to be completed prior to the event and these will be sent to you once you have registered. One form is to ensure you are a small to medium enterprise, the second is to capture any business support you have received over the last 3 years to ensure you haven't exceeded €200,000. If you have previously completed these forms at a Growth Hub event you will not have to complete another set.