SMLL Innovation Community Virtual Showcase Vol. 2
About this event
The Smart Mobility Living Lab team is excited to invite you to the Innovation Community Virtual Showcase Vol. 2!
The aim of the event is to bring together the Innovation Community and its friends to showcase the existing members, understand where the best potential partnerships are, find out what are the new initiatives, upcoming projects and align future plans.
Hosted by Toby Hiles| Strategic Partnerships Director at Grid Smarter Cities
Featuring the Community members who will tell us about their business and why they are passionate about coming together to shape the future of mobility:
Patricia La Torre | Head of Strategic Partnerships at Humanising Autonomy
Kim Smith | Head of Smart Mobility at DG Cities
David Owen | Head of Technical Trials, Networks at Virgin Media O2
Peter Shearman | Head of Innovation , UKI , Emerging Technology & Incubation at Cisco
Sam Nash | Director of Technology & Product at NotLost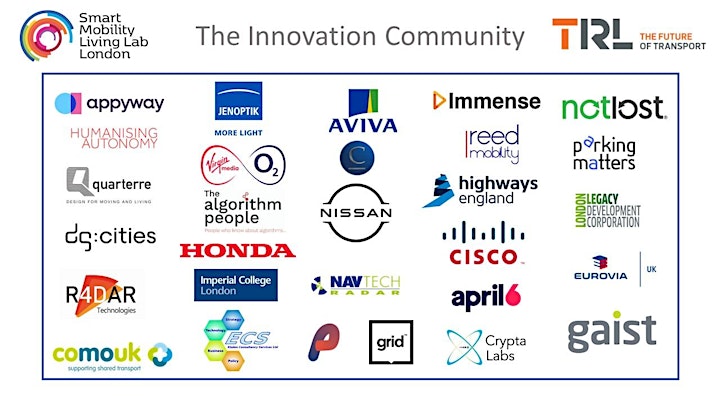 The Smart Mobility Living Lab in London is a TRL company. We share the same values as the world renowned research establishment, but we are here to meet the needs of new types of customers, the #JourneyMakers who are shaping the future of transport by breaking with convention, leading with imagination, and inspiring a new generation to travel with softer footprints.
Our plan is to revolutionize the transport system whilst creating jobs and growth for UK PLC and this is impossible without cross-sectoral collaborations. Come along to this Showcase event to hear about what our members do!
Look forward seeing you (virtually) on the 27th of October!