Sales Have Ended
Ticket sales have ended
Thank you very much for registering for the Innovation Forum Kuala Lumpur [IFKL] Workshop and Conference 2018. We will send you an invoice shortly. PLEASE BRING ALONG THE EMAIL CONFIRMATION TICKET AND PRESENT IT AT THE REGISTRATION COUNTER AS PROOF OF TICKET PURCHASE. ALL TICKETS WILL BE CHECKED. THANK YOU. Further delegate information will be shared with you shortly prior to the conference. In the meantime if you have any questions please contact Ms Siti, email address ifkl@um.edu.my
Sales Have Ended
Ticket sales have ended
Thank you very much for registering for the Innovation Forum Kuala Lumpur [IFKL] Workshop and Conference 2018. We will send you an invoice shortly. PLEASE BRING ALONG THE EMAIL CONFIRMATION TICKET AND PRESENT IT AT THE REGISTRATION COUNTER AS PROOF OF TICKET PURCHASE. ALL TICKETS WILL BE CHECKED. THANK YOU. Further delegate information will be shared with you shortly prior to the conference. In the meantime if you have any questions please contact Ms Siti, email address ifkl@um.edu.my
Description
Friday 21st September 2018 - Tan Sri Azman Hashim Building (AHB), University of Malaya
Saturday 22nd September 2018 - Dewan Tunku Canselor
University of Malaya

As Malaysia moves into the 4th industrial revolution, there is a need to develop a platform to cultivate, develop and commercialize innovation within the academic ecosystem of the University Malaya (UM). The primary field that the Innovation Forum Kuala Lumpur [IFKL] focuses on is medical technology. This includes pharmaceuticals, medical biotechnology, medical devices and health related computer technology development. The IFKL aims to bring together all stakeholders in the value creation chain from clinicians, industry experts, regulatory bodies and innovators from all related faculties in UM to discuss and develop relevant and commercially viable technology. Innovation cannot take place in isolation, especially in such a complex and regulated field such as medical technology.
The Innovation Forum Conference in Kuala Lumpur will help facilitate communication and collaboration between all key stakeholders to develop viable medical technology conceived by academia. There needs to be a paradigm shift among academic researchers to move towards a commercial development pathway rather than simply issuing publications. Researchers require opportunities, early exposure and specific skills to become medical entrepreneurs. The Innovation Forum Kuala Lumpur hopes to create excitement and highlight the possibilities available in translating technology from the bench to business, so that students from both undergraduate and postgraduate disciplines can venture into this industry.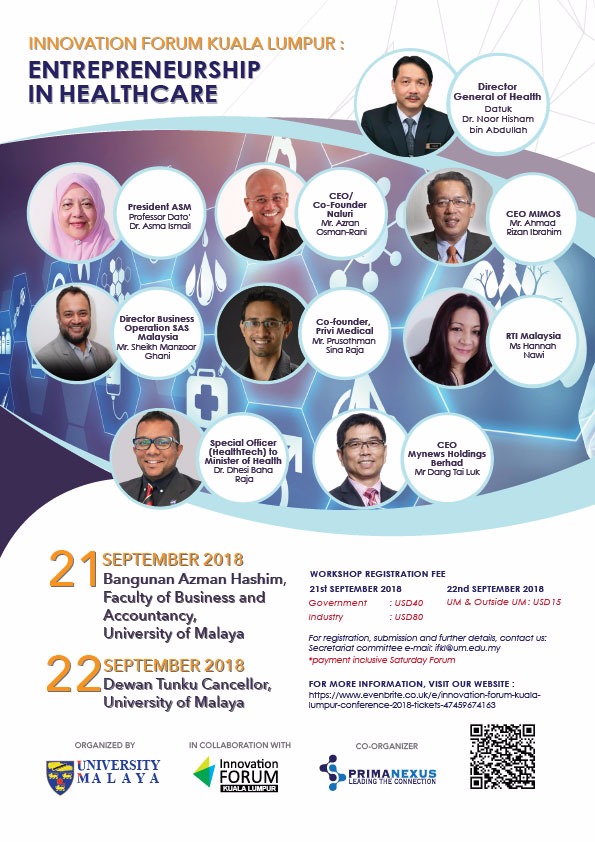 Venue
Please note that there are two different venues for the two days of the conference.
The workshop on Friday 21st September will take place at:
-
Lembah Pantai
50603 Kuala Lumpur
Malaysia
The Fourm on Saturday 22nd September will take place at:
Dewan Tunku Canselor
University of Malaya
Lembah Pantai
50603 Kuala Lumpur
Malaysia
Programme at a glance
Day 1 – 21st September: Business School, University of Malaya
1330 – 1430 - Registration
1430 – 1715 - CONCURRENT WORKSHOP SESSIONS
Workshop 1 - Clinical Trials and Regenerative Medicine
Workshop 2 - Digital Health, IOT and AI in Healthcare
Workshop 3 - Medical Devices: Innovation to Marketing
Workshop 4 - Entrepreneurship in Mental Healthcare
1715 – 1730 - Closing
1730 – 1930 - Networking with Refreshments
Day 2 – 22nd September: Dewan Tunku Canselor (DTC), University of Malaya
0730 – 0900 - Registration
0900 – 1000 - Opening Speech and Officiation
1000 – 1030 - Keynote Speaker TBC
1030 – 1100 - Tea Break and Networking
1100 – 1145 - Talks by Experts – Session 1
1145 – 1300 - Business Idea Competition
1300 – 1400 - Lunch break and Exhibition
1400 – 1500 - Talks by Experts – Session 2
1500 – 1600 - Closing Remarks and Award Ceremony
1600 – 1700 - Networking with Refreshments
Business Idea Competition