Description
Innovation in HealthTech
Enabled jointly by the Ireland – Wales EU INTERREG operation Celtic Advanced Life Science Innovation Network (CALIN) and the H2020 Erasmus+ MedInvent project, in collaboration with Health Innovation Hub Ireland, University College Cork Medical Education Unit and Assert.
Innovative healthtech solutions are increasingly facilitating improvements in the delivery of healthcare and better clinical outcomes. Breakthrough research in photonics, electronics, nanotechnology, biotechnology and smart systems is enabling the development of a new generation of medical devices with added functionalities such as advanced materials, sensors and connectivity. Fundamental to the success of any new product or service for the healthcare industry is a detailed understanding of the opportunities and challenges that exist in the arena.
The Horizon 2020 growth strategy states that the competitiveness and innovation potential of European enterprises relies on fostering and harnessing new skills in innovation and creativity in the European workforce. In the area of medical device design, there is a need for increased collaboration between stakeholders [clinicians/engineers/ entrepreneurs/ notified bodies] in the device innovation process. Interdisciplinary and collaborative approaches are required to ensure that patient-oriented design solutions are more quickly and effectively translated from 'bench to bedside' and are put into practice to benefit patients.
Innovation in HealthTech will bring together a wide array of stakeholders to discuss the design and development of new technology solutions to healthcare problems.
Day 1: Addressing Challenges in Medical Device Development
11th June 2018, 4pm-10pm including networking dinner
Day 1 of Innovation in HealthTech will provide an opportunity for leading academic, clinical representatives and enterprises to initiate and develop collaborative discussions around the challenges experienced in day to day clinical practice and the wealth of state-of-the-art technology solutions available in academic and industry circles. Targeted clinical areas are respiratory medicine, emergency medicine, orthopaedic surgery and infectious diseases.
Speakers Confirmed to Date:
Brian Flatley - Business Strategy and Engagement Director, S3 Connected Health | Colman Casey - Director, Health Innovation Hub Ireland | Corinna Sadlier - Consultant Physician in Infectious Diseases, Cork University Hospital | Eoin O'Reilly - Interim CEO, Tyndall National Institute | Jason van der Velde - Prehospital Emergency Medicine and Critical Care Retrieval Physician, National Clinical Lead MEDICO Cork | Larry O`Dwyer – Scientific Affairs Manager, HPRA | Marcus Kennedy – Consultant Respiratory Physician, Cork University Hospital | Paul Galvin - Head of ICT for Health Strategic Programmes, Tyndall National Institute | Stephen Brennan – Consultant Orthopaedic Surgeon, Bons Secours Hospital, Cork
Day 2: Collaborative Healthcare Requires Collaborative Education
12th June 2018, 9.30am-4pm including networking lunch
Day 2 of Innovation in HealthTech will bring together speakers from higher education institutions and industry who will present data from diverse pedagogical approaches and models which involve researchers from the engineering, industrial design, medical and business communities to develop engineering solutions to human health problems.
Speakers Confirmed to Date:
Eoin O'Cearbhaill – Director, UCD Medical Device Design Group | Jef Vanderoost - Lecturer at Faculty of Engineering Science, University of Leuven | Lee Swanstrom - Head of GI and Minimally Invasive Surgery, Oregon Clinic | Padraig Cantillon-Murphy – Lecturer at School of Engineering, University College Cork | Paul Galvin - Head of ICT for Health Strategic Programmes, Tyndall National Institute | Simon Baconnier - TNA Manager, EU-Nanomedicine Characterisation Laboratory
Please view the full event programme below on a separate tab.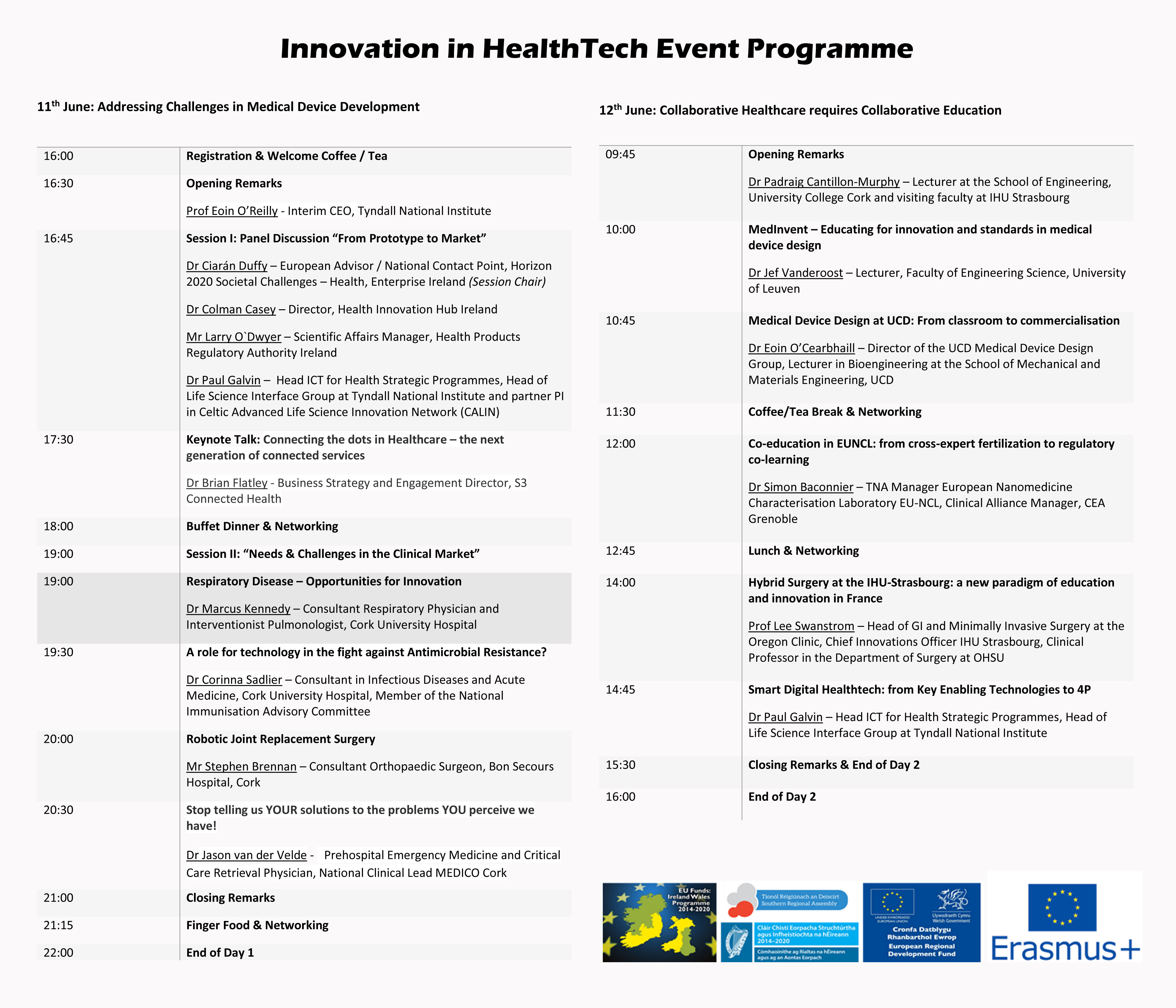 CALIN is an Ireland Wales 2014-2020 programme part funded by the European Regional Development Fund through the Welsh Government, which aims to support the life sciences sector by initiating collaboration between partner universities and SMEs in the two regions. For more information, visit www.calin.ie or email info@calin.ie
MedInvent is an EU Erasmus+ funded project that involves the development of an online personalized learning environment with a view to extending creativity and innovation skills in medical device design to HEI students and SME-based learners. For more information, visit http://medinvent-project.eu/