Description
Every self-respecting organisation or programme appears to have established an Innovation Lab to accelerate innovation in their field. But do they actually work? And have we reached peak-innovation-lab where the hyperbole outweighs the reality?
At this breakfast event we will hear from Abhay Adhikari, founder of the NESTA top 50 radicals award winning Sustainability Labs in Leeds, and from Stephen Blackburn of Leeds City Council who has taken up the reigns of running this data driven lab on a day-to-day basis. Along with Abhay and Stephen, we will hear from Jon Hindley, public health specialist, who took the Care View app from initial idea to implementation through the Leeds Sustainability Lab.
This event will be of interest to software developers and designers, innovators, health and care practitioners and policy makers.
Refreshments and free breakfast will be provided.
About our speakers:
Jon Hindley
Jon works as a public health officer for Leeds City Council for the locality and primary care team. This team manages local contracts such as the Better Together outreach providers which help isolated citizens engage with services, organisations, activities and communities which may help to improve and maintain their overall health and wellbeing. The team focusses on the 10% most deprived communities within the city.
Previously to this Jon worked in community development and health with a local third sector organisation in the West for over ten years engaging disenfranchised communities such as prisoners and Irish travellers.
Stephen Blackburn
Stephen has worked for the council for over 13 years in a variety of information governance roles and been in his current role for over 4 years.
Heading up Leeds Data Mill from its inception and overseeing the re-brand to Data Mill North, Stephen has led the way in promoting open data across the council and with external partners across the city. He also leads on the council's Innovation Labs where developers and other stakeholders come together to re-use open data to create new and innovative services.
Stephen's role has recently broadened to include other smart city work.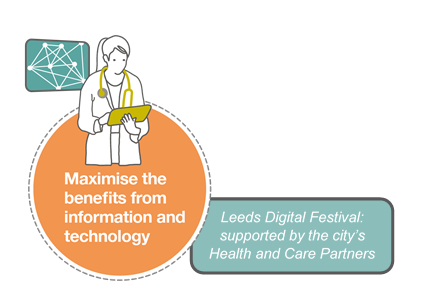 Our city's Health and Wellbeing Strategy 2016-2021 sets out a clear vision that 'Leeds will be a healthy and caring city for all ages, where people who are the poorest improve their health the fastest'. This includes maximising the benefits from information and technology as a key priority. The health and wellbeing strand of the Digital Festival is a celebration of the diverse and innovative work taking place to help us achieve our shared, bold ambition for Leeds to be the best city for health and wellbeing.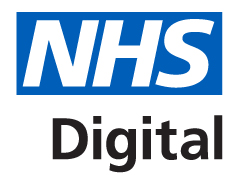 Based here in Leeds, NHS Digital is harnessing the power of technology and data to improve the use of health and care resources and make lives better.
As the national IT partner to the health and social care system, we provide a range of services and expertise including infrastructure that keeps services working 24/7, data security services, more than 200 official statistical publications and vital information that helps patients, doctors and nurses every single day.
We are one of the largest employers in not only this city, but nationally as a leading organisation for technologists, analysts and specialists from a spectrum of fields, from communications to finance, who want to make a difference.
We will be taking part and hosting events throughout the festival so come along and find out about what we do, why it matters and how you can get involved.