Location
Brunel University London, Hamilton Centre
Kingston Lane
London
UB8 3PH
United Kingdom
Delivered by Professor Robert Holdway FRSA FIEMA, Brunel University London, Innovation Director
About this event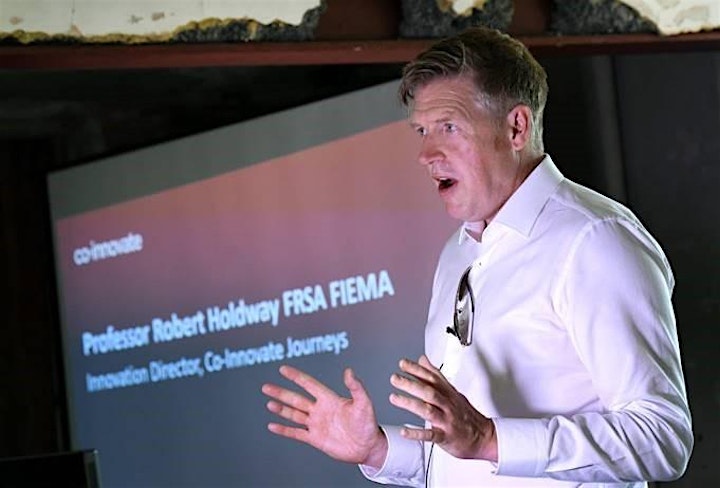 Innovation Masterclass Series – Brunel University London
The innovation capabilities you need right now
Seeking new ways to develop innovative products and services
Delivered by Professor Robert Holdway FRSA FIEMA, Brunel University London & Director Giraffe Innovation Limited
Key Themes: Innovation capability, market analysis, user insights, value proposition, business model, culture and vision, sustainability, net zero.
Change is all around us and you need the skills for rapid response. Whether you are wrestling with a business problem, exploring a new opportunity, or embarking on an innovation challenge – these workshops will get you thinking differently.
By working across three sessions – and exploring the critical capabilities – you will gain the tools, capacity, skills, and confidence to respond to the challenges of change. This will help you adapt to the now, shape your future thinking and future proof your business.
Places are limited so if you are interested in attending the Innovation Masterclass Series please register and the co-innovate team will send you our a business questionnaire and we will confirm your place.
Each masterclass is deigned to be interactive, engaging and hopefully fun…
What will you learn / take away from the session?
Supercharge your projects – see faster results, outcomes and financial impacts
Understand the tools that can help respond and adapt to the 'new normal'
Help you stay relevant as customer behaviours change
Come up with new creative solutions to the problems you face
Speed up thinking and test ideas more quickly
Increase your flexibility, agility and adaptability
Help you stay competitive in a changing world
Find out who can help, support and fund your project
Innovation Masterclass 1: Understanding the Innovation Process
Date: 12th July 2022
Format: Interactive Workshops
Location: Hamilton Centre, Brunel University London
Time: 9:30am - 3:30pm
Understanding the innovation process and your innovation capability and 'vitality'. Knowing how to innovate can be a daunting process even for established companies. You may have an idea but unsure of the key stages, inputs and priorities you require to structure the onward development. For established businesses, having a robust process by which to manage innovation is crucial – especially if you want to repeat previous success and communicate this to others.
Market research: transforming data into insight. In a world of data, how do you find the right information to make sense of things? This segment will help you grow in confidence in gathering information, developing insight, and using this to validate the new opportunities that can power your business.
Catching customers. Customer behaviours are changing – in some cases a seismic change – and your business needs to respond and develop great ways of staying relevant. This segment provides the tools you need to help you explore and understand your specific customer needs, ensuring what they want is reflected in your products and services.
Generating killer ideas and solutions. How do you generate fresh ideas when things need to change? This segment will help you uncover sources of inspiration, adapt and widen your thinking style, and give you the skills to generate and explore great ideas.
Leverage the power of others: who might help me. You do not need to do it all alone. From Brunel University, knowledge centres, great suppliers, business partners, and business support organisations, there are many organisations with the expertise, technical capabilities or specialist skills needed to power your business. This segment will help you build successful collaborative business relationships and introduce you to Brunel's great ecosystem.
Innovation Masterclass 2: Building an Innovation Culture
Date: 20th July 2022
Format: Interactive Workshops
Location: Hamilton Centre, Brunel University London
Time: 9:30am - 3:30pm
Building an innovation Culture - Vision, Mission and Values. This segment will outline the importance of understanding, managing and building a strong culture to support innovation and build your brand.
How does your company create 'value'? This segment will explore the importance of user driven value creation and a business model that underpins delivering on the promise of your company's products and services.
Making it all pay: pragmatic business models and successful execution. Without an effective business model, it becomes hard to see what value your company is providing. This segment will offer a rapid and pragmatic approach to reviewing and establishing a robust business model for your business– giving you some of the practical methods you need to drive your idea, sales and the overall business.
Failing faster: quickly establishing what will work. Cut through the noise and learn faster. You need to be agile and able to test ideas quickly and efficiently before committing valuable business resources. The session will show you how to undertake the rapid testing of new ideas and concepts with potential stakeholders, allowing you to prioritise winners.
Communicating with impact. You often only get one good chance to get your message across. You must be equipped to take it. This session will give you the tools, techniques and confidence need to present your ideas clearly and succinctly.
Innovation Masterclass 3: Towards Net Zero – How sustainability can drive innovation in your business.
Date: 26th July 2022
Format: Interactive Workshops
Location: Hamilton Centre, Brunel University London
Time: 9:30am - 3:30pm
"60% of UK employees say it's important to work for an organisation that has an active environmental policy to reduce its carbon emissions"
This short workshop will introduce the wider context of sustainability and why it matters to your business. The primary objective is to support your business as it moves to an 'environmentally active' company across design, marketing, supply chain, operations and legal compliance. Moreover, the context of the Circular Economy and the United Nations Sustainability Goals (UNSDGs) and Net Zero can stimulate creative thought and business propositions that respond to increasing targets and market sensitivity around environmental issues across different sectors.
The output will enable your business to understand key sustainability frameworks consonant with the market requirements for customer acquisition and retention and mitigate against future risk including not being able to supply key markets. This will help formulate future strategy and environmental policy making processes.
The workshop will also emphasize the broader need for companies to express their 'purpose'– not just the 'WHAT and 'HOW' but the 'WHY'. This thinking will underpin defining your company's strategic priorities and actions.
Biography of Deliverer
Professor Robert Holdway FRSA FIEMA – Innovation Director Co-Innovate Brunel University London and Managing Director – Giraffe Innovation Ltd
Rob is an Innovation Director on the Co-Innovate programme at Brunel University London. Since 2009 he has been a Professor Associate in the Department of Design.
Rob has over 25 years professional experience as an innovation and sustainability professional working on eco-design, Life Cycle Assessment (LCA), technical and market analysis and resource efficiency. Rob's experience spans pharmaceuticals, electricals and electronics, food & drink, textiles and the built environment/construction sectors. He has previously worked for Unilever Research, Philips Corporate Design and Red Bull Advanced Technology (technology arm of Red Bull Racing Formula 1 team). Rob is also a retained technical consultant for SKY and Character Group Plc.
Rob co-founded award- winning environmental consultancy Giraffe Innovation Ltd in 2001. The Guardian newspaper Business pages listed Giraffe as 'one of the UK's top 10 green businesses' for using environmental analysis. Rob was described by The Manufacturer Magazine as 'Britain's Leading Eco-Design Consultant.
Rob has extensive experience in influencing and commenting and influencing environmental strategies. He gave evidence to the House of Commons Environment Audit Committee and the GLA Environment Committee (City Hall) on the importance of the Circular Economy. Rob won a Design Business Association – Gold Design Effectiveness Award with Virgin Atlantic Airways (VAA) for its eco-design and life cycle assessment work on their new in-flight meal service. Giraffe has also won a Green Apple Award for this work.
Rob is a Fellow of the Institute of Environmental Management & Assessment (IEMA) and Royal Society for the encouragement of Arts, Manufactures and Commerce. He is also a London Sustainable Development Commission – London Leader and a World Economic Forum – YGL.
Eligibility
Our Workshops are part-funded by European Regional Development Funds. Our workshops are delivered free of charge to participants; however, as they are fully-funded, they are classed as state aid to participating businesses and are subject to state aid rules and the associated eligibility criteria:
SME: Small or medium enterprise i.e. less than 250 (Full Time Equivalent) employees
Annual Turnover less than 50 Million Euro OR Balance Sheet less than 43 million Euro