Description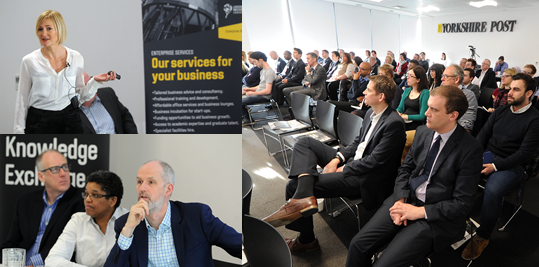 The Leeds Beckett University Innovation Network is a series of breakfast events in partnership with The Yorkshire Post. Events focus on innovation as a key driver for growth and sustainability – as well as the challenges faced by businesses looking to innovate.
In addition to hearing from expert speakers, the Innovation Network offers a great opportunity for knowledge exchange and to gain new business contacts. Events are free to attend and are targeted at businesses, policy makers and anyone interested in innovation, technology and future trends. The next event will address Making Export Easy.
This breakfast event will give you an idea of what support and funding opportunities are available to businesses along with tips and tools on how to grow your business through export. The event will also provide you with an insight on how other businesses have used export to grow their business, as they share with you their story.
Speakers at the event are:
Andrew Marran, Business Development Manager
Leeds Beckett University
Andrew trained as a management consultant and after 12 years working internationally with corporate organisations worked for the then regional development agency to establish a joint public and privately financed funding and support programme for High Growth SME start ups across Yorkshire. Andrew joined Leeds Beckett University in 2008 as part of a newly formed commercial team seeking to work more widely with businesses and organisations seeking to grow and innovate.


Andrew Joy, Director for International Banking
Santander
Andrew has spent over 30 years working within International Trade Finance with major banking Groups including Standard Chartered, National Australia Bank, Barclays and now Santander.


Ian Harris, CEO
Search Laboratory
Whether Ian is working with new or experienced exporters, he is committed to making International Trade easier to understand and undertake. Ian always seeks to offer the right solutions based on what is right for the individual company underpinned by the ethos of Simple, Personal and Fair.


Eve Husband, International Trade Adviser
Department of International Trade
Eve has spent over 18 years working within the International trade support environment. An International Research specialist, she is also an experienced International Trade Adviser working for the Dept For International Trade (DIT), assisting companies with their various export challenges

Nozar Alikhanizadeh, Managing Director
Kavendor
Nozar was born on 18th Jan 1959, is married and has 3 children. He has a HND in Mech Eng, PG Dip in Fuel & Energy, MSc in Combustion & Energy and also studied 2.5 years of PhD in Heat Transfer. Nozar's current role is MD of Kavendor Ltd, over seeing business and also taking care of sourcing, sales & design/medical solutions.

Innovation Network events are free to attend.
Refreshments and pastries will be served.
The nearest car parks are situated on Whitehall Road.
The event offers chance to network as well as to hear from our inspirational speakers. We hope that you will join us for this enjoyable event. The topic for our September event is The Northern Powerhouse & Regional Growth.
We would like to thank our event partners and sponsors:
The Yorkshire Post and Santander