Innovation Network: Northern Powerhouse & Regional Growth: What does it mean for your Business?

Wednesday, 20 September 2017 from 08:30 to 10:30 (BST)
Event Details
This breakfast event will provide you with an overview of the Northern Powerhouse & regional growth agenda. Addressing what it means for your business, plus support and opportunities for businesses in Yorkshire.

The Leeds Beckett University Innovation Network is a series of breakfast events delivered in partnership with The Yorkshire Post. Events focus on innovation as a key driver for growth and sustainability – as well as the challenges faced by businesses looking to innovate. In addition to hearing from expert speakers, the Innovation Network offers a great opportunity for knowledge exchange and to gain new business contacts.

Events are free to attend and are targeted at businesses, policy makers and anyone interested in innovation, technology and future trends. The event will also provide you with an insight on how local SME businesses can access and benefit from the Northern Powerhouse and regional growth initiatives.
Speakers at the event include: 
Henri Murison, Director of the Northern Powerhouse Partnership
The Northern Powerhouse – Prime capabilities of energy, digital, health innovation and advanced manufacturing

Jonathan Oxley, Chairman of the Institute of Directors and Director at Lupton Fawcett LLP
The regional growth agenda and Yorkshire businesses

Sherry Ward, Director of Omega Security Systems
Achieving business success in the north

Christine Robinson, Strategic Projects Manager at Leeds Beckett University
Support for business growth
- Innovation Network events are free to attend.
- Refreshments and pastries will be served.
- The nearest car parks are situated on Whitehall Road.
The event offers chance to network as well as to hear from our inspirational speakers. We hope that you will join us for this enjoyable event. The topic for our next event in December event is Disruptive Innovation, what does it take to achieve high growth.
We are also launching the Innovation Network Series of Events in Halifax and Wakefield this November.
Our Speakers:  
Henri Murison in April was appointed as the first permeant Director of the Northern Powerhouse Partnership (NPP), which has been established by business and civic leaders across the North to drive our economy and is chaired by George Osborne. During the last decade, he has held senior public policy roles in both the public and private sectors across the North of England. He served as Cabinet member for Quality of Life at Newcastle City Council, leading on key issues including transport, planning and the environment. He also worked as Research Director at the Office of the Police & Crime Commissioner for West Yorkshire and, most recently, led on Public Affairs at the Yorkshire Building Society, focusing on issues such as devolution in Yorkshire, housing and transport.


Jonathan Oxley is a partner in the Corporate Finance team at Lupton Fawcett. He works on mergers and acquisitions, with early stage companies and enterprise investment funds, and extensively in the healthcare sector. He chairs the Yorkshire Shadow Monetary Policy Committee, which is a joint venture between Lupton Fawcett and the Yorkshire Post. He was chairman of the Institute of Directors (IoD) in Yorkshire & the Humber from 2015-2017 and continues to be the regional IOD lead on the Northern Powerhouse and the devolution agenda. He is a regular columnist in the Yorkshire Post on business and economic matters. He is currently working with Leeds Beckett University to help develop their University Business Centres in Leeds, Wakefield and Halifax.


Christine Robinson is the Strategic projects Manager at Leeds Beckett and works on projects such as AD:VENTURE. Focussed on creating and supporting high growth businesses from start up to expansion, AD:VENTURE is here to help you make your business venture the best it can be #ThinkBig #ThinkAdventure. The AD:VENTURE programme delivers ERDF funded growth support for people planning to start a business within the Leeds City Region and existing businesses in their first 3 years of trading
Delivered in partnership with:
The Yorkshire Post,
Kindly sponsored by:
AdVenture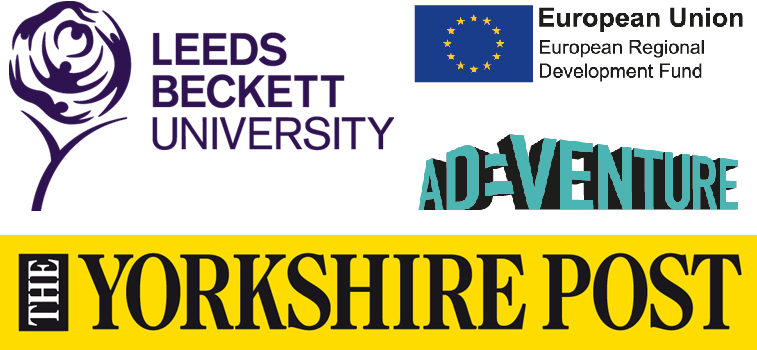 When & Where

The Yorkshire Post
No. 1 Leeds
26 Whitehall Road East
LS12 1BE Leeds
United Kingdom


Wednesday, 20 September 2017 from 08:30 to 10:30 (BST)
Add to my calendar
Organiser
Leeds Beckett University has a network of University Business Centres which have been operating for more than 17 years supporting over 800 businesses to accelerate their growth. Our offer is proven to almost double business sustainability, with a 95% business survival rate in the first year of trading.

We provide support for any small to medium sized business looking to grow.

Our University Business Centre - Leeds has four separate locations - our Leeds Digital Hub delivered in partnership with The Yorkshire Post, our Leeds Creative Hub onsite with textile manufacturers AW Hainsworth & Sons Ltd, our main Leeds site at Queen Square and our Headingley site.

Our University Business Centre - Wakefield is based at 6-8 Bond Terrace with a sister site in the Advanced Skills and Innovation Centre, Wakefield.  
Our University Business Centre - Halifax at Piece Mill is now launched and is located next to the stunning Piece Hall, to Square Chapel and just 2 mins walk from Halifax train station.
We provide office services, coworking space and virtual office business solutions for freelancers and business owners who work from home and require a professional business address in Leeds, Halifax or Wakefield. 

We help to support the growth of businesses by providing quality assured training proven to accelerate business growth as well as expert business mentoring services. We can also help businesses to access professional meeting space, networking opportunities, promotional opportunities, specialist expertise, academic and graduate talent.

We work with a wide range of partners including the Institute of Directors, The Yorkshire Post, AW Hainsworth & Sons Ltd, WNY Chamber of Commerce, DWF, WGN, Wakefield College, Lupton Fawcett and Leeds, Calderdale and Wakefield Councils .