Innovation Now: opportunities for business & universities to work together
The West Yorkshire Innovation Festival runs from 15th - 19th March 2021. This session is delivered by Yorkshire Universities.
About this event
Improving the dynamic between Universities and SMEs.
Join Yorkshire Universities (YU), the regional partnership of twelve higher educational institutions, to learn more about how working with universities can benefit your business.
This headline event, as part of the inaugural West Yorkshire Innovation Festival, brings together expertise and opportunities from the universities and specialist higher education institutes (HEIs) in West Yorkshire to showcase and explore how strengthened relationships and interaction between universities and business can bolster innovation and benefit SMEs, across all sectors, in the Leeds City Region.
Opening with a plenary and panel presentations exploring business resilience and opportunities in the face of the pandemic, universities in West Yorkshire will present a range of insights and share an overview of available business support initiatives and programmes.
You'll then have the opportunity to breakout into one of four interactive workshop sessions to explore opportunities for collaboration with universities on initiatives across healthcare, inclusive creative industries, textiles and low carbon heating and cooling.
Please see below for an outline of the agenda. A more detailed version will follow.
Part or all of this online event may be recorded and shared as part of post-event marketing content online. We will clearly indicate during the session when the recording will commence and end. If you would like to find out more about our recording policy, or opt-out of this activity, get in touch with the team: events@bradford.ac.uk.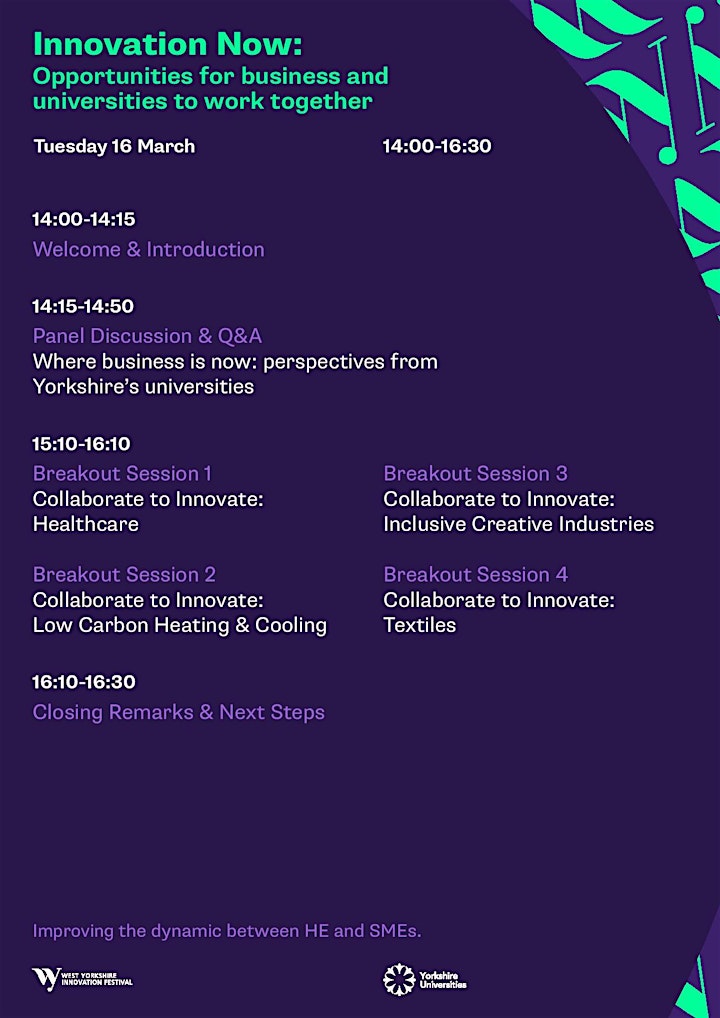 Organiser of Innovation Now: opportunities for business & universities to work together