Sales Have Ended
Registrations are closed
If registration is closed and you would like to register please e-mail admin@sparqs.ac.uk Thank you
Sales Have Ended
Registrations are closed
If registration is closed and you would like to register please e-mail admin@sparqs.ac.uk Thank you
Joint event with sparqs and QAA Scotland
About this event
As part of the current Enhancement Theme – 'Resilient Learning Communities' - sparqs and QAA Scotland are working collaboratively to facilitate the delivery of the Student Led Project (SLP).
The SLP engages student officers from across the sector to input and shape a piece of work related to the current Theme. For the next three years, the SLP will undertake a suite of work under the heading 'Higher Education: More than a Degree'.
This year's project will focus on the theme of 'digital communities', exploring innovative practice from higher education institutions and students' associations who have recreated student communities in an online environment, and what enablers and barriers they have encountered.
The culmination of the first year of this project is this half day sharing practice event, which will provide attendees with the opportunity to hear practice from students and sector colleagues across Scotland on three key themes:
• Student Rep Communities
• Extracurricular Communities
• Academic Communities
This event hopes to provide space for students and staff from across the sector to consider some of the lessons learnt from our experiences, the successes to celebrate and the challenges we have faced when it comes to recreating and sustaining student engagement in a digital environment.
This event is aimed at institutional staff, students' association officers and staff, and sector colleagues with an interest in student engagement and online community building.
Please see below for a programme outlining the event.
For more information please contact Megan Brown - megan.brown@sparqs.ac.uk
Please view our Privacy Policy for details of how we collect and use your personal information. https://www.sparqs.ac.uk/terms.php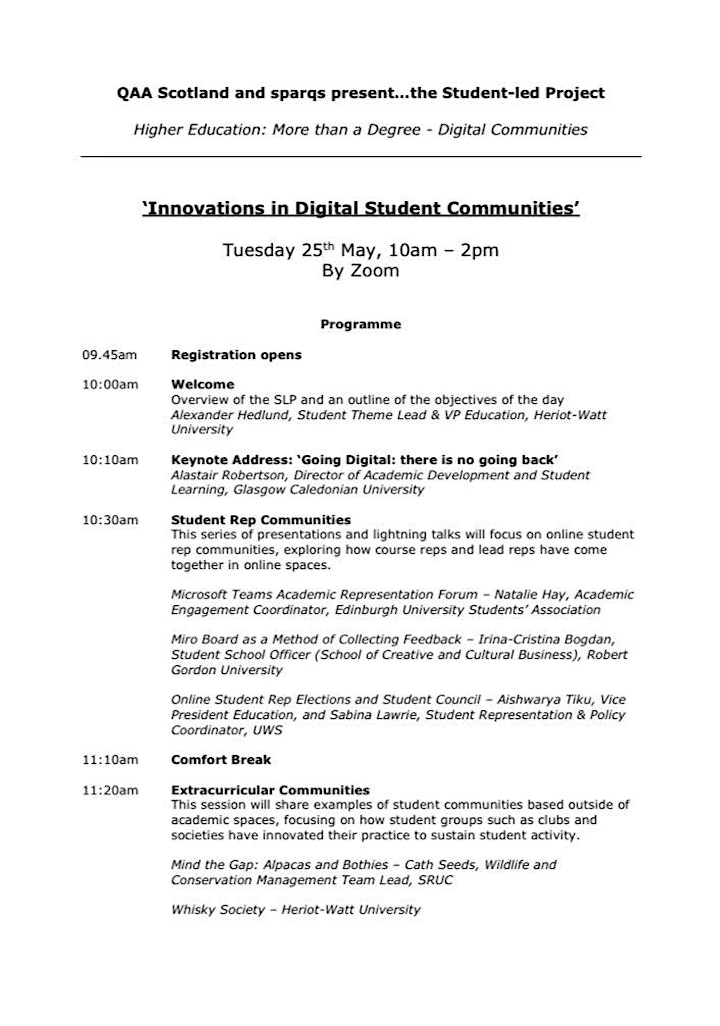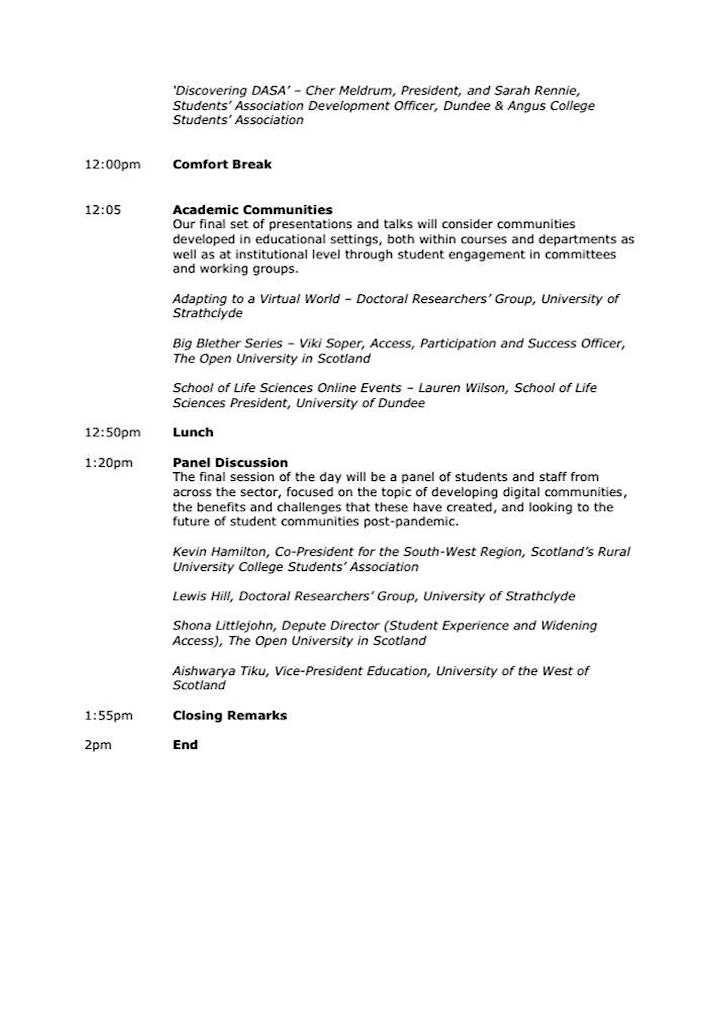 Organiser of Innovations in Digital Student Communities
sparqs has created a range of different events aimed at students, institutions and students' associations. These events focus on a range of different topics that inform or increase people's understanding of quality enhancement. In particular improving student involvement in quality enhancement.