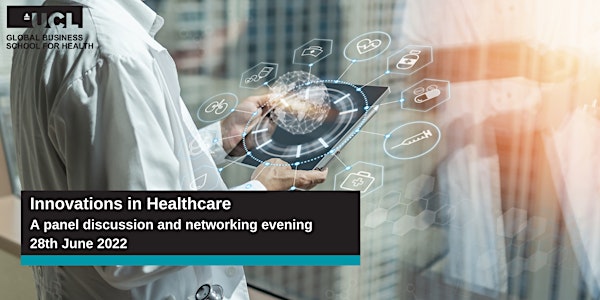 Innovations in Healthcare - a panel discussion and networking evening
Location
14 Taviton St
14 Taviton Street
London
WC1H
United Kingdom
Join us on Tuesday 28 June for our Innovations in Healthcare panel discussion and networking event.
About this event
You are warmly invited to attend our upcoming in-person Innovations in Healthcare panel discussion and networking event at 6:00pm Tuesday, 28 June. The event will give you the opportunity to hear from some of the top leaders in the health business space on how they're bringing about some of the latest innovations into the sector.
You will gain insights from varying perspectives including leading clinicians, government advisers, academics, health management consultants and founders and CEOs. During this interactive event, you will also have the opportunity to pose questions to the panel helping you to delve into the key insights and case studies discussed. After the panel discussion you'll have the opportunity to network where food and drinks will be provided.
If you are unable to attend in-person but would still like to attend, we will be be live streaming the event to ensure you don't miss a thing. You can register for the online live streamed event here.
Time - 6:00pm to 8:00pm
Date - Tuesday 28 June
Location - Room 433, Taviton Street 14-16, London WC1H 0BW (and online via our live stream)
Speakers -
About us
UCL Global Business School for Health (UCL GBSH) is the world's first business school entirely dedicated to educating the next generation of health and healthcare management leaders. We reimagine global healthcare management. We unravel health challenges from a business perspective. And we question the status quo in healthcare management to inspire public good.
Taught at UCL's state-of-the-art bespoke facilities on our UCL East campus, on the Queen Elizabeth Olympic Park in east London, we offer the chance to study at UCL, a world top 10 university currently ranked 5th in the world for Public Health (ShanghaiRanking's Global Ranking of Academic Subjects 2021).
Our education, research and scholarships will elevate your ambitions, ignite your earning potential and enable you to harness the power of our world class faculty, placing you at the cutting edge of health leadership.
Privacy
We are collecting your name and email address in order to administer your event attendance. Your data will be used by the GBSH team solely for the purpose of managing the UCL Global Business School for Health Innovations in Healthcare event.
Please note that Eventbrite is a third-party service that is not owned or managed by UCL. You should refer to Eventbrite's terms and conditions of privacy policy as we do not accept any responsibility or liability for their policies.
Eventbrite operates in the USA and subscribes to the EU-US Privacy Shield, which commits subscribers to adhering to European standards of data protection. For further details, please see:
• Eventbrite terms and conditions
If you wish to attend one of our events but do not wish to register via Eventbrite, please contact Adam Vidler (a.vidler@ucl.ac.uk)
The Global Business School for Health will remain responsible for your personal data as data controller and all queries should be directed to contactgbsh@ucl.ac.uk.
Contact
If you have any questions about the event please contact Adam Vidler (a.vidler@ucl.ac.uk).
Covid statement:
The Global Business School for Health is regularly assessing the situation around the Covid-19 pandemic in order to comply with the current government guidelines and protocols around in-person events.
Our dedicated team are working hard to create solutions to many of the complexities and challenges posed by any possible change in Covid-19 rules and regulations. As such, all necessary amendments to the event's structure will be communicated clearly to all attendees at the earliest available opportunity.
In the event that this event isn't able to take place in-person, we will continue with the online version. Any such plans will be confirmed and communicated closer to the time should such circumstances arise.
The safety of our community and guests is our number one priority, so we strongly encourage guests attending our launch event to check our current Covid-19 guidelines closer to the time.
For further information about safety measures on the day please contact us at contactgbsh@ucl.ac.uk.