Innovations in Urban Agriculture

Thursday, 24 May 2018 from 10:00 to 14:00 (CEST)
Event Details
Recent innovations in vertical farming and methods such as hydroponics and recycling of water and nutrients has stimulated interest in urban agriculture. Presentations will explore case studies of systems and technologies, and the current trends in urban agriculture. Registration is free to the event, and will include a buffet lunch and networking opportunity.
Meeting Schedule: 
09:30     Registration and welcome
10:00     Introduction, Sessions moderator Stephen Fox, Panliska ltd
10:15     Christine Zimmermann-Loess, Chairwoman of the Association for Vertical Farming
10:30     Ine Pertry from INAGRO on key developments in rooftop greenhouses
10:45     Trine Hvoslef-Eide from Norwegian University of Life Science on pilot actions within H2020 project SiEUGreen
11.00     Rhydian Beynon-Davies from Gs Fresh on lighting innovations in Horticulture
11:15 Coffee and networking
11:45     Laura Vickers from Harper Adams University and David Booth from the University of Birmingham on resource efficiency in urban agriculture
12:00     Alex Fisher, Founder and CEO of Saturn Bioponics on hydroponic science and technology potential to increase yields, improve quality and reduce production costs
12:15     Igor Kos from WCYCLE Institute Maribor, Maribor (Slovenia) on EU Urban Initiative project "Urban Soil4 Food" and experiences ofMaribor on initiatives related to the Circular Economy
12.30     Ian Mell from Manchester University on urban agriculture from a greening, planning and citizen engagement perspective
12:45 Conclusions and wrap up
13:00 Lunch and networking
14:00 Meeting close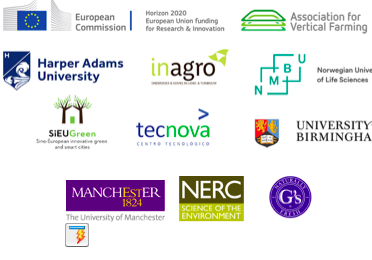 When & Where

University of Birmingham Brussels Office
22-28 Avenue d'Auderghem
B-1040 Brussels
Belgium


Thursday, 24 May 2018 from 10:00 to 14:00 (CEST)
Add to my calendar
Organiser
Harper Adams University: Harper Adams University was founded in 1901 and a world leading specialist university tackling the future development of our planet's food production, processing, animal sciences, engineering, land management and sustainable business.
University of Birmingham: Founded in 1900 the University of Birmingham has been influencing society and making an impact on people's lives through academic discovery and innovation. Birmingham is where pacemakers and plastic heart valves were developed, where the first artificial vitamin (Vitamin C) was synthesised, and where the cavity magnetron was developed, leading to applications such as radar and the microwave oven.  Today, the University continues to build on this pioneering heritage. We are still at the forefront of research, leading the field in many of the emerging disciplines of the 21st century.