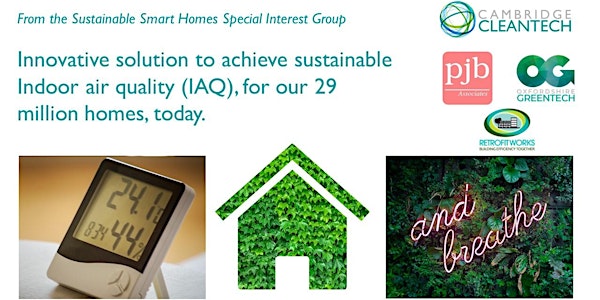 Innovative Solutions to achieve sustainable Indoor Air Quality (IAQ)
New innovations are emerging to provide better Indoor Air Quality for domestic properties, and we are here to explore them with you.
About this event
The race is on to decarbonise the 29 million UK homes. Our Sustainable Smart Homes Special Interest Group (SIG) is now approaching the issue of Indoor Air Quality (IAQ) in domestic properties, and as it turns out, improving Indoor Air Quality is the quickest and cheapest way to protect people from worsening air pollution.
The role played by indoor air both in transmission of disease and the general health and wellbeing of building occupants became headline news during the pandemic. As a good IAQ is critical to both achieving energy efficient buildings as well as good indoor environmental quality (IEQ), which will reduce the risk of pathogens propagation, including COVID-19.
Creating good IEQ by improving factors such as IAQ is increasingly recognised as improving occupant health comfort, physical and mental wellbeing. It also provides opportunities to reduce healthcare costs. In 2015, for example, BRE updated its research into the cost of poor housing to the NHS and found that improving the 3.5 million 'poor' homes in England would save the NHS £1.4bn in first-year treatment costs alone (source).
Even though not on the top of the agenda, IAQ is a subject that shouldn't be ignored, especially as a minimum of 8.4 million people are still working from home (source).
New innovations are emerging to tackle the problem, and we are here to explore them with you.
Speakers include:
Warren Pope, Retrofit Project Manager, RetrofitWorks
Alan Pither, CEO of Alan Pither, Energy Consulting and Training
Leonard Carey, CEO and Founder, Awaretag
Chunli Cao, CEO, Healthy Air Technology Ltd
Joe Hughes, CEO, Manx Technology Group