Description
Does your company have the expertise to solve some of the Nuclear Decommissioning sectors challenges? Could you help some of the giants of the industry solve their pressing problems by applying your innovations and ideas used for something entirely different?
Representatives from NDA and Innovus will outline how businesses can apply for funding through their respective schemes.
The Innovus programme is all about helping companies and entrepreneurs to commercialise their bright ideas in the form of support and funding. The latest theme under the spotlight is Nuclear Decommissioning – an industry which is grappling the challenge of decommissioning as well as its current and future operations.
Innovus is bringing in major players Sellafield Ltd. and NDA to give a unique insight into immediate and future challenges and outline the potential opportunities for Cumbrian businesses who may have the knowledge, expertise and vision to help solve them through technology development.
This free event will allow the exchange of information and ideas which aligns with the recent Technology Strategy Board and NDA Developing the Nuclear Supply Chain funding call.
Industry Challenge Areas and Business Opportunities
Industry Challenge Areas and Business Opportunities

Size reduction of contaminated and hazardous items

Characterisation of Buildings, Equipment and Land

Access, Egress and Containment for Decommissioning Operations

Decontamination of Large Scale areas

Decontamination and Decommissioning of Porous Materials

Sorting and Segregation of Hazardous and Active Waste
Draft Agenda
09:00 – 09:30
Registration, Refreshments and Networking
09:30 – 10:50
Session 1 – Funding Opportunities
A series of presentations outlining the potential funding available from the TSB/NDA call and from the Innovus Technology Investment Fund
10:50 – 11:15
Refreshments and Networking
11:15 – 12:30
Session 2 – The Decommissioning Challenge at Sellafield
A series of presentations introducing the Sellafield Decommissioning Challenge and six Industry Challenge Areas and Business Opportunities
12:30 – 13:15
Lunch and Networking
13:15 – 14:15
Session 3 – Industry Challenge Areas and Business Opportunities
Break Out sessions for the five most popular Industry Challenge Areas
14:15 – 14:45
Refreshments and Networking
14:45 – 16:15
Session 4 – Commercialisation and Collaborative Research
A series of presentations outlining the commercialisation of nuclear based ideas and the benefits of collaborative research in the sector
1-2-1 Appointments with Industry Experts (15 min appointments – booking required)
16:15 – 16:30
Round up and Close
Places are limited and will be offered on a first come, first served basis so don't miss out register today! We request that a maximum of two individuals per organisation register for the event in order to maximise attendance by companies within the area.
If you have any queries about this event please contact the Innovus Switchboard.
T: +44(0)1946 508854
E: innovate@innovus.org.uk
Organiser of Innovus Nuclear Opportunities Event
Innovus is a technology-based economic development programme that aims to support the development of new technology-based products and services, thus creating growth in existing businesses and supporting new startup businesses. The programme is supported by Britain's Energy Coast and the Nuclear Decommissioning Authority and delivered by the National Nuclear Laboratory and The University of Manchester's Dalton Nuclear Institute. Innovus can be described diagrammatically: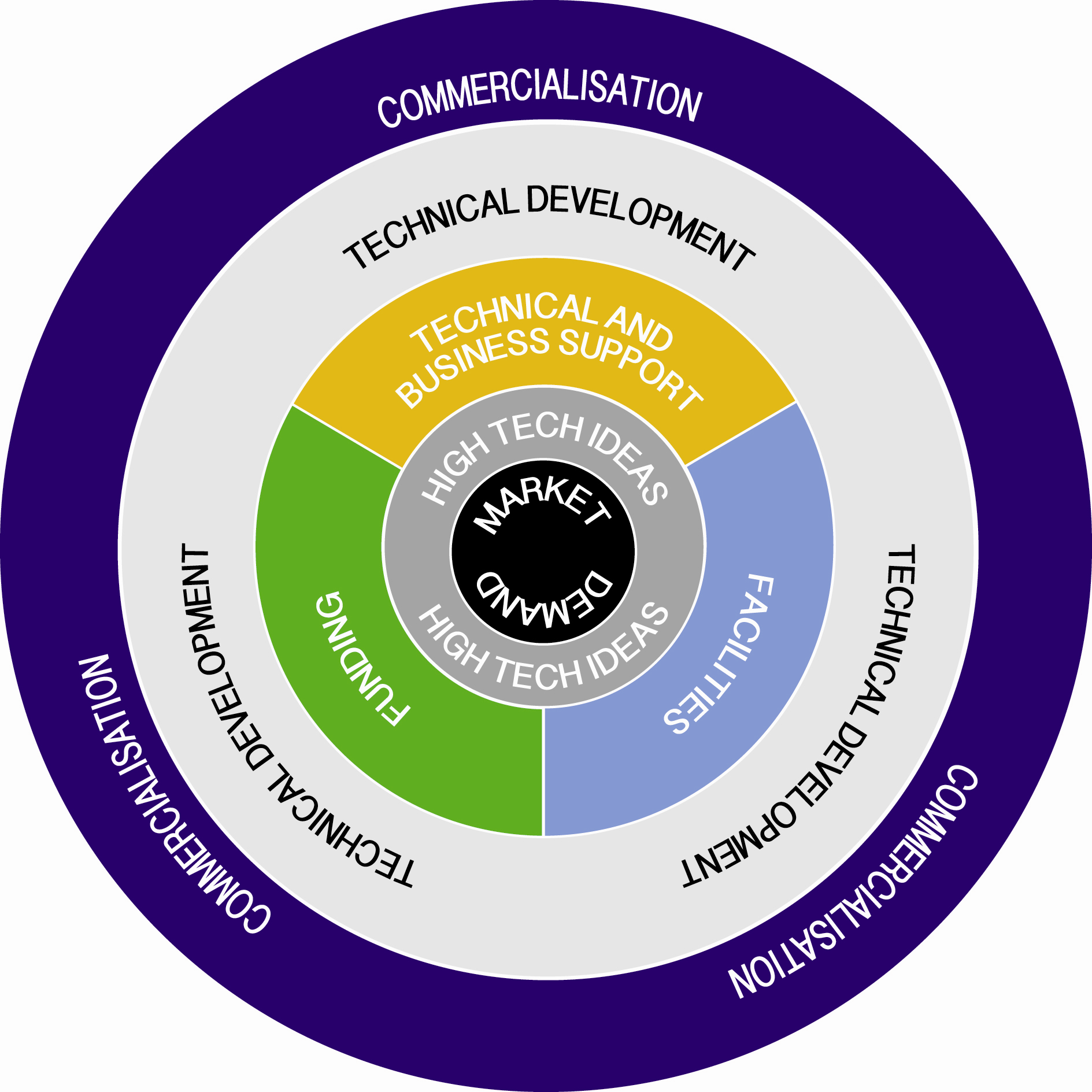 Having identified a market need, an associated technology idea can be supported through to the market by the provision of:
Technical and Business Support
Funding
Access to Facilities
These three components will allow the right technical development to be undertaken in good time. Successful technical development will lead into commercialisation and the creation of value for the market, provider and investor.