Description
Imagery in Poetry with Kendel Hippolyte
This Inscribe workshop is a rare opportunity to work with one of St Lucia's premier poets. The focus is on visuality in poetry - the image in its range of modes, degrees of complexity from simple depiction (verbal snapshot-photos) to simile and metaphor. A look at allusion and symbol. Development of image motifs. Realistic and surrealistic imagery. Practical exploration of imagery in exercises of imagination. The importance of aptness and precision in imagery. The absolutely crucial issue of word choice therefore in effective imagery: the rule of thumb of 'drawing' the image.
Relevant examples from participants' work will be brought in wherever feasible. Therefore participants are asked to send in two of their own poems which, in their opinion, make crucial use of imagery to create the meaning. Hard copies of these sample pieces will need to be available for all participants in the workshop. This workshop is not suitable for beginners.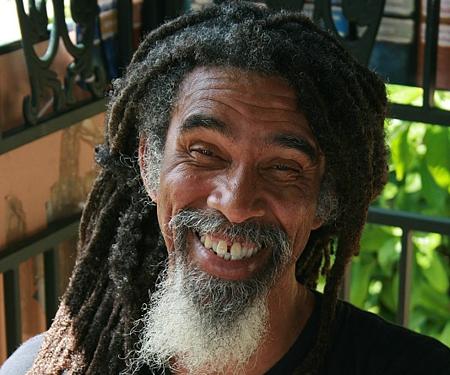 Kendel Hippolyte, born in St. Lucia, he studied and lived in Jamaica in the 1970s, where he explored his talents as a poet, playwright and director. As a poet, his writing ranges across the continuum of language from Standard English to the varieties of Caribbean English and he has also written poems in Kweyol, his nation language.
He works in traditional forms like the sonnet and villanelle as well as in so-called free verse and in forms influenced by rap and reggae. He has published five books of poetry, the latest being Night Vision (TriQuarterly Books, Northwestern University Press, 2005) and his poetry has appeared in various journals. He has also edited numerous anthologies, including Confluence:Nine St.Lucian Poets; So Much Poetry in We People, an anthology of performance poetry from the Eastern Caribbean, as well as student anthologies at the Sir Arthur Lewis Community College where he was a lecturer in literature and drama.
He has designed and taught poetry workshops in various places such as Ty Newydd in Wales and the UWI Caribbean Writers Summer Workshop in Barbados. He has performed in Europe and the Americas at events such as the Miami International Book Fair, the Medellin Poetry Festival, Calabash Literary Festival, Vibrations Caraibes, the Havana Book Fair among others. He has also established himself as an innovative playwright and director, authoring eight plays, and directing scores of others. He is an original and continuing member of the syllabus panel for the Caribbean Examinations Council (CXC) and serves as an external examiner.
In 2007, he won the Bridget Jones Travel Award to travel to England to present his one-man dramatized poetry production, Kinky Blues, at the annual conference of the Society for Caribbean Studies. He has twice won the Literature prize in the Minvielle & Chastanet Fine Arts Awards, for many years the premier arts award scheme in St.Lucia. He has been the recipient of a James Michener Fellowship to study poetry and an OAS scholarship to study theatre. In 2000, Kendel was awarded the St. Lucia Medal of Merit (Gold) for Contribution to the Arts. Recently retired his present focus is to use his skills as a writer and dramatist to raise public awareness and contribute to active solutions of critical social issues.