INSEAD Alumni Association NL PUB QUIZ night, December 9, 2020
Pub Quiz Night with famous Quiz Master Katell Chevalier "Known from the Voice of Holland"!
About this event
You are invited to a Pub Quiz Night on Wednesday, December 9, 2020 from 19:45 until 21:15 CET
Dear INSEAD alumni,
It's becoming a tradition at this time of year, a pub quiz!
And maybe this Pubquiz could be the start of a new tradition for INSEAD too.
Always wanted to test your knowledge about various exciting themes? This is your chance! Show that you are the ultimate quiz master among your fellow alumni.
Next to the honor to WIN the very first Dutch INSEAD Alumni Pubquiz, there are three really nice prizes to win:
1. The winner will be offered a two persons menu for Ron Gastrobar
2. The runner-up is not forgotten with a Bol.com voucher. Always a nice gesture to start your Christmas shopping online.
3. And even the winner of the bronze medal will not go home empty handed, he or she will be offered a voucher to spend on Dutch art and culture!
The questions are suitable for young and old - there is a category for everyone to excel in.
The rules of the game are simple: everyone can play for themselves. Give in the answers and we will check them after every round. Use your smartphone to vote.
Now on behalf of the Board of the Dutch INSEAD Alumni Association: Good Luck!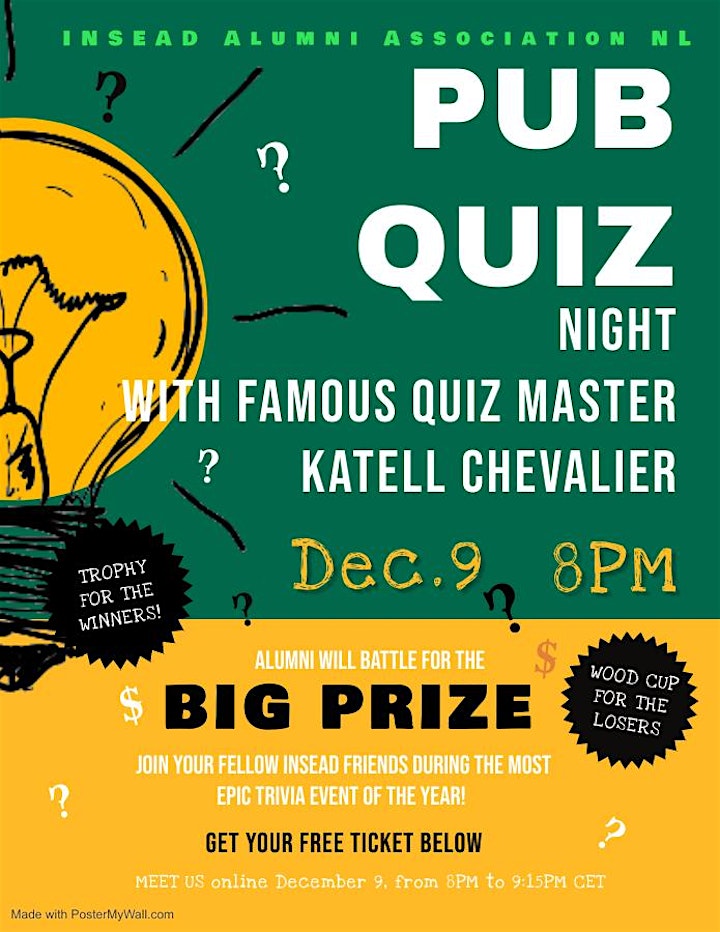 Organiser of INSEAD Alumni Association NL PUB QUIZ night, December 9, 2020
Welcome to the Eventbrite homepage for the INSEAD Alumni Association in the Netherlands. The Dutch INSEAD Alumni Association exists to serve INSEAD alumni in the Netherlands. It is among the oldest INSEAD national alumni associations, and one of the largest in relation to the number of alumni.
Our objective is to strengthen the INSEAD experience after INSEAD, to build an alumni network through social and business events, to raise awareness of INSEAD in the Netherlands and to provide a communication channel between the school and the alumni.
Our events are only open to INSEAD NAA-NL members and members of other INSEAD National Alumni Associations.
By registering for this event, you agree that all photographs, video recordings, audio recordings and/or written contributions containing statements, images and/or voice reproductions of yourself taken or made in relation to this event can be reproduced and diffused in their entirety or in the form of extracts by INSEAD and/or its affiliated entities, and that INSEAD and its affiliated entities have the royalty free right and licence to use, reproduce, exhibit, publish, disclose and/or distribute such photographs, video recordings, audio recordings and written contributions in their entirety or in the form of extracts, irrespective of their format and of the audience.