INSEAD Women In Business Conference - #What'sNext: Working Together
Sales Have Ended
Ticket sales have ended
Ticket sale has ended for the Conference. We look forward to welcoming you on 15 May in Fontainebleau!
Sales Have Ended
Ticket sales have ended
Ticket sale has ended for the Conference. We look forward to welcoming you on 15 May in Fontainebleau!
Description
IWiB will host the 4th annual INSEAD Women in Business Conference at the INSEAD Europe Campus on 15 May 2019 from 4:00PM to 8:00PM, followed by a networking session.
This year's theme is "#What'sNext: Working Together", which aims to provoke a conversation about tangible strategies that everyone can employ in order to promote an egalitarian environment for women in business. The conference will include keynote presentations as well as a panel and workshops. Please find details below.
You will be asked to select your preferred workshop on the day when purchasing your ticket. Please see the bottom of this description for details on each workshop.
*Tickets for participants will be available at a 50% early-bird discount until Friday April 26, 2019, so book your ticket now!*
---
Conference Agenda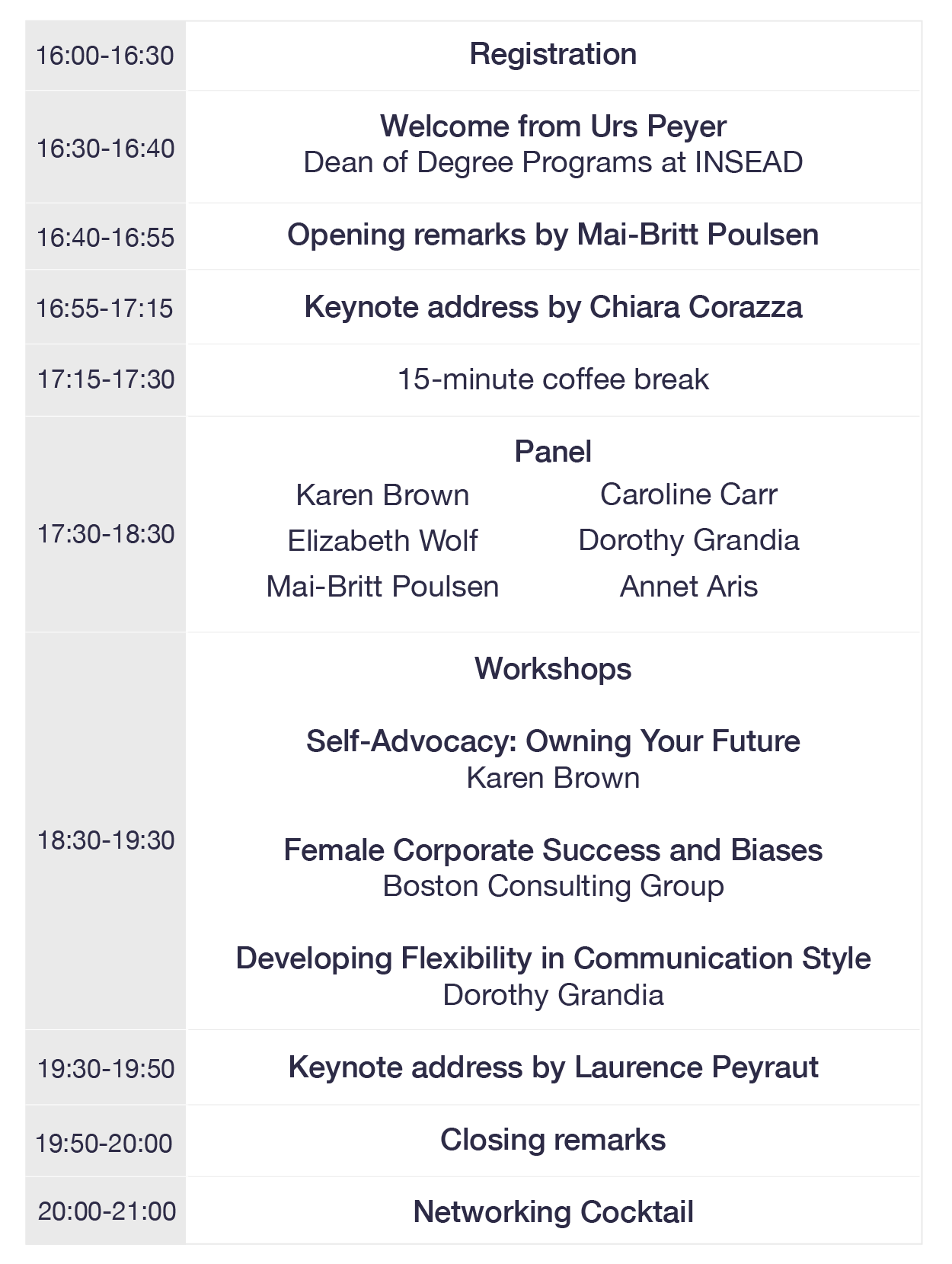 ---
Join us in welcoming our confirmed speakers:

Mai-Britt is a member of BCG's Executive and Operating Committees, holds a number of other leadership roles at BCG, and sits on multiple change initiatives and committees. Mai-Britt has worked in parallel to develop research on how policies can drive gender equality.

As Managing Director of the Women's Forum, Chiara promotes women's leadership through initiatives in partnership with business, cultural, and media leaders and non-governmental organizations. Chiara is also an active member of several boards and a French representative for the G20 Business Women Leader Taskforce.

Karen Brown is an accomplished business leader, advisor, and speaker with significant multicultural and global experience promoting diversity and inclusion within the corporate, non-profit and academic sectors. She is a published author and founder of Bridge Arrow, a Chicago-based management consultancy whose mission is to make leaders more effective and businesses more profitable.

Caroline drives strategic projects and advises on talent matters for the portfolio companies of Permira, a private equity firm. Prior to joining Permira, Caroline was a Managing Director at Goldman Sachs. Caroline is a founding member of the 30 Percent Club, which aims to improve gender balance on boards and senior leadership teams.

Dorothy combines her unique experience in the political arena, on the operatic stage, and in leadership and communication programmes to help professional women develop their communication range and increase their influence. Dorothy delivered a TEDx talk on leadership and confidence.

Annet focuses on digital transformation and disruption and is a non-executive board member for a variety of European corporations going through digital transitions. In 2016 Annet was named one of "the 50 most inspiring women in tech in Europe" by Inspiring Fifty, and was one of the top 100 "most influential Dutch people" according to de Volkskrant.

Elizabeth teaches Negotiation and Organisational Behaviour at INSEAD and researches how people subjectively evaluate their own and others' performance, competence, and potential. Elizabeth is currently researching the impact of gender on business outcomes, particularly in negotiations. Elizabeth holds a Ph.D. in Organisational Behavior from Harvard University.

Laurence leads Danone's engagement with businesses across France and serves on Danone's Board of Directors. Laurence advocates to improve the visibility of women leaders and is the founder of Financi'Elles, a sector-based federation of internal networks promoting gender diversity.
---
Workshops
1. Self-Advocacy: Owning Your Future
Karen Brown, Global Diversity & Inclusion Consultant + Published Author
2. Female Corporate Success and Biases
Boston Consulting Group
3. Powerful and Engaging Women: Developing Flexibility in Communication Style
Dorothy Grandia, Assistant Director, RMS/Erasmus Centre for Women in Organisations