Event Information
Location
Peckham Springs
Units 4-5 Dovedale Trading Estate
London
SE15 4QN
United Kingdom
Description
InShortFF POP UP EVENT: ANIMATED REALITIES // 85' with an interval //
Box office/Bar: 19.00 // Part One: 20.00* // Interval: 20.45 // Part Two: 21.00 // Post Show Drinks: 21.45
*Please arrive at least 10 minutes prior to the start of the screening to collect your tickets - there are no trailers / All films are without any dialogues. The venue is fully step-free. Please inform us if you need any access assistance.
---
Immerse yourself in the world of animated film art, where shapes, colours and lines paint the story better than words. Join us for an entertaining and provocative short film screening, brought to you by InShortFF in association with Peckham Springs. InShort Film Festival is an international, intercultural & independent short film fest based in London and to celebrate its upcoming 6th edition, we are curating a series of pop-up film nights. We will open with a programme of contemporary and avant-garde animations from all four corners of the earth.
Through an eclectic mix of shorts you will dip into different realities full of mythical creatures, enchanted forests, spiritual deserts, and weird dimensions where robots overlook our evolution. Following hand-drawn and computer animated lines, you will enter imaginative worlds, that don't need any words to tell a compelling story, with films that grapple issues of dictatorship, power and rebellion, lost and found family bonds, and self-love.
Treat yourself with an evening that will be a real food for thought and a feast for your eyes! We will screen 16 shorts from 10 different countries: UK, Ireland, Italy, Turkey, Israel, Taiwan, Korea, Australia, USA, and Argentina.
VIEW OUR TRAILER HERE: vimeo.com/inshortff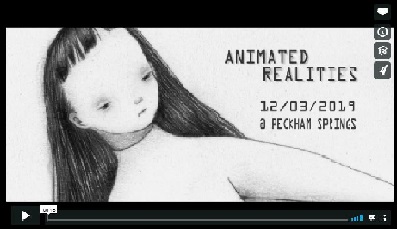 ---
InShort Film Festival focuses on international collaborations & cultural dialogue. Our dynamic programme of short films carefully selected from all corners of the globe showcases the most original stories and the best filmmaking talent. We believe that a film is the best medium to build bridges between different cultures and to unite people. InShort Film Festival will present work that challenges stereotypical thinking and advocates change. Within our balanced mix of all genres (narrative, documentary, animation, fashion video, mixed media and experimental) everyone will find something for their taste.
InShortFF is currently open for submissions of all short film genres. Please follow: bit.ly/InShortFF for more details.
This event is brought to you in assosiation with Peckham Springs - one of South London's most exciting spaces - a hidden gem tucked under festoon-lit railway arches. Boasting beautiful indoor and outdoor heated spaces and inviting the best independent food traders every week, the venue features a stunning garden, a buzzing cocktail bar, an intimate performance space and an art gallery. With a total capacity of 500, the event programme include screenings, markets, theatre, live music, DJ nights, creative workshops and everything in between.
Date and time
Location
Peckham Springs
Units 4-5 Dovedale Trading Estate
London
SE15 4QN
United Kingdom
Refund policy