Description
Join us as we explore the art of becoming a professional illustrator, working with publishers and designing beautiful books that win awards at the Bloomsbury Institute.
In a brand new event series, Inside Bloomsbury, we open up about how we create and publish our books by inviting key members of the Bloomsbury team to talk about what they do in more detail than ever before.
In this first event of the series, we discuss what it takes to illustrate book jackets that please authors, agents and publishers.
Bloomsbury is well-known in the publishing industry for beautiful and eye-catching cover designs. Naturally, we felt it was time that we opened up about how publishers, not only Bloomsbury, commission illustrative designs for their biggest titles. At this event, you'll hear from two of Bloomsbury's award-winning designers, Greg Heinimann and Emma Ewbank, together with Jon Cockley, co-founder of the Handsome Frank Illustration Agency, as they share their expertise and advice to illustrators who want to work with traditional publishers like Bloomsbury, and beyond. Their discussion will be chaired by Derek Brazell, co-author of Becoming a Successful Illustrator (2nd edition, Bloomsbury, 2017).
Plus, by attending this event you could WIN a free portfolio critique by our panel on the night.
We hope you're free to join us.
Meet the Panel:
- Greg Heinimann, Assistant Art Director, Bloomsbury Publishing
- Emma Ewbank, Senior Designer (Adult Trade), Bloomsbury Publishing
- Jon Cockley, Co-Founder, Handsome Frank illustration agency
Chaired by: Derek Brazell, writer, artist, project manager for Association of Illustrators and co-author of Becoming a Successful Illustrator


***WIN A Free Portfolio Critique***
Simply purchase your ticket to this event by Friday, August 10th and you'll be entered into our prize draw to win one of five portfolio critiques (10mins each) with our expert panel. The critiques will be scheduled in the hour before the event from 5:30pm to 6:30pm. We will notify the winners by Tuesday, August 14th. NOTE: You will need to be available from 5:30pm on the day to be eligible for this prize. Open to UK residents over 18 years of age. Standard terms and conditions apply. Email institute@bloomsbury.com for further information.
Date: Thursday, August 30th
Timing: 6:30pm to 8pm (doors open and complimentary drinks reception from 6pm)
Venue: Bloomsbury Publishing, 50 Bedford Square, WC1B 3DP
Nearest station: Tottenham Court Road
Tickets: £25 for adults / £20 students and concessions. All tickets will include access to the pre-event drinks reception and a copy of Becoming a Successful Illustrator by Derek Brazell and Jo Davies.
We expect this session to sell out, so to avoid disappointment we do advise that you book tickets at your earliest convenience. If you would like to bring a group of five or more together, please email institute@bloomsbury.com for a significant discount on your tickets.
This event is hosted by Bloomsbury Institute, a division of Bloomsbury Publishing. Please read our Event Terms and Conditions carefully as by buying a ticket to this event, you confirm that you accept these terms and condition and that you agree to comply with them, alongside the Eventbrite terms and conditions.
***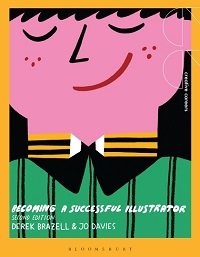 About Becoming a Successful Illustrator by Derek Brazell and Jo Davies
Get ready to enter the working world of illustration with this freshly updated second edition of Brazell and Davies's Becoming a Successful Illustrator.

This edition features even more 'Spotlight on…' sections, with advice from practicing illustrators as well as the people that commission them. You can enjoy added coverage in fields such as moving image, character illustration and social media. There are also new exercises to get you started planning and building your business, and over 200 inspirational examples of artwork, most of which are new to this edition.

You can expect practical tips on how to seek work, how to market yourself and how to run your illustration business in an enterprising way, with advice that will prove useful long after your first commission. Building on the resources of the first edition, this continues to be the must-have guide to practicing professionally as an illustrator.

Buy a copy of Becoming a Successful Illustrator on Amazon >