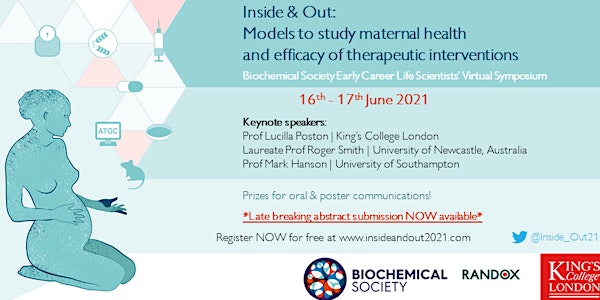 The annual Biochemical Society's ECR Symposium explores how models can be used to study maternal health and efficacy of novel therapeutics
About this event
*LATE BREAKING ABSTRACT SUBMISSION IS NOW AVAILABLE*
Submit your late breaking abstract at https://www.insideandout2021.com
Join us at the annual Biochemical Society's Early Career Life Scientists' Symposium where we will explore how different scientific models can be used to study maternal health, as well their use to determine efficacy of novel therapeutic interventions.
Research into maternal health is now more important than ever and increasing awareness of pregnancy complications in an attempt to break the stigma around talking about women's health is imperative. Categorisation of themes into the in vivo, in vitro and in silico models will allow us to discuss research from all disciplines investigating the physiological and biochemical parameters of maternal health, disease, and treatment.
Participants will have the opportunity to attend a specialist workshop on the programming language 'R', as this symposium aims to highlight the increased use of computer simulations and modelling in reference to biological experiments, thus offering a holistic perspective of the research landscape.
All are welcome, and especially young life scientists at the early stages of their careers such as undergraduates, postgraduates and postdoctoral researchers who will benefit from attending our live careers panel discussion. This event will generate exciting conversation with the aim of inspiring younger ECRs understanding, furthering and improving maternal health for the benefit of mothers' globally.
This event is funded by the Biochemical Society and supported by Randox Laboratories.