About this Event
In collaborazione con i nostri partner di SMAP, in occasione della Milano Music Week 2019 e all'interno della catena di appuntamenti SAE targata #MusicInsiders19, ospitiamo Gianni Bini, storico produttore di musica House che vanta collaborazioni con artisti quali Jamiroquai, Simply Red, Whitney Houston, Diana Ross, Vasco Rossi e molti altri.
Lavorando su un caso di studio, Gianni Bini ci accompagnerà nell'analisi della sua sessione di lavoro focalizzando l'attenzione sui gruppi di mix, i submix, i plugin con intelligenza artificiale e gli equalizzatori dinamici.
L'incontro, gratuito e a numero chiuso, è dedicato a tutti gli appassionati di produzione musicale, musica elettronica, audio engineering e tecniche innovative di mixaggio.
________________________________________________________________________________________________
Il relatore: GIANNI BINI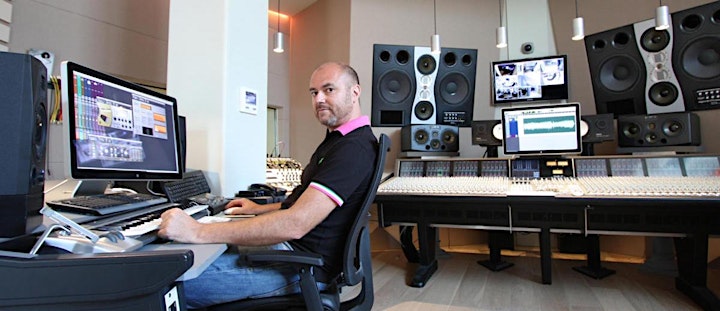 Gianni Bini, da oltre 20 anni, produce dance music e remix per artisti internazionali come Jamiroquai, Simply Red, Whitney Houston, Diana Ross, Vasco Rossi e molti altri.
Gianni ha iniziato la sua avventura nel mondo della musica alla fine degli anni '80, come DJ nei club della Toscana. Agli inizi degli anni '90 iniziò ad espandere i suoi orizzonti creando un piccolo studio di registrazione dove poter sviluppare le sue idee musicali, creando produzioni destinate a lasciare il segno nella scena della Dance, non solo in Italia.
La popolarità raggiunta attraverso le sue produzioni è alla base delle relazioni con il DJ e produttore britannico che ti aiuteranno a sviluppare e affermare il loro sound. Grazie alla qualità del suo lavoro cattura l'attenzione dei "guru" come Pete Tong, Danny Rampling, Sasha, Dave Seaman, John Digweed, tutti i punti salienti della scena musicale britannica.
Nel 1994, "Renaissance", una delle organizzazioni più importanti del Regno Unito, lo chiamò a far parte della loro agenzia DJ, creando un rapporto che longevo che legherà il suo nome a quello degli storici locali come Ministry of Sound , Cross, Wobble, Que Club, Tunnel e molti altri nel Regno Unito, Pacha, Amnesia, Space e KU Ibiza, oltre a numerosi tour in Sudafrica, Messico, Australia e Singapore.
Nel 1996 crea con Paul Martini "Ocean Trax" e "House Of Glass Studios" uno degli studi più importanti al mondo (quest'anno nominato tra i primi 4 in Europa dalla prestigiosa rivista "Resolution") e punto di riferimento per la scena della Dance - House in tutto il mondo. In seguito si son presi cura per anni degli artisti del loro "roster" e delle varie etichette che facevano parte di Ocean Trax, creando successi in tutto il mondo come Soul Heaven (The Goodfellas), Disco Down (House Of Glass), Makes me love you (Eclipse) e marchi come Bini & Martini, Fathers of Sound, Netzwerk.
Negli House Of Glass Studios, Gianni ha arrangiato, registrato, mixato, prodotto e / o remixato artisti del calibro di Whitney Houston, Jamiroquai, Backstreet Boys, Gabrielle, Kylie Minogue, Simply Red, Diana Ross, Eternal, Raffaella Carrà, Vasco Rossi, Mario Biondi, Paola e Chiara, Daniele Silvestri, Donatella, Chiara Civello, solo per citarne alcuni.