Description
Insights: Marketing Fundamentals


Getting the right message across to your customers is essential. Our guest entrepreneur Tony Hardy will share their tips on how to use effective marketing to build a brand.
How to market your business effectively
We know we can do things better. Being busy though gets in the way and it's easy to find yourself juggling so many objectives that you actually achieve very few of them. The remedy is to set out to do fewer things better.
A good starting point are some basic marketing building blocks so we will look at the value of researching your immediate competitors to help establish your point of difference. Once there, how do you develop a unique selling proposition? How unique does it really have to be?
Once you have the basic premise you need to work on it so you can express it clearly and creatively. Finally, we'll consider the value of a logo and how it can give your brand a real personality.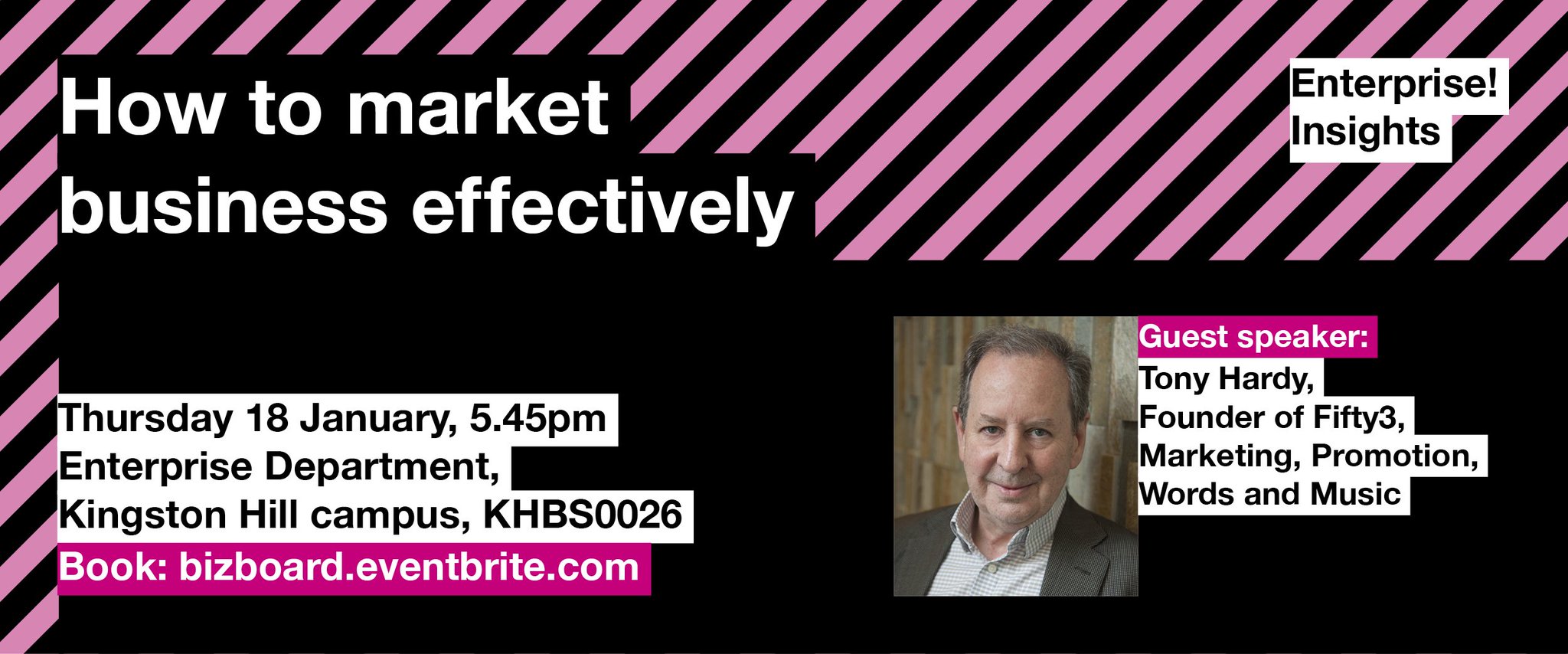 A bit about Tony Hardy, Founder of Fifty3
Tony's commercial background is sales and marketing, initially on the client side but largely on the agency side. Since 2006, He has run his own business called Fifty3 here in Kingston, combining brand marketing, copywriting and sales promotion with music interests. Why Fifty3? It's a significant year; the year Tony was born and the age Tony had reached when starting the business.
Fifty3 helps businesses to market and promote themselves more successfully. With almost 40 years' experience across all aspects of marketing services including advertising, branding, design and promotion, they can offer the busy marketer a clearer vision by providing creative ideas, sound advice and practical project management.
Fifty3 works with businesses to fine tune how they present themselves, choose the right sales promotion mechanics and convey the message, with clarity and precision. In the digital age the words are as important as they have always been. Key specialisms are creative copy writing, promotional ideas, brand names and brand propositions.
Finally, words and music are united in music journalism, a specialism of Fifty3. Over the past seven years Tony has written for the leading US music website Consequence of Sound and more recently for breakthrough act site, BestNewBands. Tony is a judge for Glastonbury Festival's Emerging Talent Contest and also a reviewer of the summer festival for both sites. Tony is also shortly to launch his own music website.