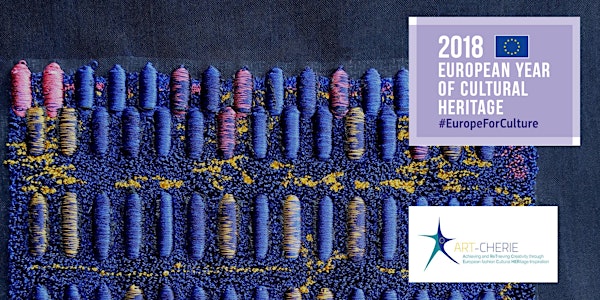 Inspiration from an Online Archive: How to use amazing new digital resource...
Location
London College of Fashion
20 John Prince's Street
London
W1G 0BJ
United Kingdom
Description
For a long time fashion history, archives, and second hand clothing have been an important inspiration for fashion designers in their design process. Imagine what happens if you can access fashion and textile museums archives from anywhere and see all samples, garments, color at once along with background and technical information. Both units illustrate how to access digitized collections to gain access to inspiration, technical know-how and historical information from a distance.
The ART-CHERIE project has developed two online units to help designers explore and use digital archives effectively and creatively in their design process. We will launch and demonstrate these new online tools to designers as part of the European Year of Cultural Heritage. We warmly invite you to an exciting afternoon.
PROGRAMME
3.00 PM Introduction to ART-CHERIE and the potential of using online fashion archives for fashion design inspiration.Prof Jose Teunissen, Dean of School of Design and Technology, LCF
Followed by a short Q&A with the content developers Laura Fiesoli Curator Prato Textile Museum (Italy) Susanne Baldwin, Course Leader MA Pattern and Garment Technology, Polly Kenny, Programme Director LCF
3.30 PM The heritage of the Pitt Rivers Museum. Jeremy Uden, Deputy Head of Conservation, Pitt Rivers Museum.
4.00 PM Demonstration of unit 1: Garment making. Susanne Baldwin, Course Leader: MA Pattern and Garment Technology
4.30 PM The Underpinnings Museum: How we created the world's first online museum dedicated to the history of underwear. Lorraine Smith, Researcher.
5.00 PM Demonstration of unit 5: Using online resources for embroidery design. Polly Kenny, Programme Director, LCF.
5.30 PM Refreshments/Drinks
About ART-CHERIE :
- Achieveing and Retrieving creativity through European Fashion Cultural Heritage inspiration - is an Erasmus+ Strategic Partnership project, launched in December in 2016. It aims to engage with new digital cultural heritage in fashion and textile design by developing the first online design tool for fashion designers. As one of the five partners, UAL (LCF) was responsible for the development of two online units which explore and promote the use of digital archives and heritage, for designers to work with these tools to improve or inspire their designs by digital approaches. The project partners include EURATEX (European Apparel and Textile Confederation) (Belgium) Fondazione Museo del Tessuto di Prato (Italy) The Hellenic Clothing Industry Association (Greece) and Gnosi Anaptixiaki NGO (Greece).