Description
Inspire Business Breakfast
Cumberwell Golf Park, Bradford on Avon
Networking over a delicious breakfast at the lovely Cumberwell Park, plus a brilliant speaker discussing interesting and relevant topics. What more could you ask for?!

Speaker: Dick Jenkins, Bath Building Society
Topic: With Brexit and a general election looming, what now for the housing market?
---
Sponsored by: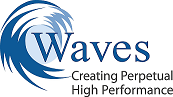 Waves is an agile and innovative Learning and Organisational Development (L&OD) consultancy, passionate about organisational health and creating perpetual high performance across individuals, teams and organisations. Passionate, because we understand that for organisations to remain ahead in this fast-paced world they have to be 'sustainable, high performing and able to survive in a resource tight environment'.
Members, do you have what it takes to speak at one of our events? Get in contact with us at team@inspirebiz.co.uk