Description
Local speakers followed by a live screening from the British Library - hear from the founders of the food sector's tastiest business success stories
Via live webcast: Hear from the names behind some of the UK's most successful food and drink brands:
Praveen Vijn, co-founder of Eat Natural . Eat Natural bars are sold in 38 countries around the world, using the best possible ingredients, sourced from like-minded growers around the world. Every bar is made pretty much by hand from start to finish, by them and them only.
Guy Singh-Watson, founder of Riverford . Over the last 30 years Guy has taken Riverford from one man and a wheelbarrow delivering homegrown organic veg to friends, to a national veg box scheme delivering to around 50,000 customers a week.
Nadia Stokes, co-founder of Gourmet Goat . Nadia is a co-owner of Gourmet Goat, a sustainable eatery at London's Borough Market. Nadia has been named by the BBC Good Food as one of the Top 10 UK food pioneers and has recently advised her local council on developing sustainable food policies.
Pip Murray, founder of Pip & Nut . Pip & Nut is the fastest growing nut butter brand in the UK. So far her journey has encompassed everything from market trading and crowdfunding to national supermarket launches and international expansion. All of Pip & Nut's products are 100% natural, with absolutely no refined sugars, additives or palm oil.
The British Library panel will share stories on how they grew brands from their kitchen tables, got their products onto the supermarket shelves, developed a memorable brand and built a place for themselves in the hearts, minds and stomachs of a nation, and will answer questions via Twitter.

Before we join the webcast you will hear from local food entrepreneurs who will share their business journeys with our Leeds audience:

Esther Migilo & James Simpson of OWT
Kirkgate Market is one of the largest indoor markets in Europe and offers an abundance of amazing produce. Located at the heart of Leeds, this is a perfect location for a lunch break.
OWT is reaffirming the tradition that markets have worldwide, to cook only what local traders are offering.
By creating a new menu every week inspired by Kirkgate Market and the seasons, OWT's goal is to reaffirm the relationship between traders, customers and ourselves.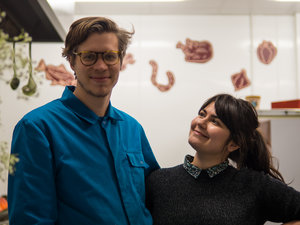 Photo credits: Warehouse606
Jane & Lucy Batham of Tarte & Berry
Hand baked and hand wrapped, Farsley-based Tarte & Berry's delicious treats are delivered direct to your door.
Sisters Jane and Lucy Batham created the bakery brand Tarte & Berry back in 2014. Their award-winning treats have been developed using Jane's Cordon Bleu knowledge and expertise about all things sweet!