Inspiring New Workspaces in the Rural Vale - Creu Gweithleoedd Newydd yn y...
Description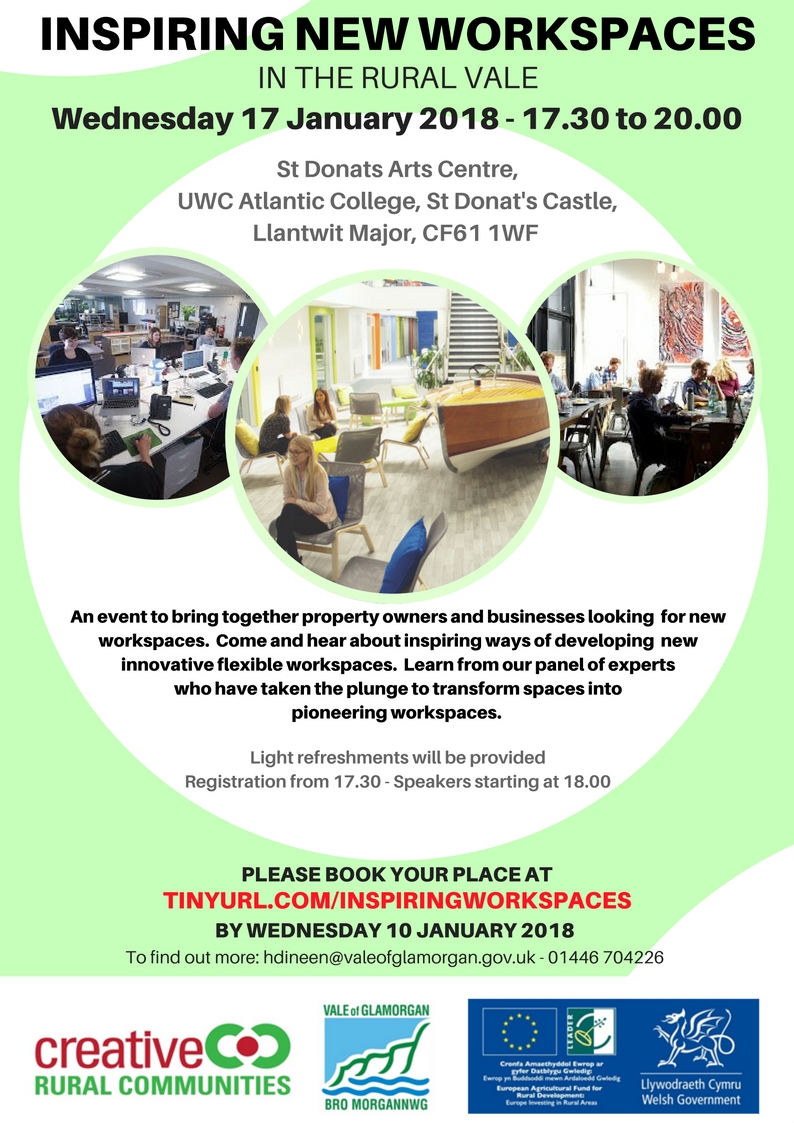 Inspiring new workspaces in the rural Vale
An event to bring together property owners and businesses looking for new workspaces. Come and hear about inspiring ways of developing new innovative flexible workspaces.
Learn from our panel of experts who have taken the plunge to transform spaces into pioneering workspaces with opportunities to network and have a bit of fun while you're there.
Marcus Goldsworthy – Head of Regeneration and Planning at the Vale of Glamorgan Council will discuss the opportunities for new workspaces in the Rural Vale.
Gavin Eddy – Forward Space has transformed the redundant Old Church School in Frome into an award winning workspace for independent thinkers and creators. He has demonstrated that if inspiring workspaces are located in regional towns, new ambitious businesses will locate there.
Sally Attwood, Public Health Wales led the 'Our Space Project' to transform an empty office unit into an attractive, vibrant workspace in the centre of Cardiff. The project involved working with designers, local businesses, social enterprises and staff to develop a high quality modern office using remanufactured or refurbished office furniture providing value for the money for the public sector.
Chris Griffiths, Tec Marina founded the serviced office space in Penarth Marina to foster true creativity and entrepreneurship and enable companies to collaborate and innovate. There are inspiring spaces ideal for co-working, meetings, events and away days to help motivate, network and spur on new ideas.
Light refreshments will be provided.
Registration from 5.30pm and speakers starting at 6pm.
Please book your place by Wednesday 10th January 2018.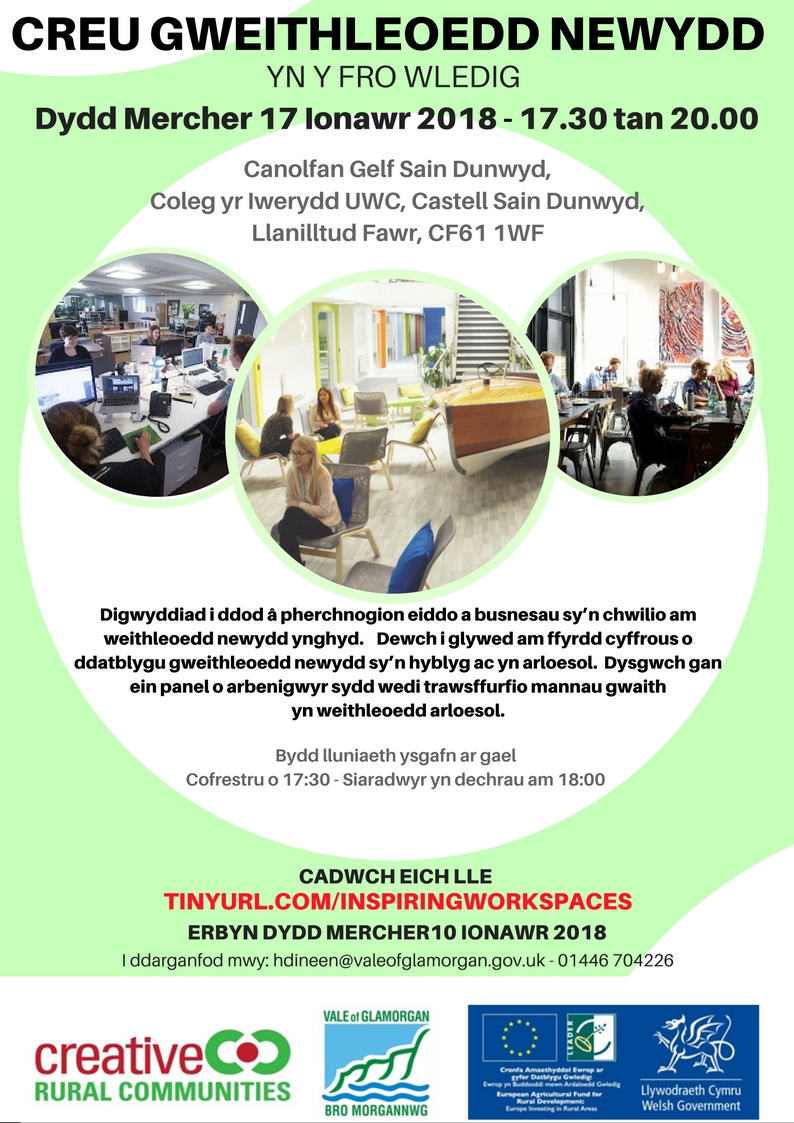 Creu gweithleoedd newydd yn y Fro wledig
Digwyddiad i ddod â pherchnogion eiddo a busnesau sy'n chwilio am weithleoedd newydd ynghyd. Dewch i glywed am ffyrdd cyffrous o ddatblygu gweithleoedd newydd sy'n hyblyg ac yn arloesol.
Dysgwch gan ein panel o arbenigwyr sydd wedi trawsffurfio mannau gwaith yn weithleoedd arloesol gyda chyfleoedd i rwydweithio a chael ychydig o hwyl pan fyddwch yno.
Bydd Marcus Goldsworthy – Pennaeth Adfywio a Chynllunio, Cyngor Bro Morgannwg yn trafod cyfleoedd ar gyfer gweithleoedd newydd yn y Fro wledig.
Mae Gavin Eddy – Forward Space wedi trawsffurfio'r Hen Ysgol Eglwysig yn Frome yn weithle penigamp ar gyfer pobl sy'n meddwl yn annibynnol a chreawdwyr. Mae wedi dangos os yw gweithleoedd cyffrous yn cael eu lleoli mewn trefi rhanbarthol, bydd busnesau newydd uchelgeisiol yn symud yno.
Gwnaeth Sally Attwood, Iechyd Cyhoeddus Cymru arwain y 'Project Ein Gofod' i drawsffurfio uned swyddfa wag yn weithle deniadol a chyffrous yng nghanol Caerdydd. Roedd y project yn cynnwys gweithio gyda dylunwyr, busnesau lleol, mentrau cymdeithasol a staff i ddatblygu swyddfa fodern o safon gan ddefnyddio dodrefn swyddfa wedi'i ailgynhyrchu neu ei adnewyddu gan gynnig gwerth am arian i'r sector cyhoeddus.
Gwnaeth Chris Griffiths, Tec Marina sefydlu'r gofod swyddfa wedi'i wasanaethu ym Marina Penarth i feithrin creadigrwydd a diwylliant entrepreneuriaeth ac i alluogi cwmnïau i gydweithio ac arloesi. Mae mannau cyffrous sy'n ddelfrydol ar gyfer cydweithio, cyfarfodydd, digwyddiadau a diwrnodau i ffwrdd i helpu i ysgogi, i rwydweithio ac i greu syniadau newydd.
Bydd lluniaeth ysgafn ar gael
Cofrestru o 5.30pm a siaradwyr yn dechrau am 6pm
Cadwch eich lle erbyn dydd Mercher 10th , Ionawr 2018.