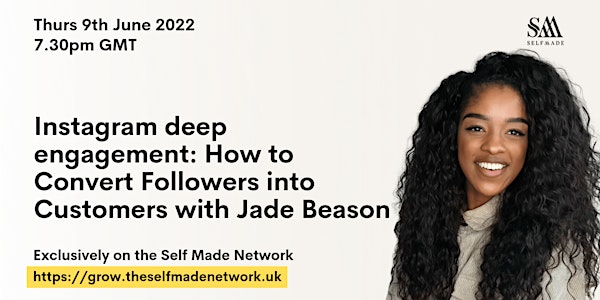 Instagram Deep Engagement: How to Convert Followers into Customers!
Register Your interest- Instagram Deep Engagement: How to Convert Followers into Customers with Jade Beason | Thursday 9th June 2022 @7.30pm
About this event
Instagram Deep Engagement: How to Convert Followers into Customers with Jade Beason | Thursday 9th June 2022 @ 7.30pm.
Did you know that there are 1 billion active monthly users on Instagram? Your target audience are out there, you just need the right strategy to help you find them, engage with them, and convert them into customers!
Meet Jade Beason, Marketing Coach and Content Creator who specialises in helping entrepreneurs and fellow creators increase their online presence and create profitable online businesses. Jade has a 1st class honours degree in Marketing, Design and Communications and spent 8 years working with major international brands in various marketing roles before pursuing YouTube.
In just over one year, she has amassed a total following of 90,000 across Instagram, YouTube and TikTok and was selected by YouTube to join their Creator Class of 2022.
One of the most common challenges people and businesses have, is the struggle to grow online presence and spending time, energy and money creating content which does not resonate with their audience! Let Jade teach you about the importance of deep engagement on Instagram and how to use engagement tactics to convert your following to paying customers or clients.
Jade will show you how to create content which converts, build a community on Instagram who value your content and create an Instagram strategy which helps you reach your goals!
Don't miss out on this opportunity to gain a deep understanding of Instagram engagement tactics including how and when to use them.
Jade's masterclass will feature live on The Self Made Network!
Join other aspiring and seasoned entrepreneurs, business owners and open-minded individuals who are a member of The Self Made Network which includes:
1) MONTHLY LIVE MASTERCLASSES - These will be LIVE 60 minute sessions during the middle of each month from industry expert guest speakers (see a list of our upcoming masterclasses below)! Additionally you will also have Q&A sessions with Byron and Bianca to answer all of your business related questions.
2) MONTHLY NETWORKING EVENT - These will be LIVE online sessions held once a month, giving you access to our whole network where you can personally meet, and cross promote your own business to give you bigger exposure.
3) NETWORKING COMMUNITY - You will get instant access to our private Facebook community where you can connect with our network immediately and meet a wider audience more quickly.
If you are ready to step up your network and start to connect with people who can really help you take your business to the next level, register your interest today!
We want to tell you right now that the fastest path to your success is to grow your network and learn from other experts who have a wealth of experience and who can truly help you fix any challenge you have right now in your business.
All of our Masterclasses are uploaded to the members area, of The Self Made Network website, meaning you can always refer back to classes for extra learning and can even watch the previous masterclasses we have had!
Register your interest today!