Description
Due to demand in 2017/18, the popular Instagram Marketing For Your Fashion Business: 1-to-1 Masterclasses are back! Yes, I'm offering a handful of individuals the opportunity to gain access to a 1-to-1 session with me, a Qualified Social Media Marketing Expert (worth £599). I invite you to join me for a special discounted session at Selfridges & Co, where I coach you to grow your Instagram followers, engagement and transform your account into the Chanel of your niche using my Award-Winning Social Media Marketing Blueprint for 2020.

From Burberry, Michael Kors, MAC to Zara, they all share a secret marketing strategy that made them the brands they are today. Now I uncover the secrets of the big brands I show you how you can do the same, yes, build a profitable online community using Instagram. Having worked with the big brands I have insider knowledge and experience to help you implement the techniques for your own fashion label.
I meet people with extraordinary ideas/businesses yet they find it an absolute nightmare getting their head around how to use Instagram when growing their Instagram to promote themselves and progress in your career or generate sales for your business. Unless you have connections or a secret stash of cash to spend on social media marketing, building your business or career can be overwhelming to the point you do not pursue your vision. Especially as Instagram has made some changes (to the algorithm), making it harder than ever to gain followers, engagement and get noticed. That's exactly why I created this unique masterclass.
Whether you're a startup, designer, blogger or business owner I am here to mentor you to promote and market yourself or your business with this practical 1-to-1 session designed just for you to make it happen at the end of 2019 and 2020.
Your Expert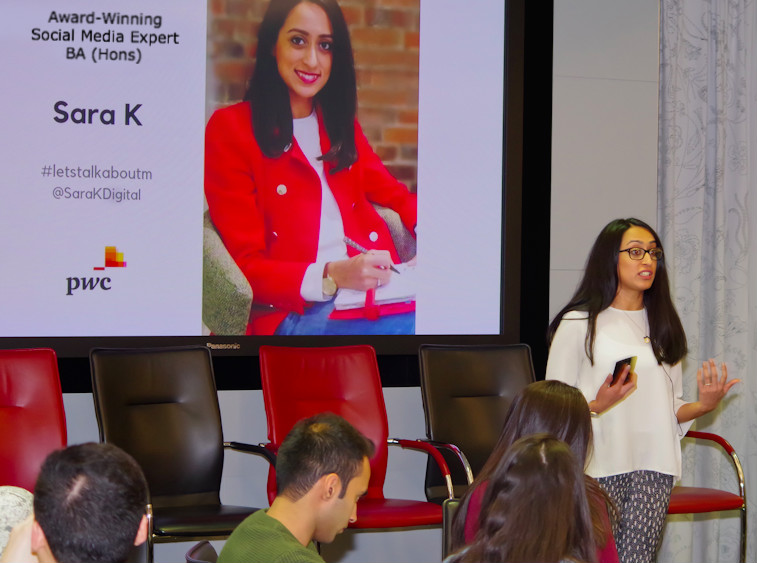 You may not have heard of me as for over a decade I've been working behind the scenes for some of the biggest brands in the world. I'm an Award-Winning Qualified Social Media Marketing Practitioner BA (Hons) featured in Huffington Post, BBC, Hello Magazine and spoken at Pure London and Olympia London Business Events. I've worked with some of the biggest brands in the world, such as Maserati and supported fashion businesses to get into London Fashion Week. With my 15 years of specialist expertise in fashion and online marketing, I will support you to grow your fashion label confidently and save you thousands along the way. Yes, I will share my secret hacks!
I've supported businessmen and women to startup and grow organisations with social media marketing training programs. Clients include Architects, Corporate Directors, Vice Presidents, Managers, CEOs, Surgeons to Luxury Fashion Designers, from Google, Amazon, NHS, Gucci, Deutsche Bank, Vivienne Westwood, Bank of America Merrill Lynch, DKNY, Kurt Geiger and BBC.
More recently, I've been recognised and won an award for supporting individuals to start up their fashion labels with a 6-figure turnover and I want to help you do the same as the industry is for everyone, not just a few.
I've included a structure of the Masterclass below but if you have any questions, please feel free to book a call with me via www.calendly.com/callwithsarak and we can take it from there.
1-to-1 Masterclass Structure
In my 1-to-1 you will gain specialist knowledge to grow your followers and secrets to becoming a powerful brand with a practical session designed just for you with a leading Startup Fashion Business Mentor. Including the accountability, you need to launch in 2019/20, followed by monthly lounge meetups where we work on your biggest challenges e.g. fear of failure, whilst being surrounded by fellow women/men, who are in the same boat as you.
The Masterclass is tailored to you but if you don't know what help you need or where to start, do not worry as prior to any 1-to-1 session I arrange a call with you to get to know you and you can ask any questions to see if the masterclass is for you. Furthermore, understand your needs and create the structure for your masterclass.
During the session, I will provide you with a blueprint, and break down what it takes to transform your account into a powerful brand on Instagram and it includes the following;
I will show you the tips and techniques to increase followers and engagement, including likes and comments.
I will give you Instagram posts I've created just for you of what you should post on Instagram for your business and demonstrate how to easily create professional posts that create credibility and get ahead of your competitors.
I will support you with your messaging, by working with you to write in captions and feel more comfortable when posting.
I share an effective Instagram plan to help you with what time to post, when to post and how to post, including secrets to saving you time and hassle with free platforms you can use.
Including secret marketing techniques to connecting and getting attention from your target audience, industry experts and bloggers, with practical templates designed for you.
And how to advertise on Instagram to have a better chance of gaining sales and campaign ideas to boost brand awareness.
More importantly, I take the stress out of Instagram, the fear out of failure and support you to grow your account confidently in 2019/20. And of course, not forgetting you can ask me any questions for tailored advice.
If you're not sure if the Masterclass is for you, you can book a call with me simply via www.calendly.com/callwithsarak and we can take it from there.
Testimonials
"I went to the Masterclass expecting to have an informative session on Instagram, instead, I received more than I paid for. It was a masterclass, a coaching session rolled in one and, towards the end, I felt I was talking to a friend who has my best interest at heart. I totally and utterly recommend her! If you use social media, go to one of Sarah's Masterclasses, you will thank me in the end." - Laura Mariani, Corporate Director & The People Alchemist.
"Thank you so much for showing me how to master Instagram in your masterclass! You showed me how! It's not the number or, followers or likes it's the engagement. Just after the Masterclass, I implemented the blueprint you gave me and I already have clients DM me and book my program. Could not have done it without you! You made something so hard so simple." - Wajeeha Amin, www.wajeehaamin.co.uk.
"I can't thank Sarah enough for everything she has done to help my new business startup. I couldn't have done it without her! She's been an amazing mentor from branding, creating my website to social media marketing. I've seen such a difference with my Instagram already, sales have quadrupled and it's only been a week since she helped me to implement what I'd learned - how to get more exposure and engagement!" - Ani, Founder & CEO, www.escape-aesthetics.co.uk
Book Your Place Today
I've only got 10 one-to-one slots available, so book your place today. You wouldn't go to an unqualified doctor or specialist, so why do it to your future investment, yourself and your business?
I encourage people to book a call with me, don't worry it's a quick call so you can ask any questions, get to know each other and ensure the session is for you. You can book a call with me via www.calendly.com/callwithsarak.
I genuinely look forward to meeting and supporting you to become the Chanel of your niche.


---

FAQ's
Just in case you have those burning questions, I've tried my best to answer them here;
I can't do the days or times you've selected, can I arrange a day/time that suits me?
I understand you may need an alternative date, although please be aware due to working with organisations some days may vary. Please get in touch and we can arrange a session that works for you email@sarakdigital.com.
Refund Policy: Why don't you offer refunds?
Due to prior preparation to tailor the session just for you and the new Eventbrite June 2019 policy, sadly, refunds are not available on one-to-one sessions. Although I understand something urgent can come up, so I do offer to reschedule your session within 30 days option.
I'm not sure if this for me?
If you are unsure or have any questions, let's have a chat and you can schedule a call via www.calendly.com/callwithsarak and we can take it from there.
A little more about me?
Recognitions, Achievements & Education:
Access to a Fully-Qualified Digital Marketing Practitioner, Award-Winning Social Media Specialist & Business Mentor
Delivered by an industry expert, who has over 15 years of experience working with global brands
Practical session with personalised templates and guides to support you
Masterclass tailored to you and your business needs, with follow-up aftercare support
You're saving hundreds to thousands (estimated saving of £997+)
To find out more about me, please visit, www.sarakdigital.com.

If you have any questions, please feel free to get in touch by emailing me at email@sarakdigital.com and I will be sure to get back to you as soon as I can.