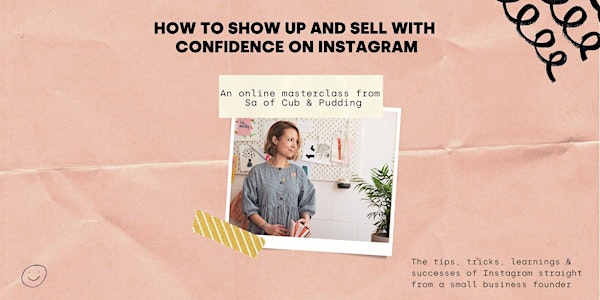 Instagram Masterclass - the wins from a small business founder
An Instagram Masterclass from a small biz owner who's bottled all her tips and tricks that have created success - for you to apply too.
About this event
Cub & Pudding launched in April 2019 and since that date, founder Sa has grown the business and revenue using Instagram alone, primarily.
It's proven to be an invaluable tool to gain visibility, grow confidence as a business owner and also build a priceless small business community behind the scenes.
Sa has bottled all she's learnt over the past three years into this super handy one hour Masterclass workshop - where you can learn first-hand from a business owner what has worked, tips to help build your presence, content ideas sparks and how to show up with confidence.
It's not a workshop to teach you tech or nuts & bolts of Insta but a relateable do-at-your-own-pace steps on how Instagram has worked to bring success to a small buuiness - and how you can make it work for you too.
This Masterclass is for you if:
- Showing up on Instagram makes you cringe
- You struggle for ideas on what to post
-You have a small business but don't use Instagram to make sales
-You're not confident using or selling on Instagram
- You want to see first-hand from a fellow small biz owner how they've grown sales and their brand using solely Instagram
The one hour Masterclass is delivered as a private YouTube link where Sa talks through each slide as an audio accompaniment. The slides are also sent as a separate PDF downloadable to annotate and refer to.