Location
Brixton Village
Coldharbour Lane
London
SW9 8PS
United Kingdom
Refund policy
Contact the organiser to request a refund.
Eventbrite's fee is nonrefundable.
We are bringing our installation programme taking over a shop window at Brixton Village!
About this event
Come and experience the freedom of bodily expression from some of the most interesting contemporary Latinx Artists. FREE ACCESS, NO TICKET NEEDED!
Curated by Cecilia Kuska & Cordelia Grierson.
Les Revenants
by LUCIANA ACUÑA & ALEJO MOGUILLANSKY
Argentinian directors with Chilean performers
Les revenants is a play-installation made up of six different dance solos, recorded in empty and ghostly historic buildings in the city of Santiago (Chile) in order to be screened in public spaces. It's a piece that uses the French phrase 'les revenants' to describe those who 'come back from the dead'. "If a body destined for movement is paused for an unlimited amount of time, doesn't it come to look like death?', asks this play. It would appear to be danced by zombies - people who have died and come back again – who control the city with their possessed dancing in a unique intervention.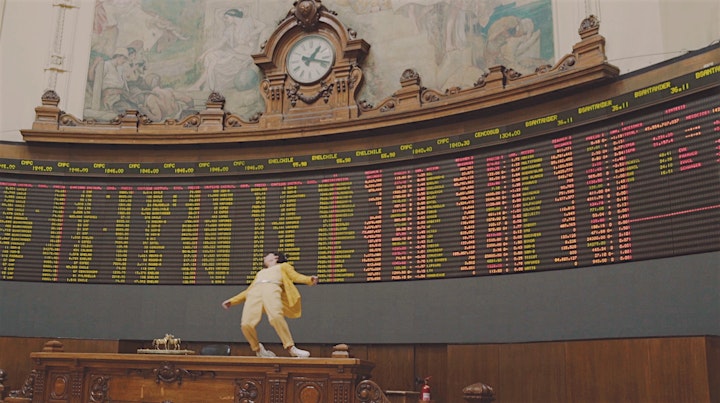 CASA COMUM
Brazil and the UK.
by SDNA/RR PRODUÇÕES ARTÍSTICAS & 10 Amazonian artists: Alcimar Vieira Reis, André Sateré Mawé, Elizete Tikuna, Emerson Munduruku, Jaqueline Santos, Jayne Kira, Rafa Militão, Rafael Bqueer, Roberta Carvalho, Wellington Dias.
CASA COMUM (Common Home) is an artistic research by British organization SDNA and Brazilian organization RR PRODUÇÕES ARTÍSTICAS. It is a multicultural and multimedia collaboration with 10 multidisciplinary Amazonian indigenous artists of different ethnicities. The project builds on Renato Rocha's residency in the Amazon in 2017 where he led a series of theatrical workshops with a group of local artists as well as indigenous tribes and riverside communities. The project title is inspired by the words of the indigenous leader Ailton Krenak who introduced the term 'Casa Comum' to talk about how not only the indigenous people, but the whole of humanity, should treat the terrestrial globe as a common home for all living beings. Our research explores the prescient warning of ecological collapse through the eyes of a culture closely connected to nature and to the impact of human activity upon it. Framing the development of our narrative are ideas explored in Shakespeare's 'The Tempest', both as an allegory of European colonisation and as a study of Shakespeare's awareness of the natural world.
SDNA is a digital media studio with experience delivering distinctive digital experiences for galleries and museums, heritage and civic sites, performance and Festivals. SDNA is a creative studio producing distinctive digital artworks and vibrant interactive experiences for a range of settings including for galleries and museums, heritage and civic sites, performance and Festivals. We are passionate about exploring the interaction between moving image, installation and live performance, and by collaborating with a diverse range of participants and audiences.
Our most recent work has been developed through various partnerships within the UK including the British Council, The Francis Crick Institute and Natural History Museum in London.