Description
The UCL Institute of Sustainable Heritage comes of age in 2019. Over the last 18 years, many students have graduated from our PhD and Masters programmes and they have established themselves as heritage leaders in the UK and globally. Our alumni are changing the face of heritage, and we have expanded our heritage connections to include policy makers and industry shapers. We are socially focussed, willing to share our knowledge and skills and to make our facilities accessible.
The ISH Academy is a new concept to enable us to connect our alumni, students, partners and industry to each other and to us. Our vision is to co-create opportunities that will enhance your heritage activities.
On 14th May we will showcase some of our knowledge and skills, and we would like to learn more what we can do with you to add value to your work.
Are you interested in short courses? Are you looking for networking opportunities? In need of expert advice? If any of these ideas or others whet your appetite, please join us at this unique event at which we celebrate Bartlett 100 by looking to the future and what we can continue to do for you. More importantly, come along and challenge us with your ideas.

Programme of events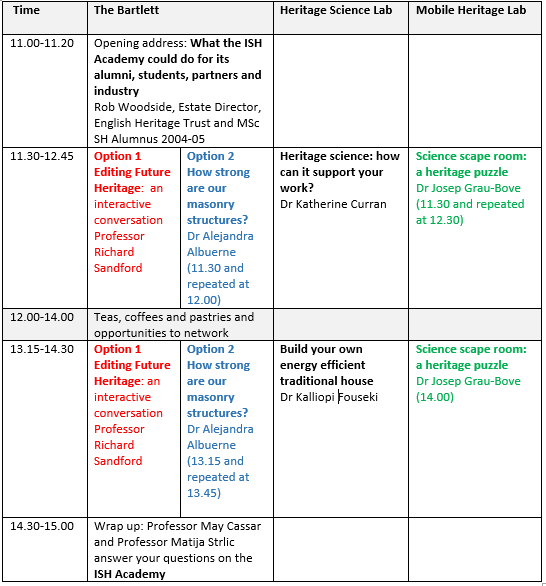 Session descriptions
How strong are our masonry structures
Masonry vaults and arches are a lot more resilient than you may think. Witness for yourself how arches respond to different loads and deformations and understand the meaning of some common cracks in historic structures.

Editing future heritage
How will the view from your window change? In this activity, participants are invited to edit the view from the Bartlett to show us the future city. Marker in hand, you have the power to add and remove whatever you see in the frame. Which buildings remain? What new structures and occupants can you imagine? And which ones will become heritage?

Build your own energy efficient traditional house
What do you value the most in your old house? What are you willing to change in order to improve the energy efficiency in your old house? If you are interested in finding out more about options on how to make your old house more energy efficient, join our interactive workshop. You will have the chance to create your ideal 'energy efficient' 3D model house and learn about various cost-effective, energy efficient options.

Heritage Science: How can it support your work?
At ISH, we have a range of scientific facilities, including many portable devices and we want to understand how these can best support our heritage partners. Come along to see fun demonstrations and join in a group discussion about possible future training, loan and research opportunities.
A science scape room: A heritage puzzle
Will you be able to unlock a heritage mystery using scientific equipment? The Mobile Heritage Lab is a unique facility for research and public engagement. Researchers take it around the country to explore all sorts of heritage problems. For the day, visitors can become heritage scientists and use analytical equipment to solve a mystery before the time runs out.
Venues
The Bartlett: 22 Gordon Street, London, WC1H 0QB
The Heritage Science Lab: Gordon House, 29 Gordon Street, London, WC1H 0PP
Mobile Heritage Lab: This will be parked on Gordon Street between The Bartlett and The Heritage Science Lab.
Accessibility information
If you have any accessibility needs, please have a look at our buildings' accessibility profiles and feel free to contact us with any questions.
Image credit: Heritage Close Up - Athanasios Pappas
Organiser of Institute for Sustainable Heritage Academy Launch
UCL Institute for Sustainable Heritage is solving real-world cultural heritage problems through groundbreaking, cross-disciplinary research and teaching for future heritage leaders. Find out more: ucl.ac.uk/bartlett/heritage