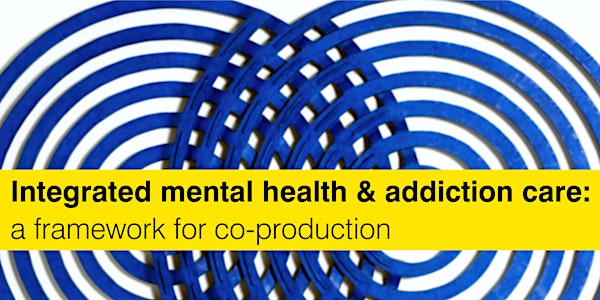 Integrated mental health and addiction care: a framework for co-production
Location
University of Stirling
Iris Murdoch Building
Stirling
FK9 4NF
United Kingdom
Dr Catherine Foley (Uni. of New South Wales) presents learning on co-produced, co-implemented integrated mental health and addiction care.
About this event
Session overview
This session explores the co-design and co-implementation of standardised but flexible integrated care across separate mental health and addiction services in regional Australia.
In the study being presented, a mixed-methods approach using Participatory Action Research was led by practitioners in existing clinical services. Partnership with a group of external researchers throughout the process enabled the experiences and expertise of clients and service-providers to be combined with the best available research evidence. A model of care that is underpinned by evidence but also able to be tailored to different circumstances was co-produced, along with a framework for guiding services through uptake of that model.
The iterative process of change that was undertaken to achieve those outcomes will be described in this session. Setbacks and successes will be discussed, together with practitioners' and clients' views of integrated care and of the solutions to barriers that they devised.
This collaborative study shows how historical and systemic differences can be traversed to improve treatment delivery for a prevalent and vulnerable population. It offers a framework for designing evidence-informed care that is acceptable to clients and feasible for practitioners to implement, and an opportunity to deliver meaningful support for people with co-occurring mental health and alcohol/drug conditions.
2:15 Presentation.
3:00 Questions and discussion on developing integrated models of care.
3:40 Networking and further discussion opportunity over tea and coffee.
4:00 Close.
Speaker biography
Dr Catherine Foley is a psychologist with a clinical background in substance use, mental illness, and trauma. She works as a research fellow with the Australian National Drug and Alcohol Research Centre at the University of New South Wales (UNSW), and as a clinician with the NSW Health Service.
Her current research is focused on improving health experiences and outcomes for people who have complex and co-occurring mental health and substance use conditions. This objective is underpinned by the prioritisation of active collaboration with consumers and service-providers across diverse healthcare settings.
Support for this event
DRNS is pleased to support this event as part of our ongoing efforts to share learning between colleagues in Scotland and international research centres of excellence. Our aim is to inform developments in Scottish policy and practice that will reduce harm and improve the health and wellbeing of people who use, their families and wider communities.
Dr Foley will be based at the Salvation Army Centre for Addiction Services and Research (University of Stirling) as a visiting scholar during Nov and Dec 2019. She and her colleague, Prof. Anthony Shakeshaft will be attending the 2nd DRNS Annual Conference in Glasgow on Mon. 25th Nov and are keen to meet and engage with Scottish researchers, practitioners and people who use drugs.
Accessibility and data protection
There is space on the booking form to let us know if there is anything we can do to make this event accessible to you.
Please note there may be audio / video recording / photography at this event. Email us at admin@drns.ac.uk in advance of the meeting if you would prefer not to be included in any audiovisual outputs from this seminar.