As new emerging digital asset classes create unique opportunities in the Wealth Management industry, it's time to step up to the challenge.
About this event
Abstract
New exchange traded funds are being launched on a weekly basis, providing access to a wide range of digital asset classes. With these new asset classes comes an increasing need to better understand how and why an investment manager should consider adding this new asset class to their existing portfolios comprising equities, fixed income and commodities.
In this webinar our panellists will bring their first hand experience of this topic and share their knowledge for other managers to build on discussing why you should consider adding crypto assets to enhance your risk-adjusted returns.
Topics will include:
Blockchain concept introduction and types of digital asset classes
Why cryptos boost the potential to generate better risk-adjusted returns
How to use digital assets in multi-asset portfolios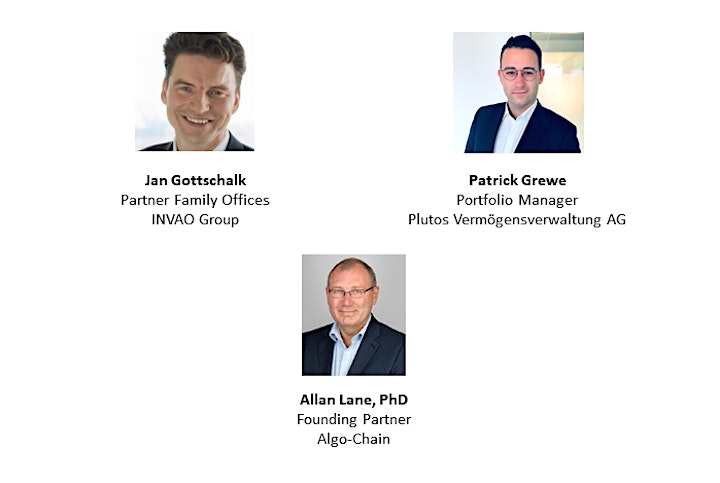 Moderator:
Dr Allan Lane
As the Co-Founder of the FinTech firm Algo-Chain, Allan has over 25 years experience in the financial services industry, including leading positions at Blackrock, RBS, Nomura, ING, JPMorgan, Banque Paribas and others.
Experience extends across risk management, structured notes, systematic / algo trading strategies, ETFs & model portfolios.
His academic credentials include an MA in Mathematics from Oxford University and a PhD in Theoretical Physics from University of Washington.
Speakers:
Jan Gottschalk
Jan has been in Crypto investing since 2018, and launched one of the first bonds with a token structure in Germany. He has been in the financial sector since the late 1980s, and built up one of the leading companies for closed end funds with18bn Euros in Assets Under Management.
Subsequently Jan established his own consultant company targeting the family office sector and is now the Partner for Family Offices & Institutional Investors for the INVAO Group since October 2019.
He studied Economics in Hamburg, has 4 kids and is married
Patrick Grewe
As portfolio manager of Plutos Vermögensverwaltung AG, Patrick Grewe has several years of experience in the financial services industry, especially in the areas of asset management, cryptocurrencies as well as blockchain.
His academic qualifications include a B.A in Corporate Finance with a focus on portfolio management, M&A as well as controlling.
Algo-Chain
Algo-Chain is a FinTech firm helping Wealth Managers gain an edge over their competition by offering tools and solutions so that they can deploy algo-driven investment solutions and technology to their best advantage.
As firm believers in the ongoing quest for the democratization of investing, we look to empower the Wealth Management industry by helping it meet the demands that come with the increasing trend for hyper-personalization. Create bespoke solutions in the nick of time for each of your clients.
Wealth Adviser
Wealth Adviser is a daily, live, digital news service for the wealth management industry. Bringing news, analysis, comment and interviews on all the key stories in the wealth sector in real time but also collated into a weekly newsletter, published on Friday. The publication is privately owned by its CEO Beverly Chandler.
Its readers include private client wealth managers, DFMs, IFAs, family offices, trustees and service providers to the wealth sector. In addition, they publish bespoke reports on key issues for the wealth industry, as well as hosting the Wealth Adviser Awards – an annual peer review of the wealth industry held in April in London.