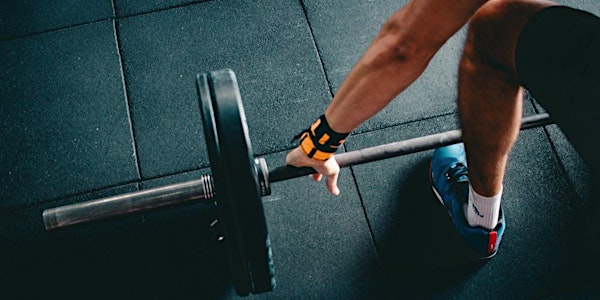 Integrating Strength and Conditioning into Injury Rehabilitation
Location
Liskeard Community Hospital
Clemo Road
Liskeard
PL14 3XD
United Kingdom
Refund policy
Refunds up to 7 days before event
Eventbrite's fee is nonrefundable.
Description
In this 2-day workshop Nick provides an introduction into how strength and conditioning can transform your current practice. Nick has been at the forefront of strength and conditioning in the UK for over 20 years, He was one of the first coaches to create a strength and conditioning and programme design course aimed specifically at physiotherapists. Nick has a proven track record of course delivery during the past decade and has worked with physiotherapists and allied health professionals in a range of settings including the NHS, private clinics, sport and military.
Nick will show you simple and effective evidence based principles that will allow you to successfully integrate strength and conditioning into your current practice and enable you to produce effective rehabilitation programmes to meet your client's needs.
Rehabilitation exercise selection and prescription are simple concepts that we make more complex than necessary. The concepts that Nick covers in this course can be easily be incorporated into your practice, building upon what you already do well, whilst challenging your existing ideas. Nick will show how expanding your understanding of strength and conditioning principles will improve your ability to design and implement effective exercise prescriptions can improve adherence and rehabilitation outcomes.
This course is held in a strength and conditioning facility, practical elements, small group work etc to check understanding and learning will be undertaken during this 2 day course.
Areas covered during the workshop will include:
Evidence Based Practice - application of evidence based strength and conditioning throughout the rehabilitation process in a range of settings (clinic, gym, home).
Programme Design and Planning - design evidence based prescriptions that deliver results. Discover how to apply appropriate techniques with an understanding of how to progress during the rehabilitation process.
Strength and Power Loading Concepts - understand the force velocity curve and how to identify the patients strength requirements. Provide evidence of the the physiological principles of loading in relation to the desired functional adaptation.
Training Variables - manipulation of key training variables (sets, reps, load, recovery) to bring about specific adaptations.
Patient engagement - discover how to ensure your rehabilitation programme actually gets done.
Practical Exercise Solutions - learn through hands on sessions, appropriate exercise selection, progression and regression.
Contemporary Interventions - hands on sessions exploring effective application of velocity based training and blood flow restriction.
Content of Day 1 & 2
Integrating Strength and Conditioning in Rehabilitation
What is strength and conditioning?
Evidence based approach to strength and conditioning during rehabilitation
The Force Velocity Curve Targeting Specific Adaptation
- Hypertrophy
- Strength Endurance
- Power
- Maximal Strength
- Force Production Vs Force Application
Physical Preparation Concepts
- Cornerstones of physical preparation
- Effective exercise selection and prescription
- Optimising functional fitness - specificity and transfer of training
- Developing contextual strength and conditioning interventions - reflex training
- Effective progressions and regressions
- Sequencing to improve rehabilitation outcomes
Effective Programme Design
Problems Solving Process
Needs analysis
Orientating the rehabilitation programme to meet the needs of your patient
Applying modern periodisation to the rehabilitation process
What is periodisation
Traditional periodisation models
Manipulating training programmes
Sequencing and Integrating Training
Practical Exercise Solutions
Fundamental movements
Force production
Force reduction
Force application
Contextual strength
Exercise progression and regression
Velocity based training
Blood flow restriction
Functional isometrics
This workshop will be of particular interest to sports therapists, sports rehab and allied health professionals & strength coaches and fitness professionals.
Bonus Content
1. When signing up for this course you will receive a free copy of Nick's Book "The Strength & Conditioning Bible" [RRP £20]
2. You will receive pre-course reading material and an extensive reference list.
3. You will receive a certificate of attendance detailing CPD hours.
Nick Grantham - Profile
Nick is a performance enhancement specialist. His career spans four Olympic cycles and he is a founding member of the United Kingdom Strength and Conditioning Association and an accredited Strength and Conditioning Coach (ASCC). He has become recognised as a specialist in athletic preparation and has a wealth of knowledge in the physical preparation and injury rehabilitation of high performance athletes at the most elite levels; including professional sport, Olympic, Commonwealth, European, and World Championship standards.
Nick has worked closely with professional, National Governing Bodies and home institute medical teams assisting in the management, monitoring and implementation of injury management programmes. He continues to develop his knowledge of advanced training concepts and evidence based training principles. A sought after 'expert' he has presented seminars and practical workshops for the Football Association, BASEM, British Olympic Association and UK Strength & Conditioning Association. Nick has successfully transferred his detailed knowledge of training athletes into the public arena for rapid results and has a great ability to make the complex seem obvious and simple, making it easy to apply in your clinics
Testimonials
"Nick delivers a great course, with a fundamental framework for the rehab process that clinicians no doubt will find useful, as well a lots of practical implementation and variations to use in daily practice. Firm in principles but without dogma, this fresh perspective is welcome in physical therapy."
August Estberger
lic physiotherapist Malmö Idrottsklinik
"Nick is a very engaging approachable presenter who provided us with a thought provoking course that challenged why physiotherapists prescribe the exercises to patients. I came away from the course with some valuable nuggets of information that I can immediately implement with my patients. This course answers the questions as to when to progress or regress exercises and how to build on power and endurance from strengthening while introducing the fun part of exercising to motivate patients. I would recommend this course to all physiotherapists whether treating athletes, weekend warriors or sedentary people.'
Simon Wood
MSc BSc MMACP MAACP Dip injection therapy
Senior Sports Physiotherapist
Oxford University Hospitals
"Nick presented a comprehensive, evidence based, practical course. The emphasis was on integrating strength and conditioning principles into the rehabilitation setting and it was very well received by a mixed group of physios working across diverse populations, from elite sport to care of the elderly. His relaxed delivery and clear passion for teaching was evident and on a personal level I found that the course really helped me to consolidate my clinical reasoning around power and speed development."
Sharon Morris
BSc Physiotherapy, MSc Applied Biomechanics
Galway City Physiotherapy
FAQs
What's the refund policy?
Attendees can receive refunds up to 21 days before your event start date.
I don't work with Athletes, will this course be applicable?
Absolutely, Nick has delivered this course to physiotherapists and allied health professionals working in NHS departments, private clinics and military establishments. The course outlines fundamental principles that can be applied to a wide range of clients in a variety of settings.
Will I receive course material?
You will receive pre-course reading material via e-mail 7-10 days before the event, including a comprehensive reference list. After the course you will receive a copy of the slides used during the course and a CPD certificate of attendance.