Description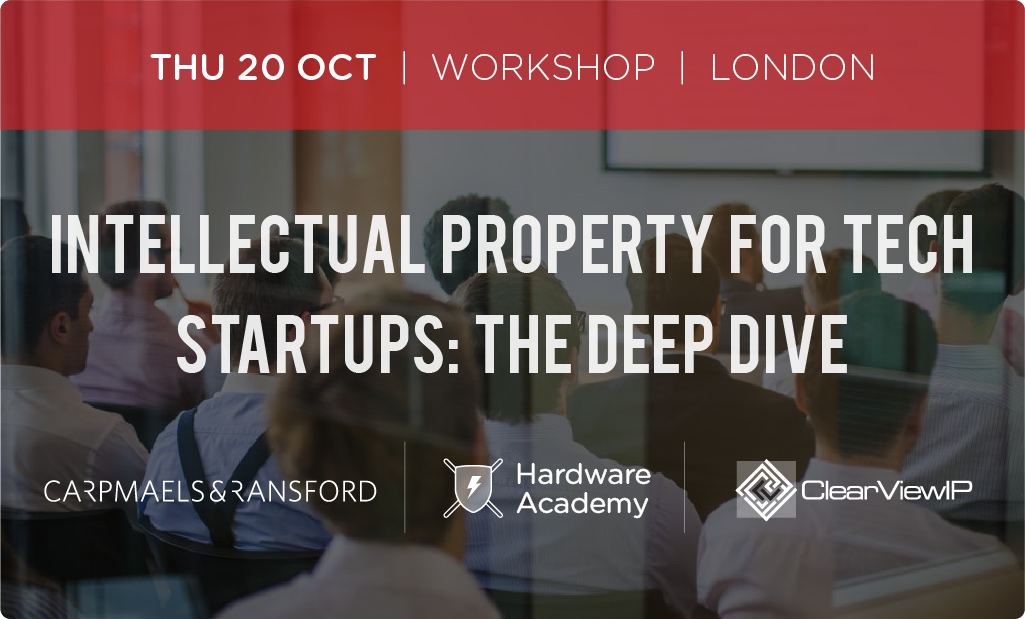 See full event description here.
This is not just another event about the basics of IP. This is a three hour, eye-opening, deep-dive workshop into the depths of intellectual property when applied to technology startups. An evening full of invaluable insights, enlightening talks, and Q&A sessions.

Hosted by ClearViewIP, a prominent European IP Consulting and Brokerage firm and Carpmaels & Ransford LLP, a leading full-service European IP firm, this workshop will draw on case studies and examples to demonstrate why a strong IP portfolio matters to your company whatever its goals. Furthermore, it will promote strategies that lean startups can deploy to build and manage their intangible assets effectively.

The workshop is complemented by a panel of industry experts in IP strategy, internal IP management, investment due diligence, and IP law. During the panel discussion, you will hear from one of Microsoft's Principal Patent Analysts, on how SwiftKey, the mobile keyboard app company, was able to leverage their IP portfolio for maximum value when they were approached and eventually sold to Microsoft.

You will leave with a fuller understanding of the importance of Intellectual Property for an early stage tech company, and how IP can be crucial for future investments and a successful exit strategy.
Pizza and drinks will be served throughout the night.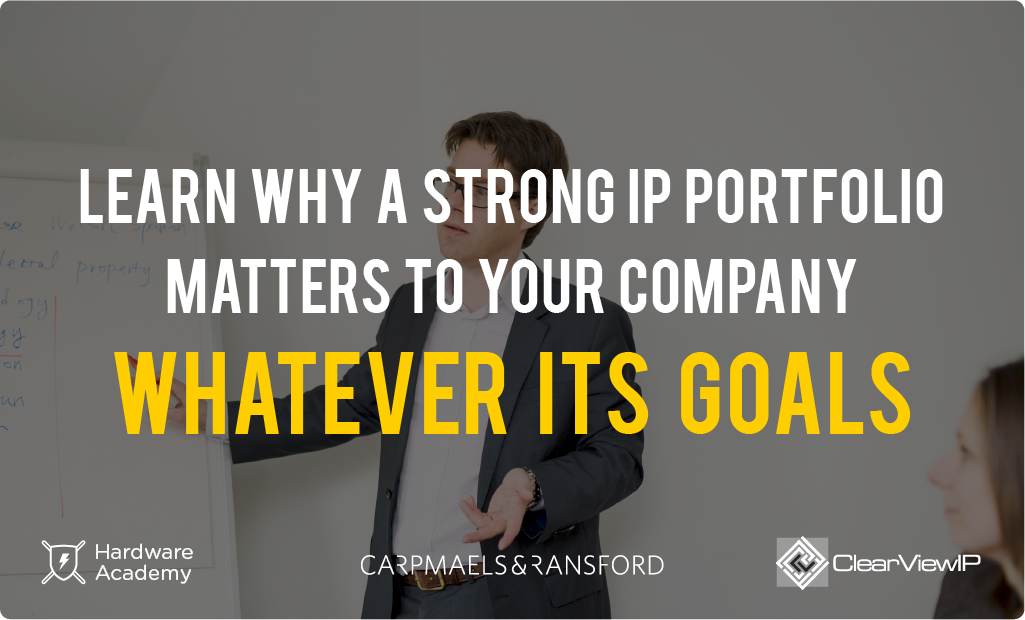 ---
What you'll learn
- The importance of IP & the benefits of IP for future investment.
- Why aligning IP with your long-term business goal is important.
- What forms of IP protection startups need.
- What IP to budget for and at what stage of your growth strategy.
- Understand why investors place a significant value on IP portfolios.
- Gain an understanding of what IP techniques are used to build value.
- How a lean startup can manage and build a valuable portfolio.
- How to maximise coverage of your IP.
---
Agenda
6.15pm - Arrival and registration
6.30pm - Free pizza and beers will be served
7.00pm - First talk and Q&A: "Strategic IP Positioning for Startups" - Robin Walton, Lead Consultant at ClearViewIP
7.30pm - Second talk and Q&A: "Building an IP Portfolio from Scratch" - Paul Bettridge, UK and European Patent Attorney at Carpmaels & Ransford
8.00pm - Panel discussion and Q&A: "IP Strategy in Practice: Expert advice on how startups can manage IP for maximum value"
9.00pm - Networking and drinks
9.30pm - Event ends
---
About the instructors and panelists
Robin Walton - Lead Consultant at ClearViewIP (Instructor)
Robin has several years of experience working with clients throughout the IP lifecycle – from advising on strategic IP capture & protection, to delivering detailed patent landscapes/competitive analysis reports and assessing IP monetisation options. He particularly enjoys working with start-ups & SMEs to manage and drive their innovation processes and has helped companies build world-class patent portfolios that have resulted in high-value trade sale exits.
Paul Bettridge - UK and European Patent Attorney, Senior Associate at Carpmaels & Ransford LLP (Instructor)
Paul's years of experience in drafting and prosecuting patent applications for startups, SMEs and multinationals in numerous jurisdictions around the world makes him well-placed to advise on strategies for building global portfolios from small beginnings. He has been running one-to-one IP clinics for Tech City companies and university enterprise ventures for several years.
Alex Tame, Director, Tame IP (Panel moderator)
Before starting his own IP consulting firm, Alex held the role of Group Intellectual Property Rights Manager at Vodafone where he helped shape the global IPR strategy and drive change. He worked directly with project teams, senior stakeholders and inventors to develop commercial IPR plans and identify and protect innovation.
Gareth Jones, Principal Patent Analyst, Microsoft (Panelist)
Following the Microsoft acquisition of SwiftKey, Gareth is currently managing the transition of IP operations from SwiftKey to Microsoft. SwiftKey is best known for its mobile keyboard apps and multilingual prediction technology distributed on over 300 million mobile devices worldwide. Gareth was recruited from Vodafone's commercial IP team to create a new IP function within SwiftKey that was responsible for strategy and operations, in order to drive the transition of the business from a traditional startup into a market-leading enterprise ready for exit.
Jon Calvert, Managing Director, ClearViewIP (Panelist)
Jon is a recognised member of the IAM Strategy 300 list of the world's leading IP strategists and founder of ClearViewIP. Jon's extensive experience in technology business leadership is applied to help clients ensure their IP strategy is aligned with their business strategy for maximum value and protection. Before starting ClearViewIP in 2007, Jon held a number of International R&D and business leadership positions in Data Storage and Networking industries.
Susannah Dragosavac, UK and European Patent Attorney, Senior Associate, Carpmaels & Ransford LLP (Panelist)
Susannah's practice covers a wide range of technical subject matter, with a particular focus on software and user interfaces. She was heavily involved in the preparation and prosecution of SwiftKey's patent and design portfolio. Susannah coordinates multinational patent families, and prosecutes applications in patent offices around the world, particularly the United States Patent & Trademark Office and the Chinese State Intellectual Property Office.
Mark Paterson, Chair, Blink (Panelist)
Mark is currently chair of Blink which plans to bring intelligent messaging to the workplace. Also Chair of FromCounsel delivering a complete digital company law resource to the legal profession. From 2010-2015 he was the chair of SwiftKey, a creator of world class language technology, acquired by Microsoft in 2016. Called to the Bar in 1983, Mark was General Counsel of Orange plc 1990-2001 and VP Business Development 2001-2003.
---
Resources
About ClearViewIP
www.clearviewip.com
IP Offerings for Startups (brochure)
About Carpmaels & Ransford LLP
www.carpmaels.com
IP for Startups (brochure)