Intelligent Positioning in Cities: Better Urban Positioning using 3D Mapping

Monday, 16 April 2018 from 09:30 to 16:30 (BST)
Event Details
Intelligent Positioning in Cities
Better Urban Positioning using 3D Mapping
By using 3D mapping, real-time GNSS positioning errors in dense urban areas can be reduced from tens of metres to a few metres, unlocking the potential for a host of new navigation and positioning applications. UCL Engineering in collaboration with Ordnance Survey (OS) are hosting the second Intelligent Positioning in Cities (IPC) Workshop as an opportunity for members of the navigation and positioning, geospatial science and user communities to share their expertise through a day of presentations, demonstrations, discussion and networking. Speakers will include representatives from Google (Android Location), Focal Point Positioning (FPP), UCL, Ordnance Survey (OS). and others to be confirmed. There will also be real-time demonstrations of UCL's 3D-mapping-aided (3DMA) GNSS technology on an Android smartphone and a u-blox/ Raspberry Pi platform.
More accurate and reliable urban positioning could bring many benefits. Ambulances and fire engines could be navigated right to the location of an emergency caller without wrong turns. Visually impaired pedestrians could be accurately guided to the right building on the correct side of the street. Teams of emergency and security personnel could accurately track each other's locations. Location-based charging and offender-tracking systems could accurately determine whether or not a person or vehicle is in a particular area. Other applications that could benefit include intelligent transport systems, taxi pick-ups, visitor guidance, location-based advertising, mobile gaming and monitoring people with medical conditions and other vulnerable people. Moreover, better urban positioning also supports researchers working on challenges such as augmented reality, intelligent transport systems, surveillance using micro air vehicles, the internet of things, crowd modelling, measuring travel patterns and mapping pollution or wheelchair accessibility.
During the early part of the decade, UCL developed the shadow-matching technique, which determines position by matching the GNSS signal availability predicted using a 3D city model with the signals measured by a GNSS receiver. This gives much better position accuracy in the cross-street direction in dense urban areas. In addition, the performance of conventional GNSS positioning in dense urban areas was enhanced using terrain height aiding and consistency checking.

UCL's Intelligent Positioning in Cities (IPC) project, funded by the Engineering and Physical Sciences Research Council (EPSRC), started September 2014 and is now reaching its conclusion. Project partners are Ordnance Survey (OS), u-blox and the Royal National Institute for Blind People (RNIB). Under this project, new 3DMA ranging-based GNSS positioning algorithms have been developed and then combined with shadow matching. The full UCL 3DMA GNSS implementation improves the standalone single-epoch horizontal position accuracy of GNSS in dense urban environments from more than 25m using conventional GNSS to around 5m using 3DMA GNSS. Extensive testing has been conducted to assess how the performance varies with the environment and the quality of the 3D mapping. Representing 3D mapping as a grid of azimuth-elevation building boundaries enables these algorithms to run in real time, either on a location server or on a mobile device. The full 3DMA GNSS algorithms have been implemented in real time on a Raspberry Pi using measurements from a u-blox consumer-grade GNSS receiver. The algorithms have recently been implemented in real-time on an Android smartphone funded by Google's Faculty Research Program. Under an EPSRC Impact Acceleration Award during 2017, 3DMA GNSS has been successfully adapted for airborne use by augmenting it with barometric height and tested on a window-cleaning pole. Flight tests on a Swarm Systems micro air vehicle are planned. Drs Paul Groves, Mounir Adjrad and Claire Ellul will describe and demonstrate all of the work achieved since the previous IPC seminar in 2015. The event schedule is listed in the table below (registration opens at 9:30am for a 10:00am start. We aim to finish by 4:30pm).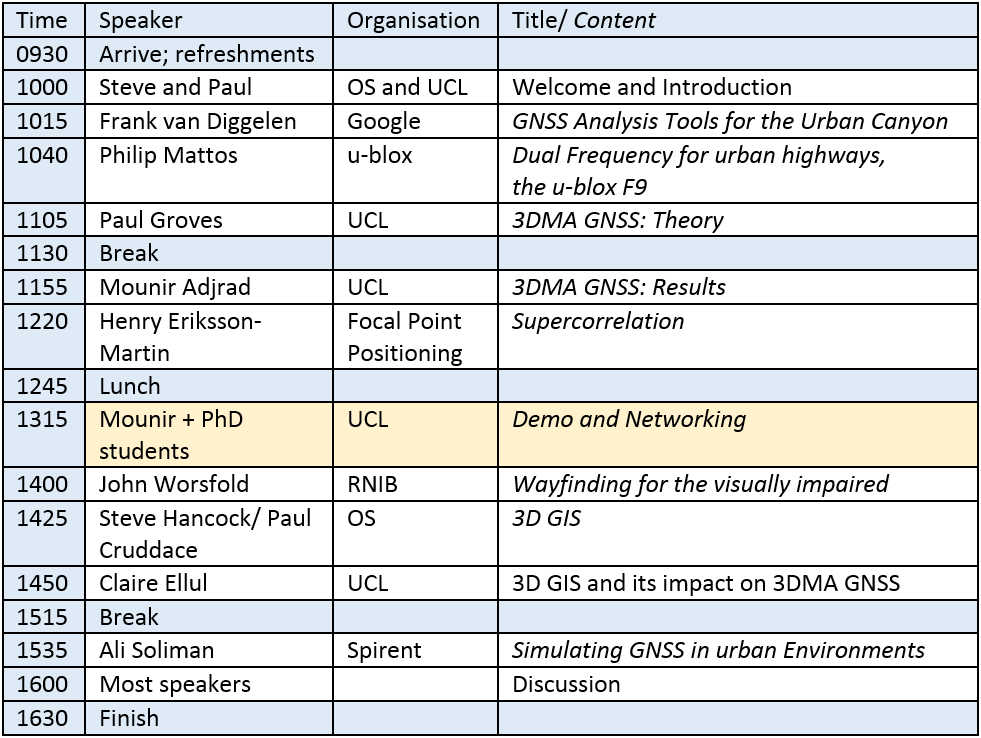 When & Where

Lecture Theatre - Explorer House
Ordnance Survey Limited
Adanac Drive
SO16 0AS Southampton
United Kingdom


Monday, 16 April 2018 from 09:30 to 16:30 (BST)
Add to my calendar