INTERACTIVE FORUM (Geneva): Own Your Fear

Thursday, January 16, 2014 from 6:30 PM to 8:30 PM (GMT)
Event Details

As announced previously we are happy to welcome you to our second Interactive Forum in Geneva
Date: 16th January 2014
INTERACTIVE FORUM: Own Your Fear
FEAR is an integral and inherent part of human beings. It may be a "friend" or a "foe" depending on situations, circumstances, and above all one's perspectives and understanding.
But what makes "fear" an imperative determinant is the fact that every human action is a true depiction of possibilities and consequences – two sides of the same coin.
Transparency and effective communication on "what if" situations, is a very critical instrument for institutionalisation of leadership. You will learn, that the analysis and estimation of the "fear" factor and their consequences are essential to decision making in leadership.
You are invited to stay for a drink after the event. For those who want to stay for dinner, the school is offering us a menu at CHF 50, incl. drinks. Please send an email to melpaillard@gmail.com if you wish to attend the dinner.
Date: 16th January 2014
Time: Networking from 6.00pm, prompt start 6.30pm until 8.30pm
Venue: Ecole Hôtelière de Genève, 12 avenue de la Paix
Sponsors: Ecole Hôtelière de Genève
BOOK NOW!
About the speaker: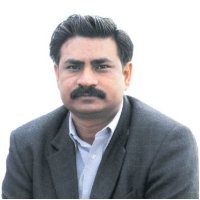 This event's speaker is Sanjay Kumar, CEO of Geospatial Media and Communication. He has worked towards facilitating and accelerating growth in the geospatial industry worldwide and raising awareness of the industry's contribution to the global development agenda.
About Conscious Lab™
ConsciousLab™ is an inspirational platform dedicated to thought leaders and executives, who purposely challenge the norm, are visionary and curious to explore new paradigms in management and transformational thinking.
We look forward to meeting like-minded, forward thinking business leaders who are passionate to create further awareness for 'leadership beyond mental barriers' – is it a myth or indeed a reality?
We hope to see you all at our next event!
With warm wishes
Anja & Mélanie
P.S. To unsubscribe, please send an email to claudia@consciouslab.org, with 'unsubscribe' as the subject. If you wish to take friends or colleagues to ConsciousLab™ monthly talks, please note that you need to register each attendee.
When & Where

Ecole Hôtelière de Genève
12 avenue de la Paix
1202 Geneva
Switzerland


Thursday, January 16, 2014 from 6:30 PM to 8:30 PM (GMT)
Add to my calendar
Organizer
ConsciousLab - Raising Consciousness in Business
Copyright © ConsciousLab was created to facilitate a shift in consciousness in the business world. Its purpose is to challenge the transactional nature of the workplace, setting a new paradigm for business practice, which is more about collaboration, awareness and humanity. ConsciousLab does not prescribe or subscribe to any one school of management thought or belief. It is a platform that is open to all. In fact, we believe that the diversity of thinking will help us to evolve and grow together. ConsciousLab is a social enterprise and a not-for-profit organisation (UK charity no 279403). For more information: http://www.consciouslab.org
INTERACTIVE FORUM (Geneva): Own Your Fear