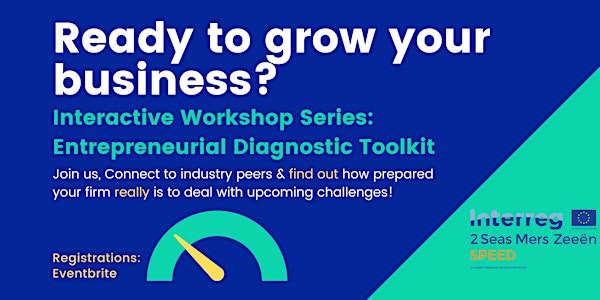 Interactive Workshop Series: Diagnose your firm for Growth
Is your firm ready to grow? Join us and industry peers to discuss common issues, discover your firm's position, and take targeted action!
About this event
About this event
In collaboration with partners of the SPEED project, University of Antwerp is organizing 4 exclusive interactive workshops to support the understanding, application, and integration of the individual results that firms receive when going through the diagnostic growth tool, a temporarily free to access tool (saving you €299). Let the tool help you assess some of your firm's (and team's) essential capabilities to tackle challenges of growth.
Join us to ensure that you fully benefit from its use!
The diagnostic growth tool is aimed at supporting the development and growth process of young, technology-based firms but touches a much larger public by its application to all firms operating in dynamic environments.
For more information, please visit our website or read more on our blog.
Who should attend?
Are you an Entrepreneur, (Co-)founder, Manager, or CEO of a firm operating in a dynamic environment providing much uncertainty?
Are you a coach, consultant, or advisor wanting to use the tool to support the firms in your network even more?
Are you an investor trying to get a feel for the company you've invested in?
Or are you a curious passer-by, interesting to learn more on what this tool has to offer?
If one or all of the above applies to you, this workshop is for you!
Please note that the 1st workshop (September, 23rd 2021) will be held as a session in the TomorrowPorts conference. Registration to the conference is therefore also required.
Feel free to contact the research team for any questions you may have. You can do so by registering and answering directly to the confirmation mail.
Organisers note: These workshops are based on the diagnostic growth tool. The research team therefore recommends registered firms to go through the tool prior to attending the workshops. While the received results will not need to be shared with other attendees, they will help you benefit optimally from the workshops and share similar difficulties with industry-peers.
The Research Team
Morane Atzmon, Ph.D. Researcher at the University of Antwerp.
Prof. dr. Johanna Vanderstraeten, professor of Entrepreneurship at the University of Antwerp.