Join us as we look at developing a peer support group in Central Lancashire for people who have experienced covid or long covid.
About this event
Coffee and Chat for people with Long Covid in Central Lancashire
Chat with other people who understand.
Discuss ideas as to what a peer support group for people recovering from long covid would look like.
Relax and enjoy the company of others in a safe space.
Join us on: Tuesday 26th October @ 10.30am at The Larder Café, Preston
Hosted by Community Asset Development team NHS
If you have any questions or would like more information please email: cad@lscft.nhs.uk
We look forward to meeting you.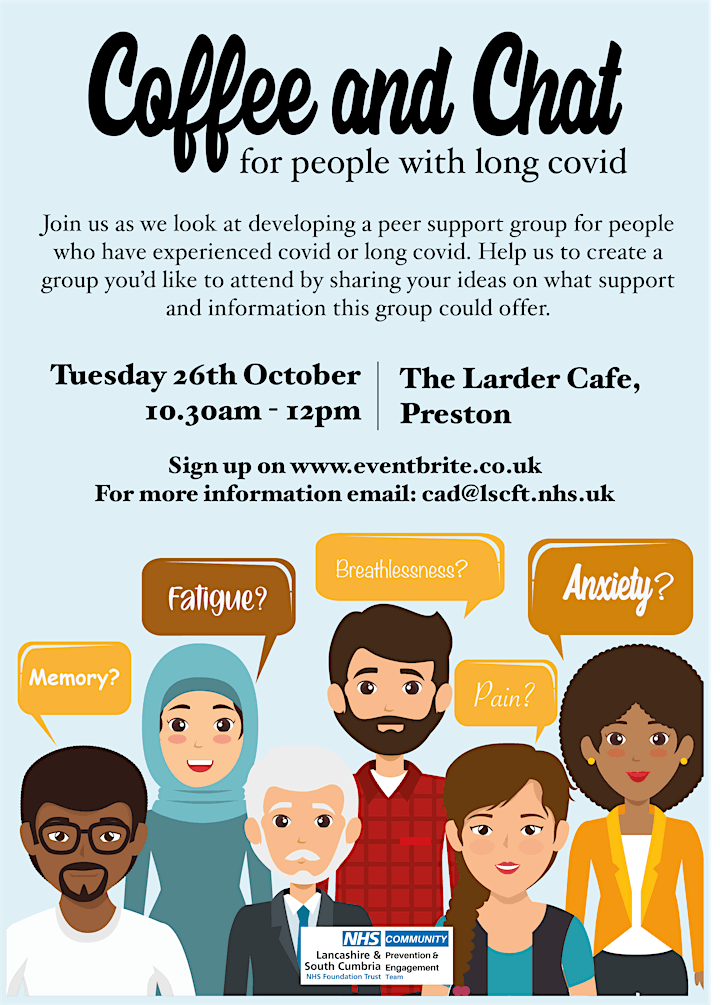 Organiser of Interest Day - Coffee and Chat for people with Long Covid
The Community Prevention and Engagement Team [CPET] aims to involve people in their local communities via bespoke 1:1 personalised support. This will allow people to improve and maintain their mental health and wellbeing by making community connections, support networks and gain meaningful occupation. Through a recovery focused support plan; CPET aims to build service users confidence and resilience to achieve personal goals. By practicing person centred, strength based approaches we empower individuals to support their own mental health and wellbeing through social inclusion.
Furthermore, CPET aim to provide a wider range of resources to improve mental health and wellbeing within local populations. Using community cohesion to promote, develop and sustain local assets within communities through peer support, groups and projects to build more awareness, resilience and integration.